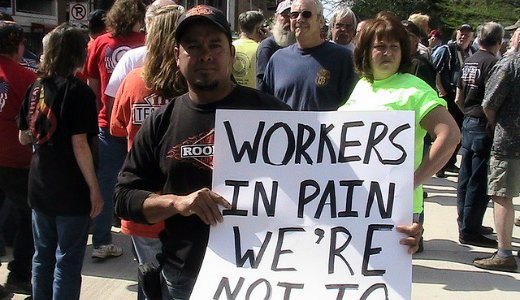 Two hundred unemployed workers marched into the halls of Congress yesterday and served their lawmakers with 75,000 signatures on petitions demanding extension of unemployment benefits for the six million Americans about to lose them.
The action came just days before the labor movement and its allies will set up a historic tent city of the jobless in view of the Capitol on Dec, 8. There will be a tent for every state in the nation, bearing a sign with the number of unemployed in that state,
Workers carrying the petitions yesterday called upon their lawmakers to take action and extend unemployment insurance for those whose benefits will soon expire, and for those who remain unemployed, in what's been paradoxically called a "jobless recovery." Without action, six million will lose their benefits during 2012.
If Congress fails to reauthorize the emergency benefits extension prior to Dec. 31, the workers told their lawmakers, millions of people across America will be without any income – a disaster for them and another big blow to the economy.
Congress, said Secretary of Labor Hilda Solis, must act on this, and must do it now. Allowing unemployment benefits to expire, she noted, not only affects people who are out of work – along with their families, but also strikes a serious blow to the economy itself. This is because unemployment checks are immediately recycled into the communities of the people who receive them. While the wealthy tend to invest, poor people and workers spend income immediately, giving a boost to the economy.
"There are those in Congress," said Solis, "Who say we can't afford to extend unemployment benefits in the current fiscal environment. I say we can't afford not to. It's the American thing to do."
The petitions were organized by the AFL-CIO, NELP/Unemployedworkers.org, USAction, and MomsRising.org. The action in Washington marked the start of a week of demonstrations by labor and the progressive movement at large. Their demand for the extension of unemployment insurance coverage will culminate with a Dec. 8 event, where the unemployed will rally on Capitol Hill.
"This issue challenges the soul of America," said Rep. Sander Levin, D-Mich., at a rally in the U.S. Capitol after the petitions were presented. Workers from various backgrounds, who noted that joblessness was affecting their families and neighbors, joined him there. "This isn't a subject for horse-trading," Levin declared. "It's a subject for action."
Jill Fleming-Salopek, 40, is a teacher from Munhall, Pa., who remarked that local and state-level budget cuts led to her school district laying off a third of its staff, including her.
"I'm here for the children who are suffering because of this situation," she said.
She noted that she was the first of her family to go to college and that she's still, to this day, paying for that education. With a master's degree and three children, she said she has not been able to find employment comparable to her previous work.
Lawmakers – all Democrats – also urged Congress to reauthorize the unemployment extension program. Senators Jack Reed, R.I., Sheldon Whitehouse, R.I., and Tom Harkin, Iowa, also spoke to workers. Harkin promised he would ensure that the Senate did not leave for Christmas recess without taking a vote on the reauthorization bill.
Meanwhile, many other workers from different walks of life, including former Pittsburgh transit worker Vincent Brandon, 47, joined Fleming-Salopek. Brandon, a member of the Amalgamated Transit Union Local 85, said if his benefits are allowed to expire, "I'd likely be homeless within a few months."
David DiCarlo, 45, of Baltimore, also came forward. Having worked in the mortgage industry, he said he had applied for "hundreds of jobs," since he was laid off in March. However, holding up two fingers, he declared that he had only been granted that many interviews.
Photo: Bernard Pollack/AFL-CIO // CC 2.0