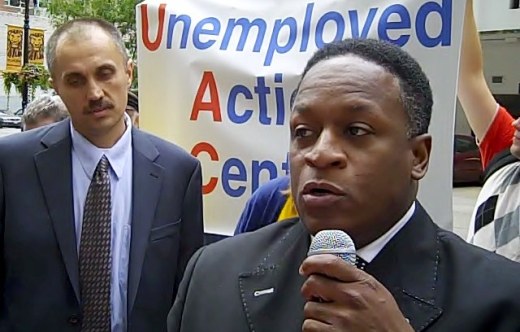 CHICAGO – "Thirteen hundred teachers have been laid off in Chicago, put on unemployment, their houses and cars being taken and what do we have? Mark Kirk is up there hiding! Come on down Kirk!" yelled John Kugler of the Chicago Teachers Union, as he looked up into the windows of the Republican Party of Illinois.
About 200 unemployed workers, religious and community activists rallied at the state GOP headquarters in the Loop Sept. 15 to protest Rep. Mark Kirk, R-Ill., and the Party of No's effort to block unemployment extension and passage of jobs creation legislation.
Kugler reminded everyone on August 10, Kirk, who is the Republican candidate for the U.S. Senate, promised he would vote for the bill to aid states and cities to prevent layoffs of teachers, police, firefighters and other public workers. The next day, Kirk voted against the bill.
The $26 billion bill which saved 300,000 jobs of teachers and other public workers was passed despite Republican opposition and signed into law by Pres. Obama.
Kirk has also voted 6 times against extension of unemployment benefits, citing the federal deficit as his reason. But how concerned is Kirk really about the deficit, asked Carole Ramsden, a laid off union electrician. She asked where was Kirk's concern when he supported all the budget busting war spending and tax cuts to the wealthy during the Bush presidency.
Ramsden also blasted other Republican and tea partiers like New York governor candidate Carl Paladino who said the solution to unemployment is to put the poor in prison and teach them to wash up.
"The amount of contempt they show for us makes me want to scream!" said Ramsden.
Ramsden said there is no prospect of the construction industry picking up until 2013. She urged passage of the Local Jobs for America Act, but said the best solution was a massive WPA style public works program to put the country back to work.
Lorraine Mora-Chavez is a laid off research associate from DePaul University and an activist in the Jobs with Justice Chicago Unemployed Workers Council. Mora-Chavez read a letter the council received from a worker who has unemployed for two years.
"Next week, the letter read, I will be running out of 99 weeks of benefits. I have no idea what I will do after that. My savings are gone and I don't think I'll be able to pay rent next month. God help me!"
Mora-Chavez said a further extension past 99 weeks was desperately needed for the approximately 90,000 unemployed who are now exhausting their benefits on a weekly basis.
Among the programs that have created jobs is the "Put Illinois to Work Program," which is funded by the Economic Recovery and Reinvestment Act. Rev. Michael Stinson, pastor of the General Assembly Church of the First Born, told the crowd the program is highly successful and was a basic stimulus for thousands of families. But it's scheduled to expire on Sept. 30. Several dozen workers from the program were in attendance.
"We need a federal jobs program. But the choice Mark Kirk has made has caused crises for working families. Kirk and the Illinois Republican Party – we're not going to allow you to stand in the way," declared Stinson. "We are not going to stay quiet. We are going to wake up the powers that be to the emergency that's in middle America."
Many of those present were planning to board busses to Washington DC for the giant rally for jobs on Oct. 2. Included among them was Janet Edburg, a union steward who has been laid off from her factory job for two years. She came with a contingent from the Bridgeport Unemployed Action Center.
When asked if going to DC would make a difference, she responded, "Just think about what it won't accomplish if we don't go. We have to try our best."
Photo: Pastor Michael Stinson with microphone and John Kugler, left, of the Chicago Teachers Union lead a rally at Illinois Republican Party headquarters Sept. 15. (John Bachtell/PW)