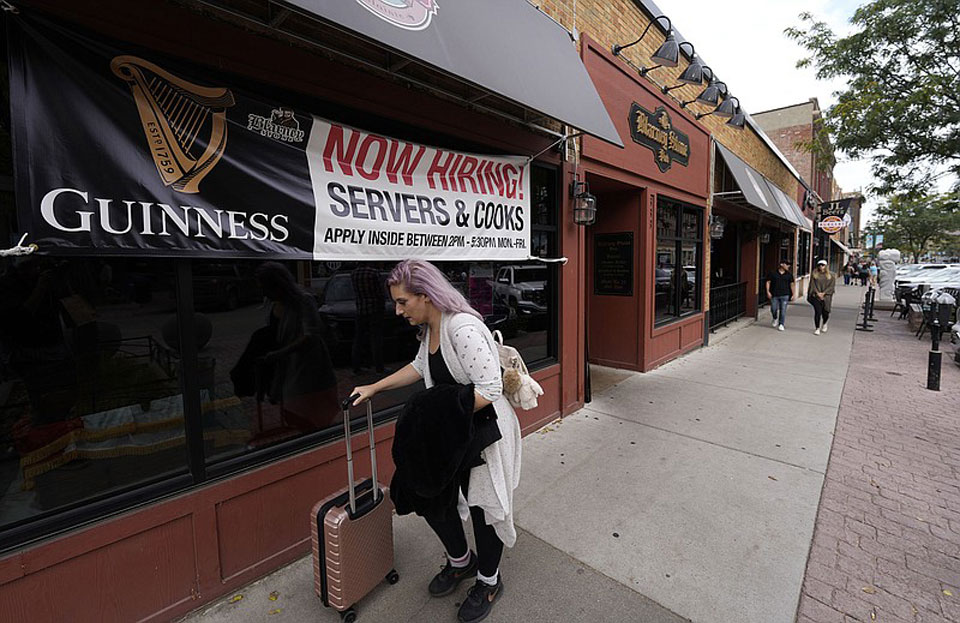 WASHINGTON —The U.S. unemployment rate dropped 0.4% in November, to 4.2%, the Bureau of Labor Statistics reported. But BLS, the Economic Policy Institute, and the Institute for Women's Policy Research all noted mixed numbers behind that positive decline.
The number of unemployed declined by 542,000, to 6.877 million, BLS said. And there were 1.155 million more people working in November than in October, with the total rising to 155.175 million. That's 5.366 million more people in jobs than in November 2020, when the nation was in the midst of the coronavirus-closure-caused economic crash.
That was good news. Other good news came in monthly increases in factory workers (+31,000, to 12.546 million) and construction workers (+31,000, to 7.533 million). And bosses, forced to compete for workers, are actually raising pay.
Residential specialty trade contractors claimed to add one-fifth of construction's new jobs in November, while a +7,900-job gain in fabricated metal products plants accounted for more than a fourth of all new factory jobs. A reported 10,000-job gain in "miscellaneous manufacturing" offset a 10,100 reported job loss in car and part plants last month.
Average weekly earnings rose by about $6 for all workers in November, even for the lowest-paid workers in lodgings, bars, and restaurants. That sector lost the most jobs when the crash hit. Those firms closed and tens of thousands of their workers—laid off for months—took stock of exploitation shown by low pay and lousy conditions and haven't come back.
Weekly paychecks in that leisure-hospitality sector are still dead last by far, BLS said. The average weekly check for all private sector workers rose by just over $50 in the year since November 2020, to $1,080. That includes everyone from Wall Street financiers to Main Street diner servers. But the servers, even after a $67 yearly hike, made $507 weekly in November.
The not-so-good news was that even with the job gains and jobless rate drop since Democratic President Joe Biden took office, the nation still has a higher jobless rate and fewer people working than in the last pre-pandemic month, February 2020. And even with the recent gains, women are still in a "she-cession," IWPR says.
"Jobs Day data show a decline in job growth for women in Nov. Women gained just 76K, 36.2% of 210,000 new jobs on payroll, compared to 304,000 out of 531,000 in Oct.," the group tweeted. "The #shecession continues: Women are still 2.3 mil jobs behind pre-Covid Feb. 2020, men 1.6 million." Black women actually lost 91,000 jobs, compared to November 2020, IWPR added.
"Overall, payroll job gains were 210,000 in November seasonally adjusted," EPI Senior Analyst Elise Gould tweeted. That's a net adjusted gain, though she did not say so. The total gain was 235,000 before governments shed 25,000 jobs. "But when we look at the non-seasonally adjusted series, we see gains of 778,000. This means the BLS makes a seasonal adjustment downwards in November to smooth the series, likely related to holiday hiring," her tweet concluded.