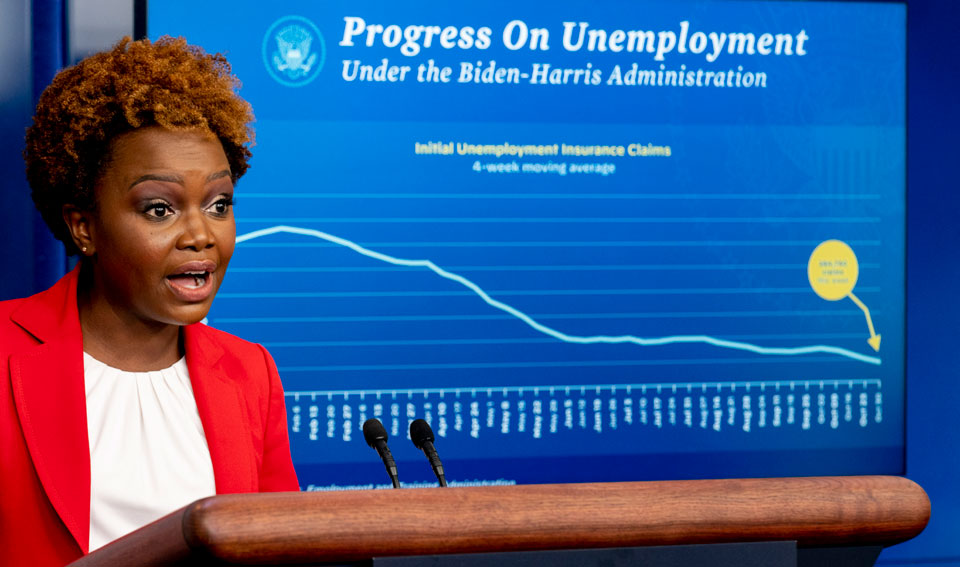 WASHINGTON —The U.S. jobless rate ended 2021 at 3.9% in December, the Bureau of Labor Statistics reported. And the deeper you dug into the numbers, the more good news surfaced, except for Black workers.
The number of unemployed fell to 6.319 million in the BLS survey, done in early-to-mid December, before the coronavirus's Omicron variant really hit. There were 6.802 million jobless in November, and 10.789 million in December 2020, during the modern-day plague. The jobless rate that month was 6.7%.
The drop in joblessness also appeared in weekly jobless check claims, in a BLS report released on January 6, the day before the December data came out. In the week ending on New Year's Day, 315,869 people sought jobless aid, up from 257,870 the week before, it said.
By contrast, in the last week of 2020, 898,610 people sought jobless checks, while 20.156 million were drawing the aid, having lost their jobs due to the massive business closures needed to combat community spread of the coronavirus.
This December, 1.722 million people got jobless checks, that BLS report said, not counting the applicants in the last two weeks of the month.
Even better, noted Heidi Shierholz, president of the Economic Policy Institute, hundreds of thousands of workers tossed out of the lowest-paying jobs didn't just drop out of the labor force. They found new, better-paying jobs.
"Looking over the full year, 2021 jobs data is pretty mindboggling," she tweeted. "We added 6.4 million jobs and the labor force participation rate rose. Wage growth was strong and workers were able to quit their jobs "to take better ones."
New hiring exceeded quitting "in every major industry," she added.
One of the few negative numbers in the report showed 7.1% of Black workers were jobless in December, up 0.6% from the month before. Both figures are seasonally adjusted.
The entire burden fell on Black women. Their seasonally adjusted jobless rate increased from 4.9% in November to 6.2% in December, and the number of jobless Black women rose by 151,000, to 651,000. Both reported Black jobless rates were below those of December 2020: 9.3% among all Blacks, and including 10% among men and 7.7% among women.
Overall, there were 651,000 more employed workers in December, compared to November, rising to 155.98 million total. That figure was 149.88 million in December 2020.
Private sector firms claimed to create 211,000 jobs in December, a separate survey showed, while governments shed 12,000 jobs.
Construction and factories both showed job gains in December. Construction's jobless rate in December, 5%, was half of that in December 2020 (9.6%). Factory workers' joblessness in December was 2.8%, down from 4.3% in December 2020.
Seasonally adjusted, factories added 26,000 jobs in December, increasing to 12.58 million. The biggest gains were in machinery (+7,700 jobs in December) and cars and parts (+4,200). For the year, car and part plants added 23,300 jobs, increasing to 934,100. Only machinery plants (+31,400 jobs in 2021) added more.
Seasonally adjusted, construction firms claimed to add a net of 22,000 workers in December, rising to 7.56 million total. Sixty percent of those one-month gains were at non-residential specialty trade contractors and most of the rest were in heavy and civil engineering. In December 2020, construction firms claimed to employ 7.4 million workers.
Private service-producing firms claimed to add 157,000 jobs in December, rising to 106.25 million, 5.4 million more than at the end of 2020. Most big gainers were in low-paying jobs. They included bars and restaurants (+42,600 jobs in December and +1,658,600 for the year) and warehouses (+5,000 jobs in December and +87,500 for the year, to 1,508,500).
Health care was one exception to the general increase in low-paying jobs. That may reflect the pandemic's toll on frontline workers, who were ill, burned-out, or both.
Hospitals shed 5,100 workers in December, down to 5.142 million, and were down 33,000 for the year. Nursing homes lost 5,200 jobs in December and 88,700 for the year, down to 1.346 million, seasonally adjusted. Child day care shed 3,700 jobs in December, to 935,000, but still had 62,000 more workers than in December 2020.
Governments claimed to shed 12,000 jobs in December, seasonally adjusted, with 7,800 of those losses in local schools. But governments gained 452,000 jobs overall during the whole year, to 21.91 million. Almost three-fourths of the yearly gains (+326,900) were in local schools.