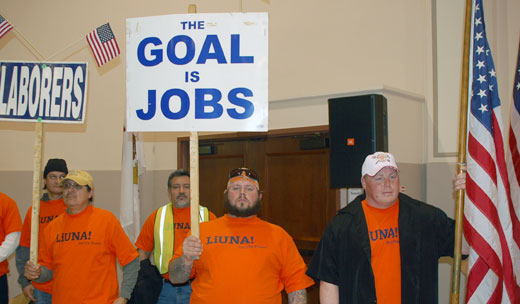 The nation's jobless rate and the number of jobless were virtually unchanged in July, the Bureau of Labor Statistics said. Officially, unemployment rose 0.1 percent to 8.3 percent, but, calculating to the third digit, the Economic Policy Institute reported the rise was from 8.22 percent in June to 8.25 percent last month, which BLS rounded upwards. Some 45,000 more people became jobless in July, to 12.794 million.
A separate survey showed businesses claimed to create 172,000 new jobs in July, the highest total since February, but state and local governments cut another 9,000 workers, net, reducing overall job growth to 163,000.
EPI economist Heidi Shierholz called the report a mixed bag. "July's rate was much stronger than the weak growth of the spring, but since the spring weakness was due in part to negative payback after warm-weather-generated hiring early in the year, July's growth probably represents the underlying trend and not necessarily a new momentum," she said.
"We still need faster job growth to meaningfully bring the unemployment rate down. At July's rate, it would take more than eight years to get back to full employment," she noted.
Republican presidential nominee Mitt Romney used the numbers to claim the Democratic Obama administration has not cured joblessness – and that the U.S. should return to GOP policies. Labor retorts the GOP policies produced the mess.
Factories gained 25,000 jobs in July, to 11.99 million, BLS said. One big reason was the car companies, which usually lay off workers to prepare model changeovers, didn't. Auto plants added 12,800 jobs, seasonally adjusted, and fabricated metal plants – steel for the cars – added another 5,200. Factory worker joblessness was 7.2 percent.
The Detroit Three firms saw demand running so high that they kept workers on, and U.S. plants of the Japanese "transplants" are still trying to catch up with production lost to last year's earthquake-and-tsunami-caused parts disruptions.
Construction continued to lag, even at the height of the summer. It dropped another 1,000 jobs in July, to 5.513 million. Specialty trade contractors shed 12,600 jobs while other sectors added jobs. Construction still officially had 994,000 jobless workers in July, or 12.3 percent of its workers. Union leaders point out the real jobless rate is around double that, since workers are "employed" even if they work sporadically.
BLS said adding together the jobless, those working part-time because that's all they could find, and workers who have dropped out of the labor force shows that 15 percent of all workers are unemployed or underemployed. Of the jobless, 40.7 percent have been out of work longer than six months, down 1.2 percentage points from the figures for June.
Photo: Laborers International Union of North America