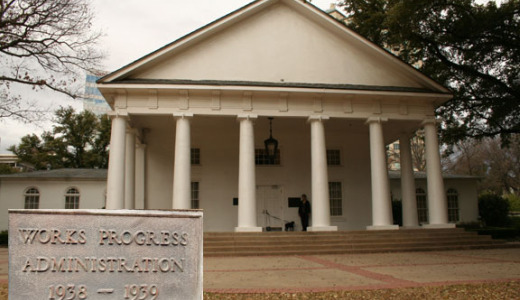 DALLAS – North Texas Jobs with Justice has been conducting a series of public actions advocating for government intervention to stop the jobs crisis. They sponsored a news conference of community leaders Feb. 5 in Lee Park near downtown Dallas. The park honors Southern General Robert E. Lee and contains a big statue of Lee and a two-thirds-size replica of his home in Arlington, Va.
Both of these and several smaller constructions in the park are marked clearly as projects of the Works Progress Administration (WPA) in the late 1930s.
WPA was a government jobs project that fed thousands of families during the Great Depression. Along with the Civilian Conservation Corps (CCC), they created or enhanced most of the parks in America. Most of their works have been eroded from memory, but several brass plaques in Lee Park still proclaim this important government-created jobs program.
Speakers at the news conference were religious leaders and the president of the Dallas NAACP. Even though most corporate newspapers gave rosy reports about the three-tenths drop in "official" unemployment that was released by the Bureau of Labor Statistics that day, the speakers made it clear that long-term unemployment, the worst since the Great Depression, will not go away without direct government intervention. It was also pointed out that African-American unemployment is drastically worse than that for white workers, and had actually risen with the January statistics!
National Jobs with Justice has joined with the NAACP, the entire labor movement, and dozens of church and other progressive organizations in a new coalition: Jobs for America Now. It demands that unemployment benefits be extended immediately and that government funds be applied to create jobs. After all, trillions of tax dollars have already gone to bankers and corporations. Why not something for the rest of America?
North Texas Jobs with Justice and its Workers Rights Board have announced another action for Friday, Feb. 12. It will be a public hearing of experts on unemployment, especially the unemployed workers themselves. It is scheduled for 2 p.m. at Judge Sepulveda's courtroom, 415 S. Beckley in Dallas. On June 22, activists plan to march with nationwide forces in Detroit.
Photo: The replica of General Lee's home in Dallas was a government sponsored jobs project. (PW/Jim Lane)