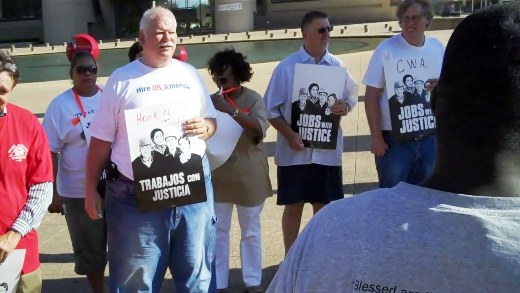 Across the nation on September 15, Jobs with Justice sponsored 106 actions on their "Jobs Emergency National Day of Action." Most of the activities targeted a particular congressperson who has contributed to holding back legislation that might have alleviated the great jobs crunch we're in.
In Dallas, the event took place on the City Hall Plaza as the working day wound down. Car horns honked approval as the downtown workers hurried home. Using a simple bullhorn, several progressive organizations talked about how the jobs crisis is affecting them and what should be done about it.
Christopher Head and Ernestor Pena, top officers of the Steelworkers local named North Texas Association of Public Employees, said that the city's planned layoffs must be stopped and City Manager Mary Suhm must be fired. James Fortenberry of United Labor Union Local 100 said that the sanitation workers subcontracting for the city must earn more than the minimum wage. Dallas is the only major city with this disgraceful pay level for those who handle trash, Fortenberry said.
John Fullinwider spoke for the Fair Budget Campaign. He said that the minority-race members of the City Council had just handed Mayor Leppert his first defeat when they voted a tax increase rather than allow city services for ordinary working people to be cancelled.
Clara Faulkner, from the NAACP in nearby Tarrant County, spoke of her pride in the organization that began the October 2 "One Nation" march on Washington. She urged the 50 participants to emphasize October 2 in their plans. She spoke with pride of the 100 NAACP members, mostly young people, who had already committed to make the long trip to Washington for the march.
Nancy Hall, a leader of Communications Workers Local 6215 in Dallas, said that those who cannot go to Washington should be raising money to send other people.
The speaker who brought it all together was Kelli Obazee of the Dallas Peace Center. Working with Jobs with Justice and the other groups represented, Obazee is taking careful, deliberate steps to build a progressive coalition.
She pointed out that the October 2 events are the best opportunity of our lifetime for bringing the groups together.
The center's giant banner, "Jobs not War," and Obazee's strong anti-war statement were well accepted, not just by the peace activists, but by labor and civil rights activists as well!
Photo: (Jim Lane/PW)