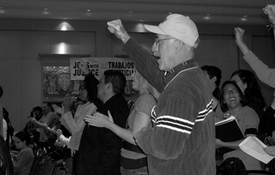 PROVIDENCE, R.I. — Jobs with Justice continues as a tremendous asset for organized labor, but new and exciting trends were also evident at its national conference here May 2-4. The organization that was founded by five industrial unions in 1987 has continued to grow and fulfill its original purpose of reaching outside labor's ranks to assist the union movement. Now, it is also organizing the broader working class in the United States and abroad.
Executive Director Sarita Gupta announced proudly to the 1,000 conference attendees that Jobs with Justice had exceeded its goal of tripling its activist database, and that 45 active coalitions now belong directly to the network. Each coalition includes unions, churches, community groups, civil rights organizations and occupation groups not easily incorporated into the traditional structures of unions. Some chapters have been organized in Brazil and other countries.
Domestic workers, independent taxi drivers, day laborers, security guards, former prisoners, mobile home owners, tenants, foreign construction workers brought here by employers, and other hard-to-organize groups now look to Jobs with Justice and its associated networks for help in organizing. Their confidence is being rewarded with success after success, as explained by speakers at the conference.
At the same time, speakers noted, JwJ's commitment to organized labor is shown by its support for national health care, fair trade laws and the right to organize as codified in the Employee Free Choice Act. One JwJ goal is to work with the AFL-CIO's campaign to gather 1 million signed supporters for this vital legislation.
Jobs with Justice is a not-for-profit and thus cannot endorse or support political candidates, but a number of workshop leaders pointed out that a fundamental change in Washington is needed to accomplish working people's goals.
Internationalism was evident throughout the conference. A raffle was conducted to benefit Colombian workers, and a large group of "guest" workers from India took the stage to explain their fight to make American contractors live up to their promises. The men and women from India had already marched from New Orleans, where they were brought as cheap labor for hurricane disaster clean-up, to Washington D.C. They announced that they would begin fasting for justice on May 14.
The Jobs with Justice Education Fund is conducting a worldwide fight for living wages that includes worker correspondents and cooperating organizations in Asian nations.
The first speaker introduced at the conference's opening plenary session set off a pattern for wildly enthusiastic responses that lasted through the entire event. When International Longshore Workers Union (ILWU) Organizing Director Peter Olney announced that his union had shut down West Coast ports on May 1 to oppose the Iraq war, the 1,000 JwJ activists rose to shout, applaud and shake their fists in solidarity. Olney said government officials and employers viewed the ILWU action as an act of defiance. "Of course it was an act of defiance!" he told the wildly enthusiastic crowd.
Hardly any sector of the world working class, hardly any concern of workers, was overlooked during the three-day conference.
A new strategic planning process to meet the needs of today's new situation was emphasized throughout the meeting.
Jobs with Justice leaders reject any description of their organization as one that primarily studies and talks. They are an activist organization, and they demonstrated it with a march of a diverse crowd of about 2,000 from the conference hotel to the Rhode Island state Capitol, where they demanded fair treatment for state workers.
Workshops reflected the many struggles that JwJ activists are involved in such as health care, immigrant rights, funding public services, organizing, and stopping war. At a workshop titled "Low-Wage Workers Organizing! Workers' Centers and Other Models," one of the panelists began his short address in Spanish by saying, "Workers of the world, unite!"