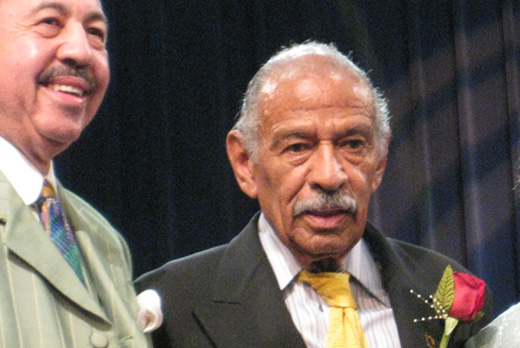 DETROIT — If ever someone merited a tribute, Congressman John Conyers Jr., the dean of the Congressional Black Caucus and second longest serving member in the history of the House, certainly fits the bill.
On Sunday, at Detroit's Greater Grace Temple, an appreciative public gave the 84-year-old congressman an outpouring of praise for his nearly 50 years of struggle on behalf of the people.
Speaking at the event, Michigan Senator Carl Levin noted the "titanic struggle" taking place in the nation's Capital, with the federal government now shut down. Levin said Conyers has always been in the middle of the fight for jobs and justice and against those who would reverse progress in health care and people programs like food stamps and Head Start.
"John Conyers is my man," said NAACP Detroit Branch President Reverend Dr. Wendell Anthony. "I'd rather have one John Conyers than one hundred of those other folks."
Georgia Congressman John Lewis, speaking by video, said Conyers was 50 years a "warrior" for civil liberties, civil rights, jobs and peace,
Those 50 years representing Detroit and Michigan in Congress began in 1964 when he won his first race by 128 votes.
And who was the first person hired to work in his office? Rosa Parks. Detroit Councilperson JoAnn Watson pointed this out to the crowd on Sunday.
Watson noted that Conyers was in the room when President Lyndon Johnson signed the Voting Rights Act of 1965. Conyers also sponsored the bill to make Martin Luther King's birthday a federal holiday, which finally won passage in 1983. And he demanded freedom for Nelson Mandela and sanctions against apartheid South Africa.
Nation of Islam's Louis Farrakhan said Conyers' good work will continue long after he has gone as "those who live their lives for others never see death."
One couldn't have a tribute to John Conyers in Motown without a program full of great music. From the legendary Four Tops to top-notch choirs of the young and the old, to gospel and jazz performed by the best, the program had it all.
Trumpeter Marcus Belgrave noted Conyers' love of jazz and his efforts to have it recognized as "a national treasure."
Detroit Mayor Dave Bing gave credit to Conyers for the leading role he played in last week's announcement that $300 million in federal and private aid will be coming to Detroit. If it were not for John Conyers, pressing President Obama for the assistance to this city facing bankruptcy, the money would not have happened, said Bing. Obama administration officials have said the infusion will not be the last.
Concluding the program was the "man" himself. How is it going in Washington? Conyers asked rhetorically. "It's going like this" he said as his hand made a quick downward motion.
What we really need, Conyers said, is what he saw from the beginning of his career: We need a society where everyone has a job and a just "system" alongside the jobs.
Right now, said Conyers, who is the ranking member of the House Judiciary Committee, we have an "unjust system of justice."
Jobs, justice and peace are all part of the same package, he said. "You can't get to peace if you haven't taken care of jobs and justice."
Conyers has served in Congress under eight presidents, from Johnson to Obama. What now? Local TV anchorwoman Rhonda Walker revealed that Conyers recently told her, "I love my job and have no plans on retiring."
Photo: Rep. John Conyers, Jr., right, at the Sept. 29 Detroit tribute. Judge Craig Strong is on the left. (John Rummel/PW)