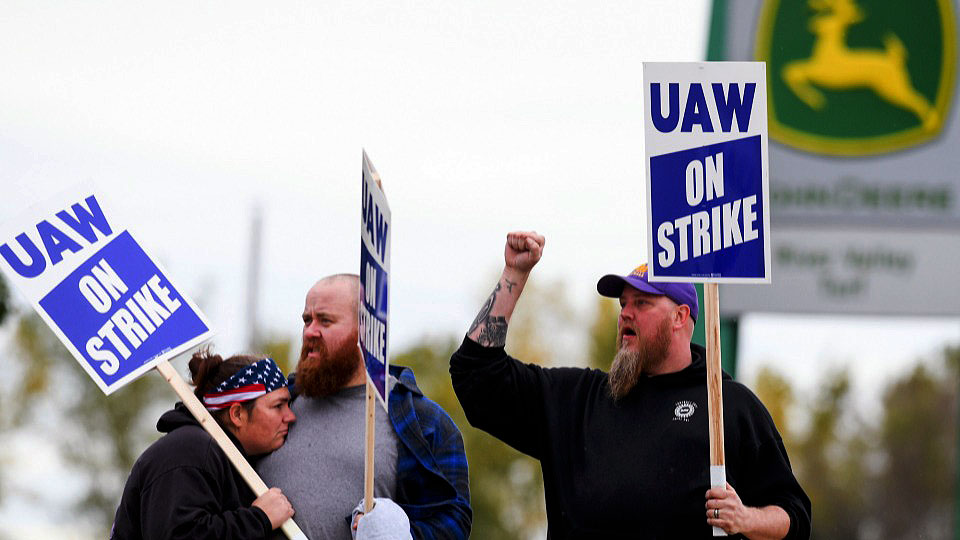 WATERLOO, Iowa—The 10,100 Auto Workers who toil at 12 John Deere farm equipment plants in Illinois, Iowa, and Kansas voted down a tentative new six-year contract with the big farm equipment maker—and will keep walking picket lines as a result. The contract lost 45%-55%.
Union members, determined to play the decisive role in deciding what is acceptable to them, are sending their top leaders and negotiators back to the table for a third try. The 55 to 45 percent rejection vote follows their tossing of the farm implement maker's first try last month by a 90 to 10 percent vote.
"The strike against John Deere and Company will continue as we discuss next steps with the company. Pickets will continue and any updates will be provided through the local union," the union's brief statement said. It did not release actual vote totals which were released by union locals and workers.
The second pact, reached Oct. 28, called for a raise of 10% in its first year, 3% lump sums in the second, fourth and sixth years, and 5% raises in the third and fifth years and an $8,500 ratification bonus, UAW Local 281 reported. And there would be no changes in their health insurance costs. The company was trying originally to foist more of these costs upon its workers.
The strike at John Deere is one of the unusually—for recent years—large number of strikes last month, which prompted the AFL-CIO to label the month "Striketober." The strikes, including the rejection of negotiated contracts, are part of a new wave of worker militancy sweeping the country.
The Deere workers are joining other exploited workers from coast to coast, both those forced to strike and those whom the coronavirus pandemic forced out of jobs and who later decided to permanently leave low pay and unsafe conditions for. Hundreds of thousands have found better-paying jobs with better benefits, as bosses have been forced to scramble for workers.
The union headquarters in Detroit did not release details of either the first or the second pact rejected by the workers.
Local 281, which is in Deere's headquarters city of Moline, Ill., also said the second pact, which was just rejected, included a retirement bonus of $37,500 each for workers who have toiled for 10-24 years. Workers with longer tenures were in line for $50,000 each.
John Deere has the money to pay for these things and much more. The AP reported it expects to net $5.7 billion this year, almost triple the $2 billion it netted in 2020.
After the second rejection, Deere is now saying it refuses to return to bargaining.
Enthusiasm and solidarity on the picket lines are high, says Mark Froemke, president of the Western Minnesota Labor Council, who drove hundreds of miles from his home near Moorhead, Minn., on the North Dakota border, to walk the lines with workers in Waterloo, Des Moines and Davenport, Iowa, and elsewhere.
"They were quite determined to win a fair and just contract," Froemke reported afterwards. "They had so many walking the lines in Waterloo they were walking four-hour shifts. In Des Moines (Iowa), they have 850 workers out and were doing eight-hour shifts."
And when the workers asked him why he drove so far to walk with them, Froemke's succinct answer was "to show solidarity from workers in Minnesota."
The John Deere workers also picked up wide community support, and not just in the immediate area, Froemke reported. "I got Charley Wishman, the Iowa Federation of Labor President, onto Charley Heitkamp's radio show" in Moorhead, to talk about why the workers were forced to strike.
"We have a lot of farmers in our area and they wanted to know if they can get John Deere equipment" and parts, Froemke explained.
The number of UAW members on picket lines was so large in Davenport the company got an injunction from Iowa District 7 Chief Judge Marlita Greve, which Local 281 denounced and appealed, limiting pickets to four per gate, with none at the "neutral" contractors gate. The injunction was in effect when Froemke got there.
Greve also ordered the picketers to remove fire barrels and chairs. The workers needed the fire barrels because picketing was round the clock. Greve, adopting the company's arguments, said the workers were harassing incoming drivers and blocking traffic, which was "unwarranted, impermissible and unlawful."
Froemke said Deere struck back with another unusual tactic: Pressuring the workers to break picket lines by citing a shortage of parts and the need to make repairs to farm equipment using what parts were available.
The company cited demand from customers—who by and large supported the workers, Froemke added—and shortages due to traffic jams of cargo ships awaiting unloading of farm equipment parts at the ports of Los Angeles-Long Beach. Deere's tactic failed.
"Our UAW John Deere national bargaining team went back to our local members after the previous tentative agreement and canvassed the concerns and priorities of membership," said UAW President Ray Curry, when he announced the second agreement. He thanked the bargaining team and members and the community for solidarity.
Now Curry and his lead bargainer, Chuck Browning, will have to try, try again.
Browning heads UAW's Agricultural Implement Department. He said bargainers of the second pact "focused on improving the areas of concern identified by our members during our last ratification." Judging by the results, the improvements weren't good enough, and there is talk of a possible "no confidence" vote in the union's leadership, according to at least one local leader and other union members. That could be key: UAW members are scheduled to vote mid-month on changing leadership elections to elect national officials.
New system of a popular, union-wide vote
Two or more tiered employment levels appear to be at the heart of some of the problems resulting in contract rejection. "Leadership hasn't listened to the membership regarding some of the tiered employment levels and dissension in the shops that's causing," tweeted Unite All Workers For Democracy, an independent caucus within UAW that has been pushing one-member-one-vote.
"They don't feel responsible to the people on the floor since they only have to be elected at the convention," UAWD added. The union's leaders oppose the change to one-member one vote, mandated by a federal court consent decree in a FiatChrysler-UAW corruption case.
People walking the picket lines frequently tell supporters and reporters that they oppose the two-tier system denying fair pay and benefits to many members.
Regardless of internal differences, however, the overwhelming majority of UAW Deere workers are united in the struggle to win a fair contract from the agricultural giant. Their brothers and sisters in other unions are also taking on a variety of other big companies in the Midwest and across the country.
After walking with the Iowans, Froemke headed to Omaha, Neb., to join Bakery, Confectionery and Tobacco and Grain Miller members whom Kellogg's forced to strike. Morale was high there, too, he said.
It is not lost on the UAW that its struggles, along with the struggles of many other unions, has resulted, on the national level, with the replacement of Trump's anti-labor administration by a labor-friendly Biden administration that has elevated Marty Walsh, a long-time member of the Laborers, to the position of Secretary of Labor.