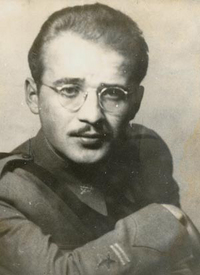 At the ripe age of 93, John R. Gerlach, the former Intelligence Officer of the Legendary 15th Brigade that included the Abraham Lincoln Battalion, passed away on August 12th, in Camarillo, California—having lived a very long and full life, capped by hearing of the March 30, 2008 San Francisco unveiling ceremony of the National Monument to the Abraham Lincoln Brigade of Veterans of the Spanish Civil War.
Born Ivan Rujevcic in Vurota, Croatia, where he lived until the age of 13—John R. Gerlach came to the U.S. in 1928 aboard the Leviathan, the largest cruise liner of its time. In Detroit, he reunited with his mother Maritza Rujevcic and step-Father, Anthony Gerlach, then a labor union organizer and national Croatian political leader as well Secretary of the I.W.O. Under the guidance of his step-father, and while attending union rallies and watching his step-father give speeches to Detroit automobile workers and other union workers, John quickly rose up from the ranks. John became a union organizer himself at twenty, and he organized the restaurant workers on Greek Street in Detroit. Soon thereafter, he traveled to Moscow under a scholarship to study for 2 years at Moscow's University of the National Minorities of the West in 1935 and 1936, where he gained skills in engineering and political science, encompassing Marxism and Leninism—skills which would permanently and dramatically inform and alter his life.
In December 1936, back in New York City, Gerlach was recruited by his former Moscow professor, Mirko Markovic, to serve in the International Brigades of Volunteers defending the Spanish Democratic Republic during the Spanish Civil War—the Spanish Democracy's war of resistance fighting against the brutal forces of the Spanish Rebel army under fascist General Francisco Franco and his allies, Nazi German and fascist Mussolini's Italy. Arriving in Spain, John Gerlach was immediately named Lieutenant and Intelligence Officer responsible for English-speaking and South-Slav-speaking affairs working at the International Brigade Base in Albacete. Using the nom de guerre of "Ivan," John Gerlach later served as 15th Brigade Staff Officer and Head of Intelligence and Counter-Intelligence at the Front—where he personally brought Ernest Hemingway, Martha Gellhorn and Herbert Matthews in his staff car and took them to the front lines: the first of John's three dramatic encounters with Hemingway.
Gerlach is listed and pictured in American history books alongside prominent Lincoln Brigade American officers Major Robert Merriman and Commissar Dave Doran. John is cited in many books for his heroic role in leading a column of some one hundred top Americans out of a fascist blitzkrieg encirclement, guiding that column of men for two harrowing days and nights days eastward toward their hope of safety across the Ebro River—which many of them lived to cross, his later good friend Milton Wolff among them. John Gerlach at that time also guided two American comrades to the banks of the Ebro where he spotted a canoe and rowed them across the swollen Ebro at dawn—only to be greeted by foreign correspondents Ernest Hemingway and Vincent Sheean.
Hemingway recorded John's account of the fates of those present and missing among the Abraham Lincoln Battalion. Hemingway's April 3, 1938, dispatch was printed in the New York Times, and quotes the 'Scout Officer Ivan' as his source of information. John Gerlach was to meet with Hemingway one last time in Barcelona, prior to being repatriated.
Gerlach subsequently worked as a mechanical engineer for Kwikset Locks Corporation in California, where he became their top designer of locks and stylish door handles still in production. His superb war memoir piece, 'Behind Enemy Lines', was published in the Alvah Bessie Edited Anthology, 'Our Fight', a collection of selected writings by Lincoln Brigade Veterans.
Gerlach's experiences in Spain were subsequently researched by his son Quentin Guerlain to incorporate his father's unique role and perspective into an all-inclusive historical novel entitled WHEN FREEDOM CALLED—An American Intelligence Officer in the Spanish Civil War. As of April, 2008 this historical novel has become championed by none other than Spain's Ambassador to the United States—Ambassador Carlos Westendorp, who pledged to 'do my best to try to find some potentially interested publisher in Spain'—a remarkable final tribute to the measure of John's life and his service as an Intelligence Officer in Spain, among notable heroic comrades.
John Rujevic Gerlach is also described and pictured as a Croatian Hero in a historical work by the Croatian historian Juro Gajdek. Gadjek interviewed John for his role as one of the prominent Croatian and Yugoslav National Heroes—so honored for their parts in their resistance against fascism and as defenders of liberty at the first phase of World War Two, fought on the battlefields of Spain.
In 1986, Gerlach was awarded an Honorary Spanish Citizenship of Spain from Spain's legislative body the Cortes, such recognition accorded to all the survivors of the International Brigades. With his passing, John leaves only 34 living American Veterans of the legendary Abraham Lincoln Brigade out of some 2800 who served in Spain.
John leaves behind his wife Sonya Gerlach of some 47 years, of Oxnard Shores and formerly the Director of Social Services of all of Los Angeles County, as well as many dear relatives from her side of the family in Southern California. He also leaves behind four sons and their respective families: Stephen Nicholas (AKA Jesse Kincaid of Mill Valley, California), daughter-in-law Linda Longstreet and granddaughter Katherine Kincaid; Quentin Guerlain and daughter-in-law Maree J. Wong-Guerlain of Novato from John's first marriage to Madelyne Benjamin, also of Detroit. And from his marriage to Sonya, John leaves behind sons: Evan Gerlach of Oxnard Shores, and Dan Gerlach of Cheviot Hills, and grandson Dan Gerlach, Jr. John also leaves behind his Croatian great-niece Melita Zak currently of Oxnard; also his brother Fred Gerlach, sister-in-law Barbara Gerlach, and nephew David Gerlach—all of San Diego; John also leaves many relatives in Croatia.
John will be dearly remembered for his satirical wit, his earthy charm, winning smile and zesty passion for friends and family—as well as for his wide love of world literature. He spoke fluent Russian, Serbo-Croatian and English, as well as Spanish. He was of another time and era, but he also merged into the hip Sixties and Seventies and survived well into the transformative twenty-first century—most lately devoting his lucid mental faculties toward working in the ongoing research into his fascinating role and unique perspective serving in the International Brigades for two years in Spain. Throughout his long life he never for a moment forgot his purpose and friends in Spain; and he lived just long enough to see the unveiling of the Abraham Lincoln Brigade Monument in San Francisco.
His life stands as a heroic example of bold and informed American activism inspiring young and old to constantly move bravely forward—'Adelante!'—in the continuing struggle for human rights and for universal liberty. Long live the Fifteenth Brigade! Viva La Quince Brigada!