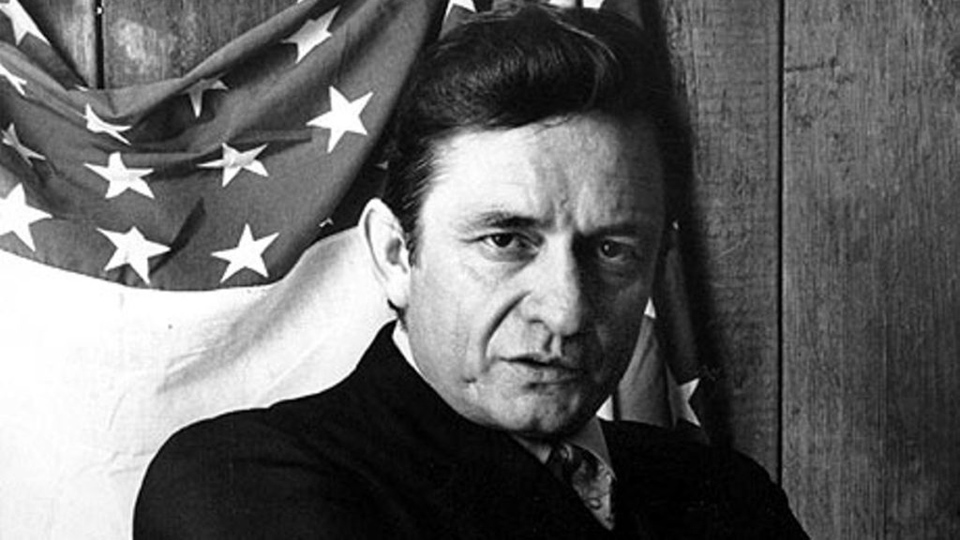 I walk up to the mailbox. It is black, a large rural mailbox on a large wooden post. I open the box, peek inside. No mail today. And there has been no mail for a long time. Behind the mailbox is a long fence built of stones, and behind that are the remnants of a burnt-out estate. A lone guard shack still stands, unmanned, but I still feel like I am being watched.
I ask my wife to take my picture standing by the lonely mailbox. As she clicks, I hear the words that I spoke to her on our wedding day wafting through the air: "Flesh and Blood need Flesh and Blood, and you're the one I need."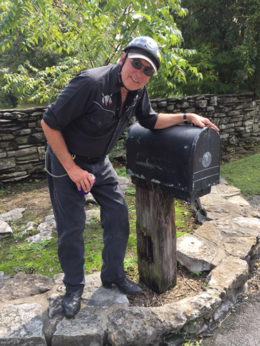 The Man in Black. Those were the words he wrote, John R. Cash, or as the world knew him, Johnny Cash. We had saddled up on the Great White Steed yesterday and rode 460 miles, 200 in the rain, for one mission: to reach Hendersonville, Tennessee to pay homage to one of my heroes and inspirations. I am now standing next to his mailbox and looking over the fence at his once-magnificent home spread. The Cash family lived here for 35 years before Johnny's death on Sept. 9, 2003.
In 2007, new owners were renovating the property when an electrical fire broke out and destroyed almost everything. As I look out at the rubble with the waters of Old Hickory Lake as a backdrop, I remember the words of my late father: "Nothing lasts forever except old Fords and natural stones."
Johnny Cash is one of the most well-known performers this country has ever seen. He recorded over 1,500 songs in his lifetime as well as numerous TV shows, movies, and music videos. He sold over 90 million records worldwide. I love all of his music, from the 50s rockabilly to the gospel music and his later work with producer Rick Rubin. My honor and respect for the man go far beyond his music, though. His songs were known for their complete truth and honesty. And so was his activism for peace and social justice.
Cash began performing concerts at prisons in the late 1950s. Two famous albums were recorded during his prison concerts: Johnny Cash at Folsom Prison and Johnny Cash at San Quentin. These were two of the nation's most notorious prisons, but he and his wife June walked freely around the grounds and among their inmates. He was an advocate of prison reform and sang that he wore black "for the prisoner who has long paid for his crime."
As a devout Christian, he deeply believed in redemption and forgiveness. He met with President Nixon at the White House to discuss prison reform in 1972. One of my favorite photos of the Man in Black was taken at a 1969 concert at San Quentin. The photographer said "John, let's do one for the warden." Johnny flipped up his middle finger and gnarled his lips in a silent F-bomb. No wonder the prisoners loved him.
His activism for Native Americans was another one of his social justice passions. In 1957, he wrote a song called "Old Apache Squaw" about Indian tragedy and settler violence. His Columbia record label opposed the song, saying it was "too radical for the public." In 1964, after coming off the chart success of "I Walk the Line," he recorded an album called Bitter Tears: Ballads of the American Indian that featured stories from a multitude of native peoples and songs, such as "The Ballad of Ira Hayes" and "Apache Tears." "The Ballad of Ira Hayes" was denied promotion by the record label due to its provocative protesting and "unappealing" nature.
Cash fought back with a letter run as an advertisement in Billboard magazine. He called the record industry cowardly. "DJs, station managers, owners," he wrote, "where are your guts? So many stations are afraid of Ira Hayes. Why? Because Ira Hayes is strong medicine… So is Rochester, Harlem, Birmingham, and Vietnam." Cash kept promoting the song himself without the record label's help, and it eventually made it to number three on the country charts.
Johnny and June Cash went to Vietnam in 1971 to perform for the troops. He was a veteran himself, and an American patriot. He felt it was his duty to perform a series of concerts for those who were serving their country.
After that tour, he became a fervent anti-war protester. He sang in "Man in Black":
"I wear the black in mourning for the lives that could have been. Each week we lose a hundred fine young men."
Cash wrote another anti-war song called "Drive On" after sending a letter to President George H.W. Bush protesting the first Iraq War. "Drive on—it don't mean nothing—is an expression they used a lot in Vietnam when I was there," Cash would explain. He believed in non-violence and wanted to keep his soldier brethren from going and dying in another war. The song is just him and a guitar that showcases his true grit and honesty. Cash once said, "The only thing good to come out of a war is a song."
Johnny was a defender of the working man as well. When asked why he was still continuing on with his Man in Black persona late into the 1970s, he replied:
"Apart from the Vietnam War being over, I don't see much reason to change my position… The old are still neglected, the poor are still poor, the young are still dying before their time, and we're not making any moves to make things right. There's still plenty of darkness to carry off."
Johnny Jameson, his tour manager, said "There were a couple of things that bothered him, like he wouldn't take the stage unless the American flag was flying, and he wouldn't tolerate a show unless the crew running it were unionized."
Before we left Hendersonville that day, my wife and I visited the graves of Johnny Cash and his beloved wife, June Carter Cash. They died just four months apart.
Johnny Cash fought his whole career for the ideals that he believed in. He fought the music industry. He fought the politicians. He fought his own personal demons. He fought the very norms of what it was thought to be a patriotic American.
Artists, soldiers, social activists, social outcasts, and even just pure music lovers all connect with the word and Gospel that is Johnny Cash. He is an American Original, and I have completed my pilgrimage.
As the Great White Steed pulls away from the cemetery, I hear his voice, low and slow. I know he is singing just for me. It was a song he recorded on his last album just before he died. "Ain't no grave gonna hold my body down." Goddam right Johnny. You are still with us.