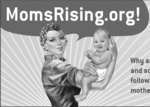 On Mother's Day — the highly commercialized U.S. corporate version, not the antiwar vision of Juliet Ward Howe — we are bombarded with paeans about how worshipped, respected and revered Motherhood is in this country. A new book, "The Motherhood Manifesto," and a new movement, Momsrising, tell us that this isn't so in the real-life world of working mothers and their families.
The book, written by MoveOn.org co-founder Joan Blades, lays out in clear terms the struggles working mothers go through in the workplace and at home. Working mothers are discriminated against in hiring, pay and benefits. They have difficulty finding a job that has health insurance for their children and that pays enough to provide for their care. And protections for working mothers are few and in some states nonexistent. It seems that the ruling class respects Motherhood only when the mother is pregnant, and family values only apply to philosophical issues such as the right to life and intelligent design, but not to such issues as equal pay and access to health care and employment.
In true MoveOn.org fashion, Blades announced her book and the movement over the Internet May 4, asking people to join Momsrising and send a message to Congress. Momsrising is asking for 50,000 signers before Mother's Day. Their signatures and comments will be delivered to leaders in Congress. And Momsrising will use this beginning to build a movement for real working-family values.
A short excerpt from the book tells the story of Kiki, a single Pennsylvania mother of two who questions in a job interview why she is being asked if she is married or has children. The interviewer tells her he needs the information so that he would know what to pay her because the pay would depend on her status. He would pay her less if she had children and if she were a single mother. Thinking both the questions and the unequal pay couldn't possibly be legal, she called the Pennsylvania Human Relations Commission. She found out that the questions were legal, as was paying a single mother less. Pennsylvania, like many states, does not have state employment laws that protect mothers.
According to Cornell University research by Dr. Shelley Correll, mothers are 44 percent less likely to be hired than non-mothers who have the same résumé, experience and qualifications; and mothers are offered significantly lower starting pay.
Research shows the maternal wage gap isn't linked to self-imposed factors like mothers taking more time off to care for children or choosing a job with less responsibility. Instead, it is straightforward discrimination. We must stop listening to those who say it is somehow our own fault, and start fighting back.
The web page lists the manifesto points that Momsrising hopes will lead to a maternal revolution. The manifesto calls for:
• M = Maternity/paternity leave
• O = Open flexible work
• T = TV we choose & other after-school programs
• H = Healthcare for all kids
• E = Excellent child care
• R = Realistic and fair wages
You can go to www.momsrising.org for details on Momsrising, the manifesto and the campaign. Sign the petition! Download the book! Join the mothers' revolution!
Carolyn Trowbridge is a health care activist in Arizona and a member of her county's board of health.