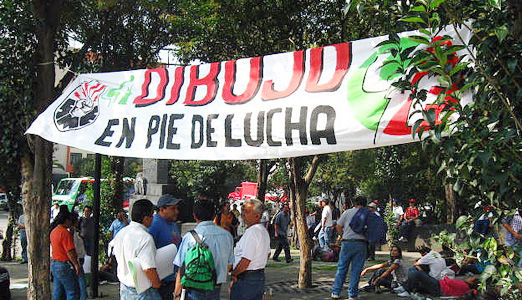 North American unions and worker rights supporters are joining together to support worker rights in Mexico during the week-long international Days of Action, February 18-24.
Actions in the U.S. will vary from protests to delivering letters to Mexican government consulate offices. Activities are currently being organized in Austin, Boston, Chicago, Denver, Detroit, Houston, Indianapolis, Kansas City, Los Angeles, Miami, Montreal, New Orleans, New York, Ottawa, Portland, Raleigh, Seattle, Toronto, Tucson, Vancouver, and Washington, DC.
In Mexico City, representatives from labor organizations from the United States, Canada, Quebec, and several global unions will join the independent Mexican unions at a press conference, several mass actions and in delegations to embassies.
The actions in the U.S. and Canada are being organized by the Tri-National Solidarity Alliance with labor groups including the AFL-CIO, United Electrical Workers, United Steelworkers, the United Auto Workers, CSN, CEP, CAW and other unions as well as NGOs, including Austin Tan Cerca, the Cross-Border Network, National Guestworker Alliance, and the National Lawyers Guild.
See the schedule of events (which will be periodically updated) and contact information and join in an action if there is one in your city. If your city has a Mexican consulate and no action is listed on the schedule, consider organizing a delegation to the consulate the week of February 18 to deliver a letter (sample available upon request from scoats@usleap.org) supporting worker rights in Mexico.
Days of Action are focusing on the need to rollback regressive labor law changes that were approved in the fall of 2012 and supporting workers at key conflicts, including the Mineworkers (Los Mineros), Bata and Corona workers, and the Electrical Workers union (SME), which just received a defeat at the hands of a Supreme Court ruling, condemned as unfair by the global union movement. On February 11, Labour Start initiated a global campaign in support of PKC workers in Ciudad Acuña.
Another key demand is action by the International Labor Organization to address the pervasive protection contract system that is used by employers, company-friendly "unions," and the government to keep out democratic unions and deny workers their basic rights.
See the 2013 Days of Action Backgrounder for more information on these and other worker rights issues in Mexico. Also available in Spanish.
For 2012 labor developments in Mexico, see the 2012 Year in Review by Mexican Labor News & Analysis.
All the global unions and the International Trade Union Confederation are also supporting the Days of Action. The global union IndustriALL is taking a major lead in coordinating actions throughout the world and in providing posters, video, a model letter to send to embassies and consulates, and background materials for the Mexico Days of Action, with a dedicated webpage.
Mexico's lower wages and the obstacles to union organizing continue to draw U.S. companies south of the border. In late January, the largest private employer in Waukegan, Illinois, (Cardinal Health) announced it was cutting 650 production jobs and moving work to Mexico and South Carolina, bringing further economic devastation to one more community that has already suffered from globalization's race to the bottom.
Through the Days of Action, the Tri-National Solidarity Alliance (TNSA) and organizations and activists around the world are working to promote a decent standard of living and work with dignity for working people in all of our countries.
Photo: USLEAP Flickr