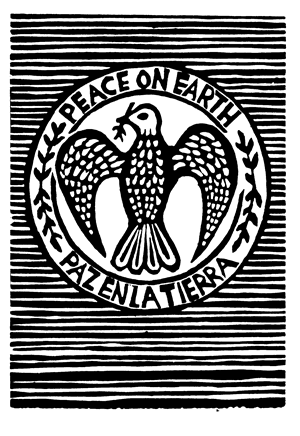 As 2009 comes to an end, a new day is on the horizon for the future of the People's World and Mundo Popular.
This English and Spanish newspaper is going digital. The work that is done creating the current 12-page newsprint edition will be transferred and transformed to building a daily online hub of pro-labor, progressive and radical news, views and struggles.
The websites www.peoplesworld.org and www.mundopopular.org were launched in October. All articles are printable, and a four-page weekly digest is also available to print and distribute from a home, school or library computer.
Editorial board members say the challenge is to build an effective online network that can transform an egalitarian world outlook into effective grassroots action with results that improve the lives of ordinary people, black, brown and white, younger and older, citizen and non-citizen, all genders and sexual orientation.
Tens of thousands of readers visit the site monthly. And editorial board members say it will take the effort of all supporters and volunteers to grow this readership exponentially. The potential is there, they say, especially in this social media day and age where Facebook, Twitter and iPhone are becoming the reality of how millions share and access information.
"Imagine the power of getting the word out about a strike or a factory occupation," said editor Teresa Albano. "That's what we did last year when the Republic Windows and Doors workers occupied the Chicago factory."
The People's World, she points out, was one of the first to break the story attracting national attention and solidarity through the website, and social networks like Facebook and Twitter.
"The story didn't appear in print until a week later," Albano said. "One award-winning labor website editor told us peoplesworld.org was the only story she could find online about the Republic workers within a day of their takeover. So they used ours."
Associate editor Susan Webb used a more illustrative analogy. "It's like flicking a pebble into a pond and watching the speedy aftermath of its ripple effect," she said.
Accessing news online today spans all income levels and ethnic groups and more people are getting their information this way, says Webb. "It's really a leap forward and a new era," she said. "It's almost a requirement for people under 40 who want to retrieve their information to go online."
"And for people who want to make progressive change, we have to measure up to the challenges of this new day," she said.
Libero Della Piana, long time contributor to peoplesworld.org and a self-described tech-savvy political organizer and Marxist, took issue with some critics that working-class people and people of color are hopelessly locked out of the digital revolution.
"When you include using the Internet at work and school, it shrinks the 'digital divide' concept that says most people don't have online access," he said. Della Piana noted one study the Service Employees International Union that found 86 percent of their membership checks email at least once a week.
"We now have the audience of the whole world allowing millions to visit our website at the click of a mouse," he said. "Through new technology we have the opportunity to gain the trust and authority from people on the ground including community and labor groups to faith-based and youth organizations."
Della Piana also pointed out that a robust website with a mass readership could pave the way to a newsprint edition again in the future. "We will be back in print and this is the fastest way to do it," he said.
Supporters can help promote stories by reposting them on the numerous social media sites like Facebook, Twitter, Stumble Upon or Reddit. All are encouraged to sign up for e-mail headline blasts at peoplesworld.org and get family and friends to sign up as well.
People's World and Mundo Popular also can be found on Facebook, search Peoples World (no apostrophe), Twitter, @peoplesworld (one word, no apostrophe) and MySpace, www.myspace.com/peoplesweeklyworld.
Other opportunities to build this unique site include becoming a volunteer correspondent. Albano invited interested people to send in stories, photos or YouTube videos about local stories and struggles. "It could be about your local library closing because of budget cuts," she said. "Talk to a librarian or library user. Get their words. What could be done to keep libraries open? There are a million interesting stories that can connect people and inspire them to act."
Meanwhile editorial board members say the daily online website is going to continue to be a voice for socialism and social progress in the United States.
"Our unique approach to stories will continue to highlight the rights of ordinary people and the fight for social justice," Albano said. "Plus it will offer the socialist alternative to capitalism. After all some 47 percent of the American people don't have confidence in the system. And neither do we."