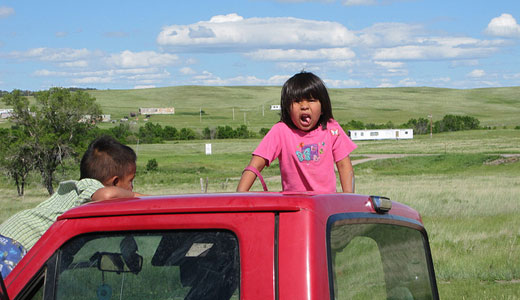 American Indian children of the Lakota, Dakota, and Nakota Sioux nations are being removed from their homes by state officials under cover of law.
The forcible removal of children from their families recalls events of the 19th century when thousands of Indian children were legally abducted from their homes by U.S. soldiers and sent to boarding schools in a program justified by a genocidal philosophy of "Kill the Indian, Save the Man."
Join us for a special teleconference presentation Tuesday, September 17, with People's World correspondent Albert Bender, who will report from South Dakota on the ongoing attack on the rights of Native Americans and the fight back.
Modern genocide in South Dakota
Tuesday, Sept 17
8 p.m. Eastern / 7 p.m. Central / 6 p.m. Mountain / 5 p.m. Pacific
Call (605) 475-4850 Dial PIN code: 1053538# when prompted
(long-distance charges may apply)
Peoplesworld.org correspondent Albert Bender is a Cherokee Indian and Native American activist. He is also a political columnist for News from Indian Country as well as an historian and attorney specializing in Native American law. Bender is currently writing a history of the Maya people.
Albert Bender's South Dakota articles include:
South Dakota commits shocking genocide against Native Americans
Is South Dakota being demonized over treatment of Native Americans?
Photo: Native children outside the Wounded Knee Museum on the Pine Ridge Reservation in South Dakota. Ben Piven CC 2.0