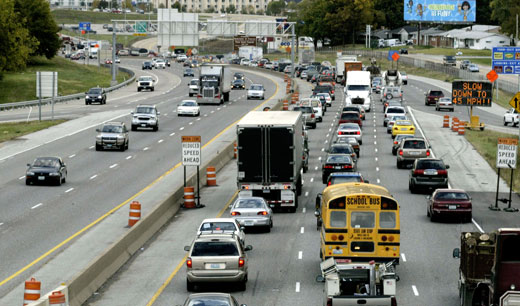 President Obama and House Speaker John Boehner agreed Wednesday night to a joint session of Congress on Sept. 8, ending yet another GOP attempt to embarrass the president.
Obama, in a dramatic raising of the stakes in his push for jobs, had requested the unprecedented session be called Sept.7, the day Congress reconvenes after its summer break. The administration says it had cleared the date with GOP leadership before publicly announcing it but Boehner's office, admitting it had been given advance warning, denied that it had actually okayed the date.
"Our nation faces unprecedented economic challenges, and millions of hardworking Americans continue to look for jobs," the President wrote in his letter to the Speaker and to Senate Majority Leader Harry Reid (D-Nev.). "As I have traveled across our country this summer and spoken with our fellow Americans, I have heard a consistent message: Washington needs to put aside politics and start making decisions based on what is best for our country, not what is best for each of our parties, in order to grow the economy and create jobs … It is my intention to lay out a series of bipartisan proposals that the Congress can take immediately to continue to rebuild the American economy by strengthening small businesses, helping Americans get back to work, and putting more money in the paychecks of the middle class and working Americans…"
Republicans attacked the president for choosing the Sept. 7 date because it would have pre-empted the Republican presidential candidates who are slated that night to debate at the Reagan library in California.
Asked if the White House chose the date specifically to upstage the Republican presidential candidates, White House Press Secretary Jim Carney said, "No, of course not," adding that the Sept 7 debate was "one of many." The Sept. 8 joint session will compete with the opening game of the NFL season.
The president is working up his jobs proposals as the nation's labor movement unfurls its Labor Day "America Wants to Work" initiative. At a press conference yesterday the AFL-CIO put forward a six-point plan that it said would rebuild the nation's transportation and energy infrastructure, revive manufacturing by ending export of jobs, put people to work on public projects in communities, help states and local governments keep workers on payroll, extend unemployment benefits and strengthen regulations on Wall Street.
Workers at the press conference joined labor leaders to dramatize why they believe the times call for a serious jobs program.
Leann Bosquez, a member of the AFL-CIO community affiliate, Working America, was one of those who spoke. She was a retail sales manager and has been jobless since January. "I've never had difficulty getting a job before," Bosquez said. "But now I send out resumes or talk to people and they say I'm overqualified or undereducated. There are hundreds of people applying for the same job."
"All told, this has been the worst decade for American workers in a century," former Labor Secretary Robert Reich wrote in his nationally syndicated column today. "Private sector wage gains over the last decade have even lagged behind wage gains during the decade of the Great Depression."
"Labor Day is traditionally a time for picnics and parades," Reich said. "But this year is no picnic for American workers, and a protest march would be more appropriate than a parade."
Despite the urgency of the jobs issue, the president can expect to face an uphill battle with the GOP Congress. Even on a matter such as the historically automatic extension of legislation that funds highways, set to expire next month, the president has had to assemble labor and business leaders to put pressure on Congress.
Obama was joined today at the White House by David Chavern, chief operating officer for the U.S. Chamber of Commerce, and AFL-CIO President Richard Trumka to press GOP lawmakers for what, since the 1950's, had been a routine extension of the legislation.
Failure to extend the legislation (first signed into law by Republican President Dwight Eisenhower) or to go instead with a substitute measure put forward by House Transportation and Infrastructure Committee Chairman John Mica (R-Fla.), could mean loss of more than a million jobs and inability of the government to continue collecting the 18.4 cents per gallon gas tax.
AFL-CIO Transportation Trades Department President Edward Wytkind said the GOP proposal is "the worst highway and transit funding bill in modern history and a loser for the American economy and a loser for American workers."
Photo: Traffic on I-70 in St. Charles, Mo. Highway and mass transit funding bills have been routinely approved by congress since the 1950s. But new moves by the GOP could end all of that and threaten 1 million jobs. (James A. Finley/AP)