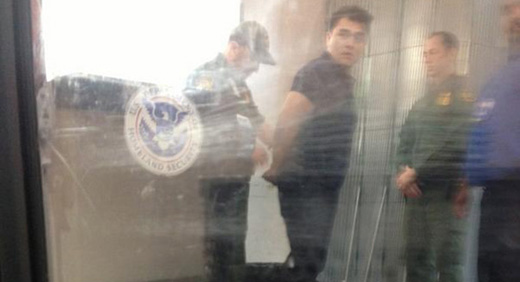 MCALLEN, Texas – One of the best-known advocates for the immigrant rights movement, the undocumented Filipino immigrant Jose Antonio Vargas, was detained this morning at a Border Patrol checkpoint in the airport here before he could get to his scheduled plane to Houston.
He was reportedly handcuffed and taken for processing to the McAllen Border Patrol station, which has been overflowing this month with many of the undocumented immigrants who are part of the steady stream of people coming over the Mexico-U.S. border from Central America.
A blurry photograph sent to the press showed Vargas in the McAllen airport, being handcuffed by a Border Patrol agent.
Vargas, a Pulitzer Prize-winning journalist came to McAllen to participate in a press conference, a vigil and a march sponsored by United We Dream, an undocumented youth organization. He had no intention of going through any border crossing point in either direction, he said. He insisted he never intended to be detained.
"I didn't even think twice about it," Vargas said, when he accepted the invitation by United We Dream to participate in the protests.
McAllen, because of its proximity to the border, has Border Patrol checkpoints at its airport and major roadways.
Vargas is not stopped at regular airport checkpoints because Transportation Security Administration officials check his passport, not his immigration status.
He twittered that he did not know he would be required to go through a Border Patrol check to leave the Rio Grande Valley. Vargas travels on a valid Filipino passport, but it has no current United States visa stamped into it.
He has lived in the U.S. as an undocumented immigrant since he was 12.
Vargas was formerly a reporter for the Washington Post, where he was part of a team that won the Pulitzer Prize for breaking news coverage in 2008. He announced his immigration status in the New York Times Magazine in 2011.
Tania Chavez, who is with the United We Dream Minority Affairs Council, said Vargas was in Texas this past weekend in solidarity with unaccompanied children who cross the Texas border fleeing for their lives.
"He didn't know that Border Patrol checkpoints are all around this area and also at the airport, which means in order to leave, he had to risk arrest and detention.
"That's why we're marching to the airport with Jose to stand with him and families who live on the border," she said.
Chavez said the challenges facing Vargas are ones that many immigrants are facing daily.
"Jose's current situation is our reality every day," she said. "For many undocumented immigrants who live near the border, we can't return to our home countries, and can't travel outside of a 100-mile radius in our home sate of Texas. Were trapped inside a cage."
Chavez was 14 when she came to Texas. She went on to eighth grade, high school in three years and then college. "Today I have two masters degrees," she said, "but I don't qualify for DACA [Deferred Action for Childhood Arrivals]." (She has "aged out" of the group eligible for relief under the program the President signed for young people who came as children. Vargas is not covered by this program for the same reason.)
The solution, Chavez said, is to expand DACA, "so people along the border can be integrated into the United States and reunited with their families."
John Wojcik contributed to this story.
Editor's note: United We Dream and other sources have just reported:
Jose Antonio Vargas released from Border Patrol Station in McAllen; immigrant families are still trapped at the border.
TOWN HALL May 2 – Confronting the COVID Economy: Women Fight Back