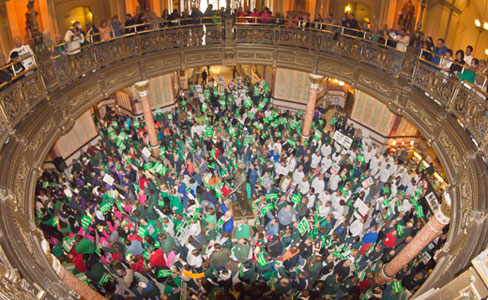 It was six o'clock in the morning of October 26 and two busloads of noisy, motivated Chicago teachers and friends were on their way to the State of Illinois legislature in Springfield to rally and lobby to protect their pensions.
Everyone was discussing how workers were being attacked at all levels with lay offs, cuts in health, education and social services. The talk was about two bills being proposed in the state legislature that will curb teachers' rights and allow Chicago's Mayor Rahm Emanuel to take control of the Board of Trustees of the Chicago Teachers Fund.
We talked about how the proposed HB3827 will replace the current 12-member board with a 7- member board, and how the bill will force teachers to relinquish all of the current input they have over the future of their own pension fund.
Of the seven members who will constitute the board, the four appointed by the Mayor are not beneficiaries of the fund or in any other way accountable to teachers.
Jack Silver, spokesperson for the CTU, practiced his address to the rally, and other riders gave suggestions and encouragement with applause and cheers. The Chicago Teachers Pension Fund (CTPF), he said, "Has a scandal-free record with a responsible pension board that hard-working teachers, principals and retirees elected.
"Retired Chicago teachers and principals have never missed an employee contribution and have counted on their voice to be represented by the CTPF. The proposed changes will virtually eliminate the democratic voice of educators on the pension board."
Another proposed bill, SB512, Silver said, will ask current members of Illinois state funded pension systems to increase their contributions in order to receive the pension they have been promised. SB-512 will increase teacher contribution from 9 percent to 12.75 percent. Teachers say they don't mind paying their share but wish the state would stop failing them. The Chicago teachers' pension fund gets no help while many suburban and other state systems received $2.5 billion in assistance in 2011.
The average CTU retiree earns $42,000 per year. However, 17,269 of the 87,000 retired teachers receive less than $20,000. But pensioners have spent up to 35 years educating students and rely on the promises made to them over the years. They feel that in Chicago, as elsewhere, teachers are being made into scapegoats during the economic crisis.
After a 3-hour trip, we finally arrived at the legislature where we were met by members of other unions whose pensions are also threatened. There were spirited slogans, chants and calls and for action that reminded us of Occupy Chicago, which was going on back home in the city.
We broke up into small groups to visit the legislators and urge them to oppose Bills HB3827 and SB512. Jack Silver successfully delivered that speech at a big rally. Then it was lunch and back again for more lobbying. We returned to our buses at 5:30 p.m., tired but happy. At 7:45 p.m. we arrived back in Chicago. We shook hands and promised to continue the struggle. "La lucha continua."
In addition to the Chicago Teachers Union, present were the Illinois Nurses Association, Local 881 UFCW AFL-CIO (CLC), Illinois Education Association of NEA, International Brotherhood of Teamsters, Laborers International Union, AFSCME, International Union of Operating Engineers, SEIU and Illinois Federation of Teachers.
Photo: "Occupy Springfield" lobby day to save pensions, October 26. CTU joined other Illinois public service workers to stop HB 3827 and SB512 attacks on pensions. Howard Heath.