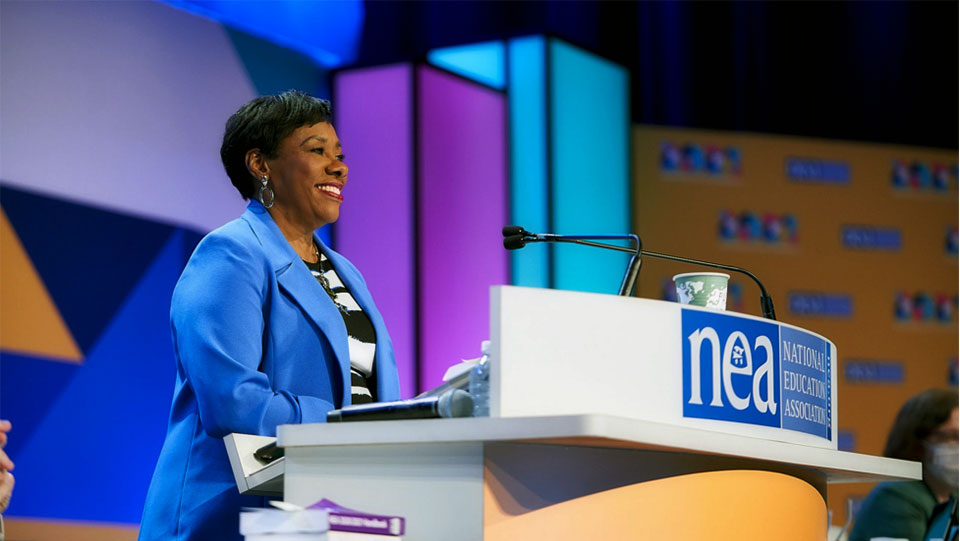 WASHINGTON—The nation's largest union, the three-million-member National Education Association, has strongly endorsed Democratic President Joe Biden's nomination of federal Appellate Judge Ketanji Brown Jackson to the U.S. Supreme Court.
While NEA President Becky Pringle, like Judge Jackson an African-American woman, issued a prior brief statement backing Judge Jackson, the influential teachers' group's letter was more detailed. Pringle called her nomination "a long-overdue milestone in the history of our country."
And the NEA leader particularly emphasized Judge Jackson's rulings against federal agencies' power, exercised by GOP Trump appointees, to strip away workers' rights.
Pringle is not the first African-American woman to head the nation's largest union, but Judge Jackson would be the first African-American woman on the High Court, a point the teachers' leader also stressed in its letter before hearings on Judge Jackson's nomination began.
"Judge Jackson's more than 600 rulings reflect her dedication to being a fair-minded, even-handed jurist committed to equal justice for all," Pringle wrote. "They also reflect a strong understanding of the limits on administrative agencies' authority to strip away long held workplace protections."
Pringle cited, in particular, cases involving Trump's edicts designed to trash the nation's two million federal workers and emasculate their unions. the Government Employees (AFGE) and the Treasury Employees.
In an early 2022 federal U.S. Court of Appeals opinion involving AFGE as the lead union, "Judge Jackson reversed a Trump-era Federal Labor Relations Authority rule that made it easier for government agencies to make workplace changes without having to negotiate with public sector unions," Pringle noted. The FLRA is the equivalent of the National Labor Relations Board, for labor-management relations for the two million federal workers.
"As a district judge, Judge Jackson set aside a proposed rule issued by the Trump-era National Labor Relations Board that would have made it more difficult to secure union representation," Pringle added. A panel of the U.S. Court of Appeals for D.C.—where Judge Jackson now sits and which has a GOP-named majority—reversed her. Pringle didn't say so.
None of this came up in the first Judiciary Committee session on Democratic President Joe Biden's nomination of Judge Jackson to succeed her mentor, retiring Justice Stephen Breyer. The hearings' opening day featured Judge Jackson sitting patiently for hours, waiting to testify while the panel's 22 members—11 from each party—gave opening statements. The hearings continue through March 24.
When she finally got a chance to speak, Judge Jackson, 51, lauded the opportunity growing up in the U.S. gave her, pointed out she knows the criminal justice system from all sides of the picture, and pledged fealty to the Constitution and to deciding cases on the law and the facts.
Besides her service as a public defender, Judge Jackson's brother is a Baltimore police officer who enlisted in the Army after 9/11, and two uncles are police officers. One became Miami's police chief.
"I decide cases from a neutral posture. I evaluate the facts, and I interpret and apply the law to the facts of the case before me, without fear or favor, consistent with my judicial oath," she said.
"If I am confirmed, I commit to you that I will work productively to support and defend the Constitution and the grand experiment of American democracy that has endured over these past 246 years."
Panel Democrats concentrated on Judge Jackson's qualifications, judicial and public defender experience, and bipartisan endorsements—everyone from the NEA to the Federation Of Police. The AFL-CIO and other unions, including AFGE, previously backed her.
Republicans, including several posturing for the party's rightists and white nationalists in anticipation of 2024 presidential nomination runs, went after Judge Jackson on a so-called "social issue"—pornography—and on allegedly being "soft on crime."
Their "evidence": Judge Jackson was a public defender and as a private attorney, contested the long-term detention of an alleged terrorist, who was not a 9/11 participant, at the Guantanamo Bay Naval Base.
The leading confrontational Republican was Sen. Josh Hawley, R-Mo., the senator who openly supported, spoke to, and raised a fist in solidarity with the Trumpite invaders of and insurrectionists in the U.S. Capitol on Jan. 6, 2021.
Hawley, whom pundits expect to be among the GOP's 2024 presidential hopefuls, alleged Judge Jackson went easy in her sentencing on purveyors of child pornography. Judge Jackson rebutted Hawley on March 22.
"As a mother and a judge who has had to deal with these cases, I was thinking that nothing could be further from the truth. And in every case, when I am dealing with something like this, it is important to me to make sure that the children's perspective, the children's voices are represented in my sentences," Judge Jackson said.
And Sen. John Cornyn, R-Texas, who's not running for the White House, declared Judge Jackson seemed too enthusiastic about "defending a terrorist" at Guantanamo.
Besides being the first African-American woman nominated to the court, and the first former public defender, Judge Jackson is the first Floridian and first former criminal defense attorney nominated since LBJ named the court's first Black justice, the late Thurgood Marshall.
And in the modern era, Judge Jackson may be the court's first former journalist. Her disclosure form to the Senate Judiciary Committee shows that in 1992-93, concurrent with getting her undergraduate degree from Harvard and entering Harvard Law School, her first job was as a Time magazine reporter—a post confirmed by her full name on its 1993 masthead.
too.