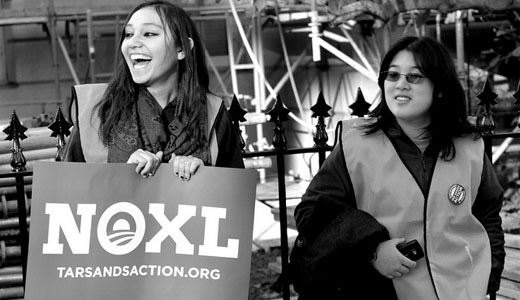 In eastern Texas, part of the area in which TransCanada is constructing the Keystone XL pipeline, residents and activists have achieved a temporary reprieve after a Texas landowner filed a lawsuit against the company, charging they claimed to be transporting crude oil, when in fact they're hauling tarsands oil. As a result, on December 7, a Texas judge ordered a two-week injunction on pipeline construction.
In the latest legal battle to plague the project, which has been beset with numeorus previous obstacles and the continuing protests of environmentalists, Texas landowner Michael Bishop, a 64 year-old retired chemist who filed the lawsuit, has achieved a momentary victory in stalling TransCanada's project.
Bishop, who is currently attending medical school, noted the difference between crude oil and tar sands oil, explaining, "Tar sands oil – or diluted bitumen – does not meet the definition as outlined in Texas and federal statutory codes which define crude oil as 'liquid hydrocarbons extracted from the earth at atmospheric temperatures.' When tar sands are extracted in Alberta, Canada, the material is almost a solid and has to be heated and diluted in order to even be transmitted." In other words, he concluded, "They lied to the American people."
Jack Sinz, the Texas County Court at Law judge who signed the injunction, signed a temporary restraining order alongside it. He said the dispute over the nature of the oil being transported was cause enough to halt work until a hearing on December 19, at which point it will be decided whether the court considers tarsands to be a form of crude oil.
For Bishop, however, this is merely the latest installment in his apparent crusade, in the interest of environmental health, against the Keystone XL project. Last week, Bishop had filed a lawsuit against the Texas Railroad Commission, stating the agency had failed to protect the environmental interest of the public when it approved TransCanada's permits for construction.
Bishop's fightback is notable, because all previous attempts by landowners to legally challenge TransCanada have failed.
Beyond this lawsuit, environmental activists in southeast Texas will continue to oppose the controversial project. Between January 3 and 8, the Tar Sands Blockade will be taking part in a mass action series of demonstrations against TransCanada. For further details, the group can be contacted at TSBComms@riseup.net.
For Bishop, however, the matter is also personal: He lives in Douglass, Texas, on 20 acres of land – part of which the Keystone pipeline would tamper with. He, his wife, and his 16 year-old daughter used to raise poultry and goats on the land, but sold the animals two years ago when he heard about the planned pipeline, not wanting to expose them to the disruptive construction.
"Bring 'em on," said Bishop of the oil company. "I was a United States Marine. I'm not afraid of them. And when I'm done with them, they will know they've been in a fight."
Photo: A protest against the Keystone XL project takes place in Washington D.C. tarsandsaction/Flickr