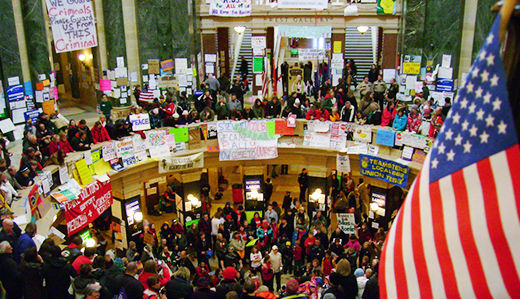 MADISON – A judge has issued a temporary restraining order against Gov. Scott Walker, which effectively reopens the Capitol to demonstrators who the governor tried to keep out today. Unable to remove the 100 who slept in last night, the governor ordered state police to keep the doors locked and allow no one else in. He was apparently trying to keep down protests that were expected to grow today as he makes a scheduled presentation in the Capitol of his detailed budget cutting proposals.
The judge ruled this morning that it was illegal for the governor and the Senate Republicans to keep the doors closed.
Long lines of workers, among them firefighters and off-duty police, waited outside when they were told they could not enter. When the court order opening the Capitol was issued they cheered and entered the building.
There will be a court hearing this afternoon, during which the judge will hear arguments in the case. The judge can, after the hearing, make the restraining order against the governor permanent or agree that the Capitol should be shut to protesters.
Beyond just the issue of locking the Capitol doors, Walker may have bought himself quite a bundle of legal problems. Attorneys in Milwaukee have advised aldermen in that city that, in their view, the bill destroying collective bargaining may be unconstitutional.
They note that the Milwaukee state Constitution has autonomy clauses that protect the independence of towns and cities in matters of employment of public workers. Walker's bill may violate those clauses.
On the closing of the Capitol's doors, activists in Wisconsin note that the building has almost always been open to the public, including people demonstrating against all kinds of local, state and federal government policies. Wisconsinites pride themselves on having state government facilities more open to the public than those in almost any other state, observers note, and the perception that the governor seeks to crush dissent may well be a factor in his recent slide in the polls.
In other news, as many as 25,000 have converged on Columbus today. The massive rally is a response to a bill that, like Gov. Walker's in Wisconsin, would limit collective bargaining rights in Ohio. Among the Ohio demonstrators are business, religious leaders and students.
Photo: John Paul Holmes