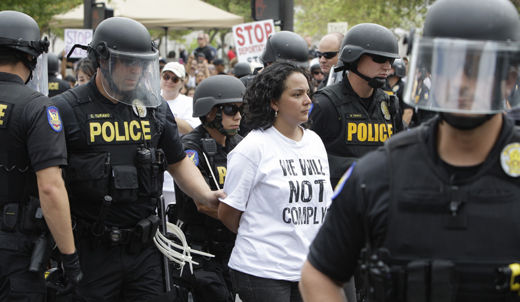 A federal judge has blocked some of the most controversial elements of Arizona's immigration law, granting a preliminary injunction Wednesday, July 27, that prevents local police from questioning people about their immigration status.
The blocked provision required police to "make a reasonable attempt to determine the immigration status of a person stopped, detained or arrested" if the officer has a reasonable suspicion that the person is in the U.S. unlawfully.
U.S. District Judge Susan Bolton's ruling from Phoenix was in response to a motion by the federal government and came a day before the law SB 1070 goes into effect.
Bolton delayed parts of the law that required immigrants to carry their papers at all times, and made it illegal for undocumented workers to solicit employment in public places – a move aimed at day laborers. Bolton also blocked police from making warrantless arrests of suspected undocumented immigrants.
"Preserving the status quo through a preliminary injunction is less harmful than allowing state laws that are likely preempted by federal law to be enforced," said Bolton.
"There is a substantial likelihood that officers will wrongfully arrest legal resident aliens," she wrote. "By enforcing this statue, Arizona would impose a 'distinct, unusual and extraordinary' burden on legal resident aliens that only the federal government has the authority to impose."
She added, "Requiring Arizona law enforcement officials and agencies to determine the immigration status of every person who is arrested burdens lawfully-present aliens because their liberty will be restricted while their status is checked."
Linton Joaquin, general counsel with the National Immigration Law Center, in a statement said, "With today's ruling, Judge Bolton enjoined the most egregious provisions of SB 1070, a dangerous enactment that threatens the fundamental rights of countless Arizonans and visitors.
"Other states following in Arizona's misguided footsteps should consider themselves forewarned: Attempts to trample on the constitutional rights of communities of color in this country must not be permitted. We look forward to showing, through our lawsuit, that this pernicious law should be taken off Arizona's books permanently."
Less controversial parts of the law including those dealing with smuggling will still go into effect. Other provisions of the law are procedural and slight revisions to existing Arizona immigration statute.
The ruling is sure to set up a lengthy legal battle through the court system and is expected to end up before the Supreme Court in the next few years.
Republican Gov. Jan Brewer signed the measure into law in April and said the state will likely appeal Wednesday's ruling.
However critics say the law would lead to racial profiling, conflict with federal immigration laws and disrupt local police from dealing with more serious crimes. They note the measure would legalize open harassment of all Latinos, legal or not. People should not fear being stopped based solely on their looks or how they speak, critics said.
Since the bill was signed seven lawsuits have been filed against it challenging its constitutionality. The Justice Department also filed suit after President Obama and Attorney General Eric Holder condemned the law.
Federal authorities said the law before the ruling would create a patchwork of immigration laws nationwide that would complicate U.S. foreign relations. Federal lawyers said the law is disrupting U.S. relations with Mexico and other countries and would burden the agency that responds to immigration-status inquiries.
For years immigrant rights activists have said what's really needed is for Congress to work together and pass comprehensive immigration reform in order to address a broken system. If not, more of same is expected including draconian anti-immigrant laws like Arizona's and anti-worker policies nationwide, they add.
Other's note Wednesday's decision will continue to make immigration reform a hot-button issue as the midterm elections approaches.
Brewer is running for another term in November.
Her opponent Arizona Attorney General Terry Goddard, a Democrat, told the New York Times, "Rather than providing the leadership Arizona needs to solve the immigration problem, Jan Brewer signed a bill she could not defend in court which has led to boycotts, jeopardized our tourism industry and polarized our state."
Speaking to the Washington Post he added, "Jan Brewer played politics with immigration, and she lost. It's time to look beyond election year grandstanding and begin to repair the damage to Arizona's image and economy."
Meanwhile many argue despite the recent news immigrants in parts of Arizona are being swept up in droves. The Associated Press notes the Maricopa County Sheriff's Office -where Phoenix is located – has already forced the deportation of 26,146 immigrants since 2007, without the new law, totaling a quarter of all the deportations in the U.S.
Photo: A woman is led away after being arrested protesting against SB1070 Arizona immigration law in front of U.S. District Court, July 22, in Phoenix. (Ross D. Franklin/AP)