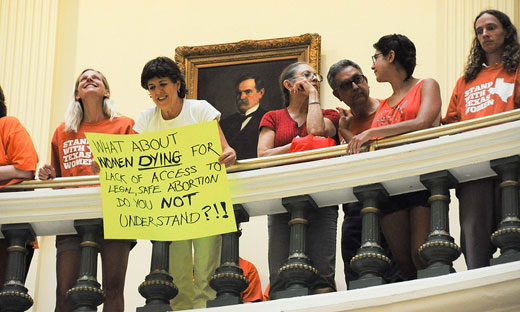 AUSTIN, Texas – A key provision in a Texas anti-abortion law was overturned Monday, which could eventually set up a legal clash in the U.S. Supreme Court.
Federal District Judge Lee Yeakel ruled that restrictions affecting abortion clinic physicians placed an undue burden on women seeking access to such facilities.
The law had been scheduled to go into effect Tuesday. Texas Attorney General Greg Abbott immediately appealed Yeakel's order to the 5th Circuit Court of Appeals in New Orleans.
The lawsuit challenging the harsh restrictions had been brought by Planned Parenthood and other abortion providers.
Abbott's spokeswoman Lauren Bean said, "As everyone, including the trial court judge, has acknowledged, this is a matter that will ultimately be resolved by the appellate courts or the U.S. Supreme Court."
The law, which passed this past summer after a contentious debate in the state Capitol – and an instant-classic filibuster by State Senator Wendy Davis – required, among other provisions, that abortion clinic doctors have admitting privileges at a hospital within 30 miles of the clinic.
Clinic officials testified in court that many of their doctors have been unable to earn this privilege because of the contacted hospitals' religious scruples, arcane requirements and fears of protests.
Judge Yeakel, however, let stand a controversial provision in the law that requires doctors to follow outdated guidelines for administering an abortion-inducing drug.
In a statement released to the media, Cecile Richards, president of Planned Parenthood Federation of America, said, "While this ruling protects access to safe and legal abortion for women in many parts of the state, part of this ruling will make it impossible for many women to access medication abortion, which is safe and effective early in pregnancy."
But Texas Republican Gov. Rick Perry said in a statement, "We will continue fighting to implement the laws passed by the duly-elected officials of our state, laws that reflect the will and values of Texans."
His comments were echoed by current tea party favorite, Sen. Ted Cruz of Texas. "This law is constitutional and consistent with U.S. Supreme Court precedent protecting the life and health of the mother and child. I hope the Fifth Circuit Court of Appeals will uphold Texas' reasonable law."
While the case wends its way through the courts, it serves as a reminder of the stakes in next year's governor's race here. Abbott, hand-picked by Gov. Perry, has the campaign war chest and support of the petro-rich business and political establishment in the state. On the Democratic side, Davis, a champion of women's health and public education, is seen as his likely opponent.
Stay tuned.
Photo: Part of the mass protests inside the Texas state Capitol against the anti-abortion bill, June 23, 2013. Ann Harkness CC 2.0