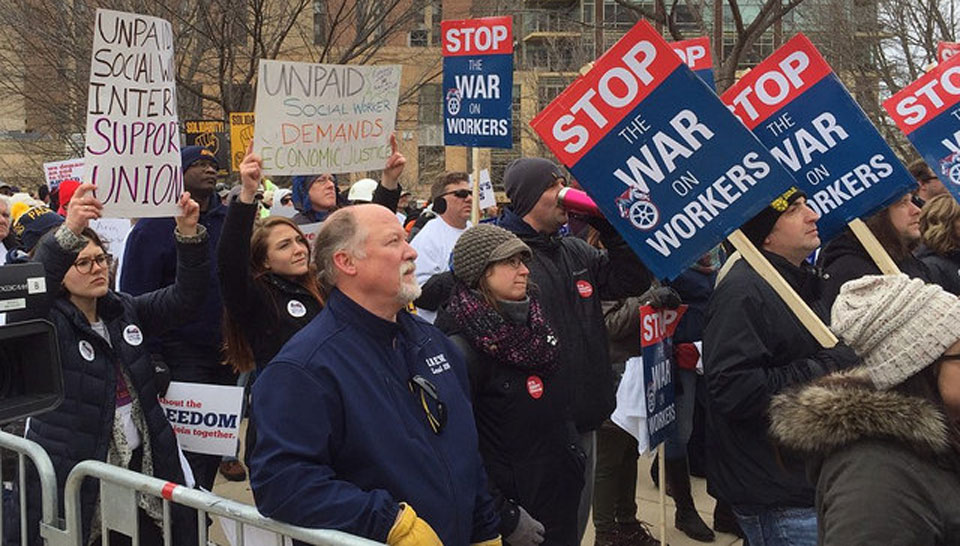 JEFFERSON CITY, Mo. —State judges in Missouri have given workers there two more wins against anti-union schemes propagated by the radical right, the state's ruling Republicans and their corporate backers.
St. Louis County Judge Joseph Walsh III halted one of the schemes: So-called "paycheck protection" legislation which forces workers, one by one, to decide yearly whether they want union dues automatically deducted from paychecks. Unions call such schemes "paycheck deception."
Missouri's "paycheck deception" law, originally HB1413, also forces unions to stand for recertification by members, unit by unit, every three years, with an absolute majority of all workers required to vote "yes" to keep the union. And it bans the right to strike and the right to picket and says anyone doing so can immediately be fired.
Taken together, that violates the Missouri Constitution's right of free speech and its explicit provision, enacted in 1945, that says "employees shall have the right to organize and bargain collectively through representatives of their own choosing," Walsh ruled.
In a footnote, Walsh added the bans on strikes and picketing, and even on paying for "lost time" to handle grievances, all are "a blatant attempt to subject employees to the whims and caprices of management, individual supervisors and other designated representatives… free from the obligation to bargain in good faith."
HB1413, Walsh said, "does not even give an illusion of collective bargaining."
Meanwhile, Cole County Judge Jon Beetem stopped a state law, originally SB1007, making every state and local worker an "at will" employee, liable to immediate firing, even for no reason at all, union contract or no. The latter law also let bosses give out so-called "merit raises" to their favorites. Cole County includes the state capital of Jefferson City.
Both halts are temporary, pending full judicial hearings on both laws.
The GOP-dominated and heavily gerrymandered state legislature passed both measures almost precisely three years before the two judges halted them in early March 2019, according to the Teamsters, the Missouri Education Association and other sources.
The two laws were scheduled to take effect last August, but the unions' suits halted them, just as union-led petitions halted Missouri's so-called right-to-work law, until Show Me State voters killed it that same month by a 2-to-1 ratio.
Both laws, plus right-to-work, are part of a nationwide package of union-busting measures, designed to strip workers of all rights. Not coincidentally, they're all pushed in GOP-run states by the American Legislative Exchange Council, a secretive corporate-funded cabal.
ALEC is dedicated to establishing business hegemony, nationwide, state by state. Its key tactic: Destroy the opposition, especially unions.
The 32,500-member Missouri National Education Association led seven unions in suing last August to stop the paycheck deception, law HB1413. The other unions, combined, represent just over 1,000 state and local workers, most of them – 828 – as Service Employees Local 1 members among state corrections officers, Mental Health Department workers and Veterans Commission workers.
"This is another attempt by legislators backed by corporate interests to attack our right to speak up about the student needs, class-size, wages and benefits," Lori Sammelmann, an instructional coach in the Ferguson-Florissant school district in the St. Louis suburbs, said in an NEA release after the suit was filed.
Her district's NEA local was one of the other five unions that sued, along with the Hazelwood Association of Support Personnel, Laborers Local 42, which represents 20 Bel-Ridge police officers, Operating Engineers Local 148, and Teamsters Local 610, which represents 36 firefighters in Afton and 21 police in Crestwood.
"Paycheck deception would require public employees in unions to opt in each year for dues to be taken out of their paychecks," the Teamsters said in reporting Walsh's ruling. "It is meant as a means to reduce the size of unions and dilute their collective bargaining power."
"Unions took similar issue with a law that stripped state workers of their civil service protections. Missouri's government, in practice, took the law even further by refusing to honor collective bargaining agreements that covered thousands of state workers."
"Luckily, the court" – Judge Beetem – "found there is nothing about at-will employment that denies workers their right to collectively bargain under the state constitution. It said the state must be sincere in negotiating all terms and conditions of employment with their bargaining units."
Even though the right will appeal the rulings, "It is encouraging to see judges put limits on policies that hamper the ability of union members to join together," the Teamsters concluded.