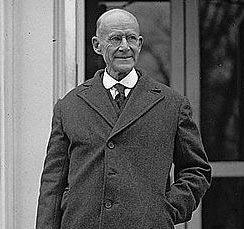 Today in labor history, the American Railway Union, headed by Eugene Debs, is founded in 1893 in Chicago. It was the largest labor union of its time and one of the first industrial unions in the United States.
The union was notable in that it sought the unification of all railroad workers, regardless of craft, race, or ethnicity.
Eugene Debs was one of the founding members of the Industrial Workers of the World and also worked with several smaller unions – like the Brotherhood of Locomotive Firemen – before leading the ARU.
When, two months later, the Great Northern Railway enacted a series of wage cuts for its workers, the ARU organized its members in a strike action that lasted for 18 days and succeeded in pressuring the company to roll back the cuts.
In the Pullman strike a year later, the union was defeated by federal injunctions and troops, and Debs was imprisoned for violating the injunctions. Debs educated himself on socialism in prison and later ran as the Socialist Party's candidate for presidency on five different occasions.
Photo: Wikipedia