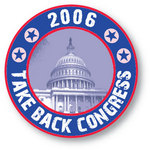 National attention is focusing on the June 6 special election in California's 50th Congressional District, north of San Diego, to replace Republican Rep. Randy "Duke" Cunningham. Cunningham is now in prison after pleading guilty to taking bribes.
In an April 11 open primary, Democrat Francine Busby shocked national political pundits by winning 44 percent of the vote in a district where Republicans have a 44-30 percent lead in voter registration. A May 18-20 poll shows Busby leading Republican Brian Bilbray 47-40 percent.
A Busby victory on June 6 would further energize Democratic efforts to win back a majority of the House of Representatives in the Nov. 7 elections. Busby's continuing lead in what has been considered a Republican safe seat reflects national polls showing congressional Democrats heavily favored over Republicans based on issues.
Busby, a former school board trustee, challenged Cunningham in 2004 and won 37 percent of the vote. Her platform stresses ethics reform. On Iraq she calls for an exit strategy with clear benchmarks for restoring security and infrastructure. She opposes offshore oil drilling in California and privatization of Social Security. She supports "tough air and water quality standards," "cutting taxes for small businesses and working families by eliminating corporate tax shelters and loopholes," and "women's right to choose." Among her supporters are Emily's List, the AFL-CIO, SEIU, the San Diego Sierra Club and MoveOn.org, which is mobilizing national support for her candidacy.
Bilbray previously represented California's 49th Congressional District but was defeated by Democrat Susan Davis in 2000. His slogan is "Proven Tough on Illegal Immigration," and his platform features "fiscal responsibility" and "protecting our children from sexual predators."
Bilbray's web site features support from Vice President Dick Cheney, Republican former House Speaker Newt Gingrich and former California Governor and San Diego Mayor Pete Wilson. Bilbray is co-chair of the conservative Federation for American Immigration Reform.
Bilbray's platform on immigration speaks of enforcement only, including deploying the military on the border and limiting "birthright citizenship" to children of citizens and permanent residents.
A Busby victory could put a chill on the House Republican leadership's enforcement-only approach on immigration. Busby supports the McCain-Kennedy comprehensive immigration reform bill, although she emphasizes penalizing businesses that hire undocumented workers, high-tech border enforcement and a guest worker program, and opposes amnesty.
Whoever wins the June 6 special election will still face a re-election race on Nov. 7.
June 6 will also be a statewide primary election in California, where the key focus is on the Democratic gubernatorial race. The winner will face Republican incumbent Arnold Schwarznegger in November. In the primary, State Treasurer Phil Angelides, who has the endorsement of the state Democratic Party and the California Federation of Labor, is running against state Controller Steve Westly, a former eBay executive who has put $32.5 million of his personal funds into the campaign.