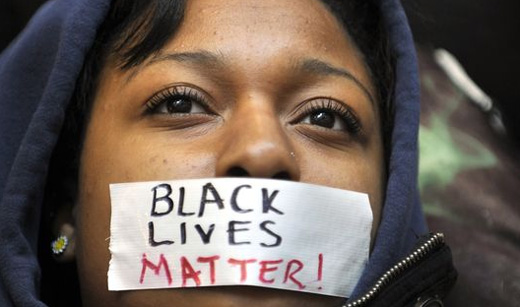 Daniel Holtzclaw, a former Oklahoma City police officer, was found guilty yesterday of sexually assaulting 13 black women.
After 45 hours of deliberation over four days, Holtzclaw was found guilty on 18 of 36 charges.
The all-white jury recommended 263 years of incarceration for Holtzclaw, finding him guilty of six counts of sexual battery, three counts of lewd exhibition, four counts of forcible oral sodomy, four counts of rape in the first degree, and one count of rape in the second degree.
Holtzclaw was arrested in August, 2014 for the assaults of at least eight women, but was released on bail when his $5 million dollar bond was reduced to $500,000. He was then fired in January, 2015 after more women began coming forward with complaints. In all, 13 women stepped forward and testified to assaults by the former officer. Holtzclaw's routine was to target poor working-class black women with criminal records. He would give them the 'option' of sexual abuse or jail time.
The lack of media coverage, the all white jury, and the history of police violence against African Americans in the U.S had many wondering if Holtzclaw stood any chance of being convicted. This, coupled with defense attorney Scott Adams' repeated attacks on the credibility of the victims, several of whom had previous convictions for drug or prostitution offenses, while painting Holtzclaw as an "all American good guy," prompted many to trend the hashtag "BlackWomenMatter."
The jury's verdict is seen as a victory in the fights against police brutality, systemic racism and sexism. As Twitter user Charles Edward Firth noted, "Rapists are rarely convicted. Cops are rarely convicted. That's why the #DanielHoltzclaw verdict is important. It's a step toward justice."
Yet, others have noted that there is still much to be done to combat the oppression of women of color, particularly poor and working class women. Comedian Amanda Seales tweeted, "remember that #DanielHoltzclaw is less of a "win" than it is a "pyrrhic victory," one that was won only after a far greater cost than should have been paid.
As the testimonies of the 13 victims, ranging in age from 17 to 58, showed, they will continue to pay that cost by having to live with the consequences of the horrific assaults.
One of the victims, only 17 years of age, highlighted the dilemma she had faced after the assault when she was asked during the trial why she had not immediately called police: "What am I going to do?" she asked. "Call the cops? He was a cop."
Although Holtzclaw's conviction represents a step towards justice, out of the hundreds of police officers terminated for sexual abuse in recent years, only a small number actually faced criminal charges and even less were convicted. And as the report, "Say Her Name: Resisting Police Brutality Against Black Women," by the African American Policy Forum (AAPF) highlights, black women are exceptionally vulnerable to being the target of these assaults.
Kimberlé Crenshaw, director of Columbia Law School's Center for Intersectionality and Social Policy Studies and co-author of the report, explains, "Although Black women are routinely killed, raped, and beaten by the police, their experiences are rarely foregrounded in popular understandings of police brutality. Yet, inclusion of Black women's experiences in social movements, media narratives, and policy demands around policing and police brutality is critical to effectively combating racialized state violence for black communities and other communities of color."
In just 2015 alone, six black women have been killed during encounters with police. The case of Sandra Bland made national headlines after it was reported that she died while in police custody. Mya Hall, a black transgender woman, was shot to death by officers after the car Hall was driving crashed into a security gate and a police cruiser. In many of these cases the officers involved have yet to face prosecution. As reported by The Guardian, Rachel Anspach, of the African American Policy Forum, considered it a sign of progress that Holtzclaw's case made it to trial at all. "Historically, we've seen the justice system hasn't protected black women from sexual assault," she said.
It is clear that in addition to the struggle against police brutality in the cases of young black men such as Laquan McDonald, Jamar Clark, and Mario Woods, there needs to be stepped up action on behalf of black women abused at the hands of the police. This is underlined by the initial lack of media interest in the Holtzclaw case and by what many see as a lack of adequate support for the victims from some mainstream women's organizations.
For every 100 rapes, only 32 are reported, only seven lead to arrests, only three lead to a prosecutor, and in the end only two rapists are actually convicted. Such figures, activists note, underline the need to step up the fights against victim blaming and the entire rape culture, both of which they said were employed by the Holtzclaw defense team.
Holtzclaw will be formally sentenced on Jan. 21.
Photo: AP