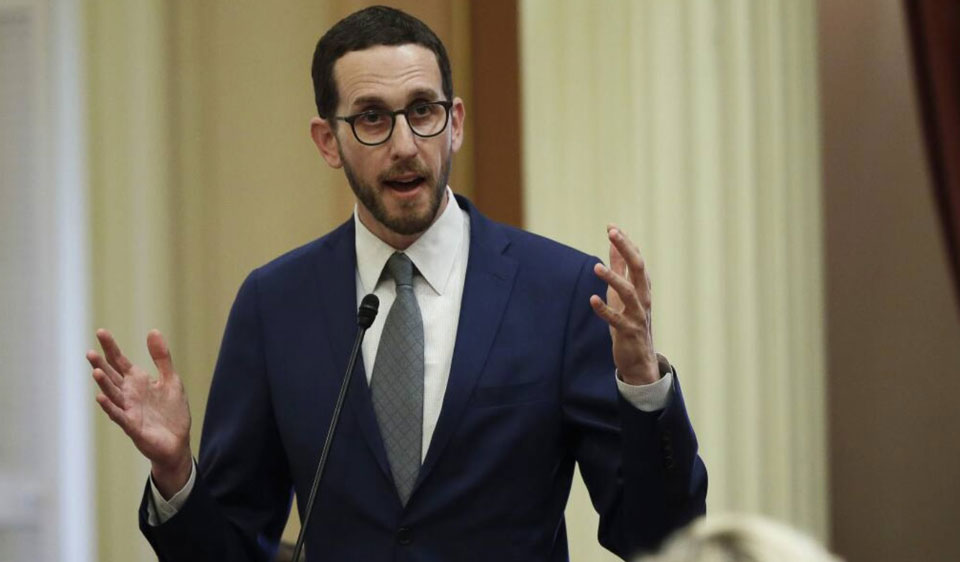 Coursing their way through the California legislature's committee process are a number of measures aimed at improving the state's handling of justice issues – some introduced in the current session and others reintroduced after they were trapped in last year's COVID-related end-of-session logjam.
Among new measures is Senate Bill 271, the Sheriff Democracy and Diversity Act, introduced by state Senator Scott Wiener, D-San Francisco, together with co-author state Sen. Nancy Skinner, D-Berkeley, to allow any registered voter to run for the office of county sheriff. At present, only law enforcement officers with Peace Officer Standards and Training (POST) certificates are eligible to run. Skinner chairs the Senate's Public Safety Committee.
The measure would restore criteria for the office that were in effect from 1850 until 1989, and place California in the company of 24 other states that do not require sheriff candidates to have law enforcement credentials. The bill passed the Senate's Public Safety Committee, 4-1, and is now before the Governance and Finance Committee.
At a March 30 press conference, Sen. Wiener called the bill a significant criminal justice reform measure to promote diversity and democracy. Noting that in California, the sheriff can be "the most powerful elected official in a given county," he cited the position's "broad responsibilities" including balancing a huge budget, managing county jails, and running a huge healthcare system.
"This is not a minor role, it is a significant position," Wiener said, "and yet California dramatically restricts who is able to run for sheriff." As a result, he said, sheriffs often repeatedly run unopposed for reelection, 49 out of the state's 58 sheriffs are white men, and there are no African American sheriffs. At the same time, he said, some sheriffs pose a "challenge," cooperating with ICE in violation of state laws, refusing to enforce pandemic restrictions, and failing to maintain safe and conditions for incarcerated people.
Wiener called SB 271 "not a silver bullet … but a very important step forward in our efforts at police accountability and criminal justice reform."
California's requirement that candidates for sheriff must have law enforcement credentials was enacted in 1989 after San Francisco elected Michael Hennessey to the position in 1980. Hennessey, who did not have law enforcement experience, continued to serve until 2012 under an exception to the rule.
Los Angeles County District Attorney George Gascón said he fully supports SB 271, saying it will allow "a public office that has such an impact at the county level" to be opened up so communities can decide what their sheriff's departments should emphasize.
When Gascón was San Francisco's police chief and district attorney, he worked with Sheriff Hennessey, whom he called "an incredible administrator" who "ran one of the best-run sheriff's offices in the state."
Justice Teams Network Executive Director Cat Brooks told reporters, "We want to reimagine a sheriff's department that is accountable to the community they are supposed to serve. The only way that happens is if we, the people, have the ability to run a diverse pool of candidates that are concerned with taking care of our communities, not dominating, incarcerating, and dehumanizing them."
SB 271 is sponsored by the California Immigrant Policy Center, NextGen California, Secure Justice, and Wellstone Democratic Renewal Club.
One of the many bills that failed to make it through the legislative process last year has been brought into the current session in an updated version by state Sen. Steven Bradford, D-Gardena and Senate President pro Tempore Toni Atkins, D-San Diego.
Senate Bill 2, the Kenneth Ross Jr. Police Decertification Act of 2021, would create a statewide decertification process to revoke the certification of a peace officer following conviction of serious crimes or termination due to misconduct.
California is one of only four states that do not have such a law.
The bill would also end police officers' "qualified immunity" from civil lawsuits. It is to be heard in the Senate Public Safety Committee in mid-April.
Sponsoring SB 2, as they did its predecessor, are community organizations including Alliance for Boys and Men of Color, ACLU of California, Anti Police-Terror Project, Black Lives Matter Los Angeles, California Families United 4 Justice, Communities United for Restorative Youth Justice, PolicyLink, STOP Coalition, and Youth Justice Coalition.
Another measure initially introduced last year and reintroduced in the current session is Assembly Bill 26, the "George Floyd Law," by Assemblymember Chris Holden, D-Pasadena, to establish clear guidelines for when police officers must intervene when they see another officer using excessive force, and must report the incident.
"We are calling for responsibility and accountability," Holden said. "Instituting these core values is paramount to building public trust that has eroded between laws enforcement and communities across California."
AB 26 passed the Assembly's Public Safety Committee, 6-2, and is now before the Appropriations Committee.
On another front, the California Supreme Court on March 25 ruled that people in the state cannot be held in jail before trial just because they can't afford bail.
In a unanimous ruling written by Justice Mariano-Florentino Cuellar, the court said that "the common practice of conditioning freedom solely on whether an arrestee can afford bail is unconstitutional."
The court didn't ban cash bail altogether but said judges have to consider the seriousness of the charges and past criminal history and use that information to set bail the arrestee can afford.
State Senate Majority Leader Bob Hertzberg, D-Los Angeles; Sen. Skinner and Assemblymember Rob Bonta, D-Alameda, issued a joint statement celebrating the ruling, saying that "as legislative leaders in the fight against this unjust, cruel and unconstitutional money bail system … we are committed to the enforcement of the new ruling and to maximizing its impact."
The three are authors of SB 262 and AB 329, which would set bail at zero for misdemeanors and low-level felonies and require that bail be refunded if the person arrested is present at all court appearances, charges are dropped or the case is dismissed.
The bills, introduced in late January, are awaiting hearings before the Senate and Assembly Appropriations Committees.
Meanwhile, Governor Gavin Newsom has nominated Bonta to succeed now-U.S. Secretary of Health and Human Services Xavier Becerra in Becerra's former position as California's attorney general. Bonta's confirmation is expected.