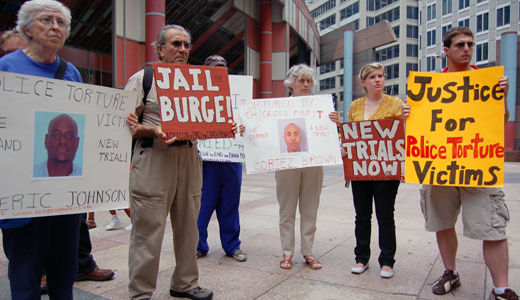 CHICAGO – A federal jury here on Monday, June 28, found former Chicago Police Commander Jon Burge guilty on all three counts of obstruction of justice and perjury for lying about torture in a civil lawsuit.
For decades Burge and his Area 2 detectives during the 1970s and 80s, referred to as the "Midnight Crew," have been accused of police abuse on over 100 African American men who were beaten to sign confessions for crimes they say they did not commit.
All of the victims are African American males and their stories tell a consistent pattern of racial discrimination by Burge and his men. Electric shock to the ears and/or genitals, burning, suffocation, and mock executions were some of the most brutal forms of torture.
Burge was eventually fired from the Police Department in 1993 for torturing a suspect. A four-year investigation by Special Cook County prosecutors concluded in 2006 that the statue of limitations on the claims of abuse had long passed.
However in 2008 federal prosecutors went after Burge as part of a 2003 civil lawsuit filed by a former death row inmate where the commander said torture was never used, contrary to mounting evidence that proved such abuse was enforced.
In 2008 the City of Chicago agreed to a $20 million settlement with four former Death Row inmates who alleged that Burge had abused them.
The convictions made by the jury this week, which included just one African American, mean that Burge, 62, faces up to 45 years in prison when he is sentenced on Nov. 5.
"This is a long, long time coming, but there's finally an official recognition of this sordid episode of Chicago history," said Rob Warden of Northwestern University's Innocence Project to the Chicago Sun-Times. "Justice was delayed, but, ultimately, not denied."
Speaking to reporters outside the courtroom Mark Clements, 45, said he was incarcerated for nearly three decades after he was brutally forced to admit to a crime after police detectives beat and tortured a confession out of him. He was sixteen at the time.
He said his life had been stolen from him and he prayed for this day to come.
"Finally, the poor people won," said Clements to the Chicago Tribune. "Hopefully Jon Burge will receive an appropriate sentence and he will have time to think about the consequences of his actions."
Others say Burge should have been convicted for torture not perjury but say nonetheless the verdict was a good one. Attorneys representing a number of Burge's alleged victims say they will continue to fight for new trials for their clients and hope the U.S. government will take swift action to charge the other detectives who were implicated in many of the torture cases.
Prosecutors have signaled they are investigating a number of detectives who worked for Burge at the time.
Meanwhile City Hall is rewriting Chicago's 28-year-old handgun ban to tighten registration requirements after the U.S. Supreme Court's landmark ruling Monday that says cities and states must abide by the 2nd Amendment granting citizens nationwide the right to legally keep weapons in their home for protection.
Mayor Richard Daley, who has championed gun control said the ruling was a defeat and said the Supreme Court's 5-4 decision is out of touch with rampant violence due to guns on the street that cities across the nation face every day.
In dissent, Justice Stephen G. Breyer said firearms "cause well over 60,000 deaths and injuries in the United States each year. Gun regulation may save lives. Some experts have calculated, for example, that Chicago's handgun ban has saved several hundred lives, perhaps close to 1,000, since it was enacted in 1983."
Community activists argue the ruling is a bad idea especially when there are too many young people dying every week due to the easy access of guns. Having more access to such weapons will actually increase the violence, they say. Rather more funding should be allocated toward violence prevention programs and outreach workers throughout the city including job-readiness services and long-term employment opportunities for young people, they add.
Photo: Pepe Lozano/PW
Also by Pepe Lozano: Torture victim fights for freedom