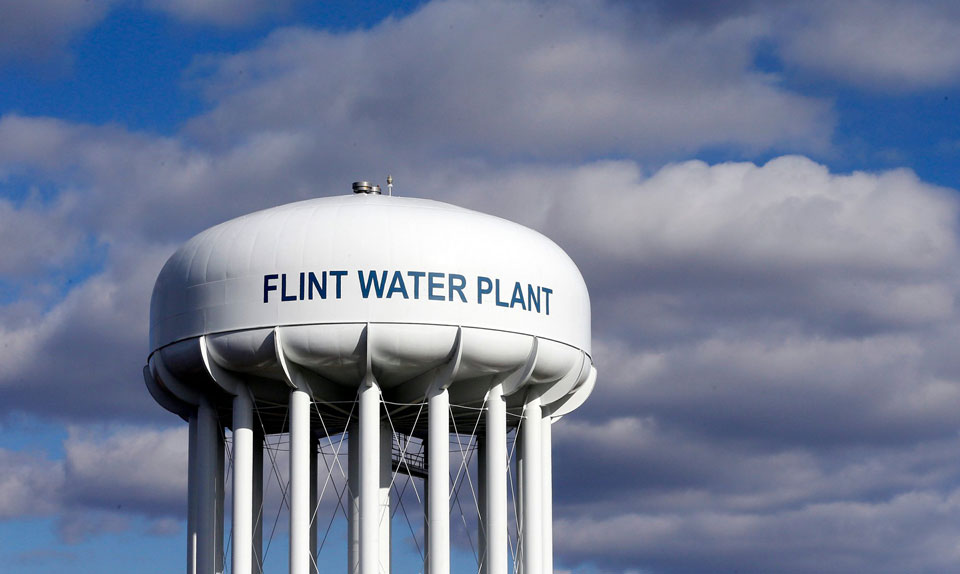 The Michigan Attorney General's office announced this week that they will dismiss all pending criminal cases connected to the Flint Water Crisis that were brought by the former Office of Special Counsel. Since 2014, the residents of Flint, Michigan, have been fighting for clean water and justice.
For over three years, a health crisis has plagued their town due to a decision by former Republican Gov. Rick Snyder, who, in the hopes of saving government money after giving large tax breaks to the rich, switched the water supply of the predominantly working class area to a river that lacked proper corrosion control treatment. The aftermath of this crisis has led to revelations of government corruption, mismanagement, and accusations of environmental racism. It now appears that the day of reckoning for many of those involved in this catastrophe has been delayed further, as the investigation now begins anew.
A press release stated that the prosecutors had serious concerns regarding the investigative approach taken by the former Office of Special Counsel that oversaw the investigation. The OSC was appointed by former Attorney General Bill Schuette.
According to the release, the former OSC entered into agreements that granted private law firms that were representing the accused a role in deciding what information would be turned over to law enforcement. "We cannot provide the citizens of Flint the investigation they rightly deserve by continuing to build on a flawed foundation," stated Wayne County Prosecutor Kym L. Worthy and Solicitor General Fadwa Hammoud, who are now heading up the criminal cases.
Regarding the dismissal of charges, current Attorney General Dana Nessel released a statement saying she was confident in Hammoud and Worthy, whom she appointed to the case. Nessel concluded that she trusted they will perform "a comprehensive and complete investigation" and sais she is in absolute support of their decision. The attorney general said she wanted to remind Flint residents that although justice seemed delayed, this did not necessarily mean it was denied, and that work was being done to "ensure those who harmed you are held accountable."
She assured the public that dismissal of current charges does not preclude new charges being filed again. "The voluntary dismissal is not a determination of any defendant's criminal responsibility," the release from Hammoud and Worthy asserted. Charges were dropped against eight defendants this week, including Michigan's former health director, Nick Lyon. Lyon was charged with involuntary manslaughter and is accused of failing to alert the public about an outbreak of Legionnaires' disease that occurred from 2014 to 2015 when Flint was drawing water from the Flint River.
The Genesee County Health Department reported 90 cases and 12 deaths from the disease, which is especially dangerous for people with weakened immune systems.
Residents and activists in Flint are concerned about the delay in the investigation. Mary Grant, Public Water for All Campaign Director at Food & Water Watch, released a statement shortly after the announcement declaring, "Flint residents should not have to wait any longer for justice."
Grant noted that the only way the dismissal of charges would be acceptable is if the "prosecution team refiles and aggressively pursues new charges swiftly." She said that "the Snyder administration and his emergency managers made the disastrous decisions that caused the Flint water crisis." Grant asserted that those responsible must be held accountable and that there was no more time for "dubious foot-dragging."
Mona Hanna-Attisha, the pediatrician whose research exposed the Flint water crisis, went on social media to call for all previous investigative documents to be made public. "Restorative justice is critical healing," the doctor stated. She called the news of the dismissed cases "painful" and said Flint residents "deserve the truth."
The water crisis continues to threaten lives in Flint. Some residents are still waiting for their pipes to be replaced, while there may be irreversible damage to the neurological development of their children. A rise in miscarriages continues as pregnant women drink the contaminated water.
Flint is a city of over 100,000 residents who are predominantly Black, and where over 41% are considered living below the poverty line. The city is an example of what happens when the most vulnerable communities are disregarded for the sake of cost-cutting and profit. While former Gov. Snyder protected large companies like General Motors and state officials from the toxic water, his administration continued to tell residents that the water was safe to drink.
The crisis in Michigan unfortunately is not an isolated incident. This denial of danger and the refusal to properly address infrastructure issues is often motivated by greed and negligence of those in public office. Studies and public revelations show that Flint isn't an anomaly; cities across the country with similar demographics are suffering the same. The issue of non-toxic water aligns with the lack of grocery stores, hospitals, and useable public spaces in working-class neighborhoods. Flint is a reflection of a deeper systemic issue, and the continued delay in accountability shows there is still a long way to go in combating it.