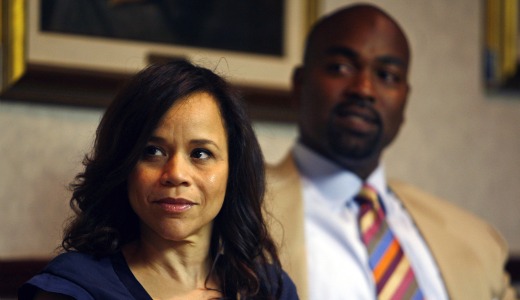 A hard-hitting new report by the U.S. Department of Justice sharply criticizes the Puerto Rican Police Department (PRPD) for brutality, racism, corruption and violations of constitutional rights of the people of this U.S.-controlled island nation of 3.7 million.
The report accuses the Puerto Rican Police Department of engaging in a "pattern and practice" of abuses including:
– Excessive force and unlawful searches and seizures in violation of the Fourth Amendment, including bursting into people's homes without a warrant.
– Unreasonable force and other misconduct designed to suppress the exercise of protected First Amendment rights. This has been especially blatant in the suppression of student protests against budget cuts at the campuses of the University of Puerto Rico this year and last.
The report further details violent suppression of the Dominican minority in Puerto Rico, and acts of sexual harassment and brutality by police officers.
"Specifically the PRPD indiscriminately used chemical agents, batons, and physical force against demonstrators and other individuals at University Avenue in August 2009, at the Sheraton Hotel in May 2010, and at the Capitol in June 2010", all these incidents being related to student protests. Police are also accused of planting evidence and of a very high level of corruption.
The Justice Department action follows the publication earlier this year of an American Civil Liberties Union report, which made similar charges and demanded that the Justice Department investigation, which was started in 2008, be pushed to its conclusion.
U.S. Representative Luis Gutierrez, D-Illinois, has been speaking out in Congress against the repressive actions in Puerto Rico, and for his pains has been formally censured by the island's legislature, which is controlled at present by the New People's Party of right wing, pro-statehood governor Luis Fortuño.
Reacting to the release of the report, Gutierrez said, "For far too long, the ruling party in Puerto Rico devoted its time and energy condemning those who spoke out against abuse. This report not only underscores that abuse was taking place, but that it was aimed at suppressing dissent and first amendment rights".
The Justice Department Report, while strongly worded and hard-hitting, attributes the problems in the Puerto Rican Police mostly to deficiencies in training and supervision, and calls for federal judicial intervention to force changes.
However, police misbehavior in Puerto Rico has deep roots in the anomalous political situation of the island and its relationship of dependency on the United States.
Puerto Rico was seized by the United States in 1898, in the Spanish American War, and Puerto Ricans were declared to be U.S. citizens in 1917, in time to serve in the First World War. But a strong independence movement, led by the Puerto Rican Nationalist Party and its charismatic leader, Pedro Albizu Campos, challenged U.S. hegemony. The Puerto Rican Police force took shape in the context of U.S. government attempts to suppress the independence movement. In 1935, the police shot up a carful of pro-independence people in Rio Piedras, killing four. In 1937, police, following orders by the U.S. colonial governor to suppress a pro-independence demonstration, massacred 17 Nationalist Party members in the city of Ponce.
In 1948, the government of Puerto Rico imposed a "gag order" ("ley mordaza") to keep independence activists from speaking out publicly. Militant nationalists stepped up their armed action in favor of independence. Actions in 1949 and 1950 included an attempt to assassinate U.S. President Harry Truman. In 1954, Puerto Rican nationalists shot up the U.S. House of Representatives. The FBI under J. Edgar Hoover considered the Puerto Rican independence movement to be a major threat, partly because of the country's use by the United States as a key military base. With FBI help, the Puerto Rican Police opened clandestine files on hundreds of thousands of inhabitants on the island.
Under NPP Governor Carlos Romero Barceló, police agents engineered a famous provocation, the "Cerro Maravilla Incident," in which inexperienced young independence activists were enticed by an undercover agent into attempting to blow up a radio tower, and then were shot dead by the police. This caused a scandal for NPP Governor Carlos Romero Barceló who ended up defending the police actions.
The Puerto Rico Police Department has been heavily implicated in these repressive activities over the years, so the result of the Justice Department report should not come as a surprise. The question is whether the political will exists to make changes.
Governor Fortuño's administration has been imposing harsh neo-liberal policies of austerity and privatization, leading to militant protests by university students, unionists and others, which have been violently repressed by the police. In an action reminiscent of the 1948 gag order, the Puerto Rican Bar Association was decertified by the legislature and Governor Fortuño, and its president, Osvaldo Torres, was jailed for counseling members on how to protect their right to free speech.
Photo: U.S. actress Rosie Perez, left, and former major league baseball player Carlos Delgado look on during a press conference in San Juan, Puerto Rico, May 3, 2011. A celebrity-enhanced ACLU delegation, which included Oscar-nominated Perez and Delgado, criticized Puerto Rico's government for using police to keep the island's main university system open during a strike over a new fee, with members saying they found clear evidence in which officers abused students during the protests. (AP Photo/Ricardo Arduengo)