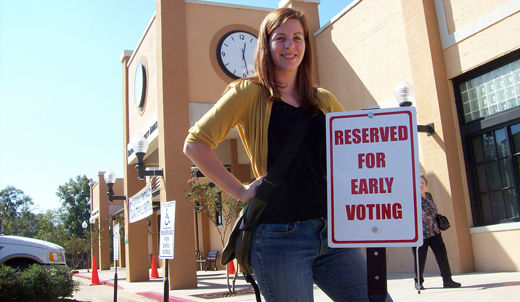 Attorney General Eric Holder, speaking in Cincinnati on Thursday, said the Department of Justice has opened up over 100 investigations into possible voting rights violations across the country.
Holder, speaking at the National Underground Railroad Freedom Center, was making his third presentation on the subject in recent weeks. In December, Holder spoke on the subject in Austin Texas, at the Lyndon Johnson library.
On Martin Luther King Day, the nation's top law enforcer discussed the issue as he joined NAACP head Benjamin Jealous and tens of thousands of others at a South Carolina event honoring the slain civil rights leader.
Holder's remarks come at a time of stepped up Republican efforts "to redraw political boundaries and impose requirements that could reduce voting by minorities who enthusiastically supported Barack Obama in the 2008 election," writes the AP.
Under Section Five of the Voting Rights Act, jurisdictions attempting redrawing voting boundaries must prove these efforts are not discriminatory.
Addressing this issue directly Holder said, "Despite the long history of support for Section 5, this keystone of our voting rights laws is now being challenged as unconstitutional by several jurisdictions."
He continued, "And, as we have proven repeatedly, when a jurisdiction fails to meet its burden of proving that a proposed voting change would not have a racially discriminatory effect – we will object."
Holder noted that great concern exists about the threat to voting rights. "In my travels across this country, I've heard a consistent drumbeat of concern from citizens, who – often for the first time in their lives – now have reason to believe that we are failing to live up to one of our nation's most noble ideals; and that some of the achievements that defined the civil rights movement now hang in the balance."
Republican efforts to roll back voting rights include attacks on same day registration, early voting and voter ID laws. Such measures are underway in over 37 states. Members of Congress have called for hearings on the subject in both the House and the Senate.
One such hearing is scheduled to take place in Florida today on the eve of the GOP primary. The hearing was requested by Sen. Bill Nelson, D-Fl.
In a press release, Sen. Dick Durban, D-Il., chair of the Senate Judiciary Committee's Subcommittee on the Constitution, Civil Rights and Human Rights, said, "Among other things, Florida's new law reduces the number of early voting days from 14 to 8, prohibits early voting on the Sunday before an election, and creates a series of new administrative requirements for individuals and volunteer organizations that register voters."
At the Cincinnati event Holder praised measures taken in Ohio to provide bilingual services to Spanish speaking voters: "Two of our recent voting rights cases in this state – in lawsuits the Department filed in Cuyahoga County and in Lorain County – have been brought to protect the rights of Spanish-speaking Puerto Rican voters. I'm pleased to report that, in both counties, we have reached agreements to ensure that bilingual ballots are available on county voting machines, and that bilingual poll workers are stationed in targeted districts."
Photo: Creative Commons 2.0