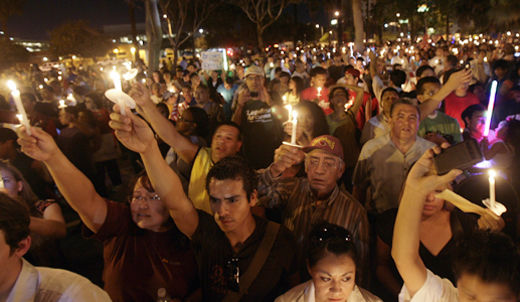 The Obama administration and the Department of Justice filed a lawsuit July 6 to block the implementation of Arizona's controversial anti-immigrant law signed by the states Republican governor in April.
The law, SB 1070 requires state, county, and municipal employees including local law enforcement agencies to question the immigration status of people if there is "reasonable suspicion" that they are in the country unlawfully. The law also makes it a state crime for legal immigrants to not carry their immigration documents.
Immigrant rights groups, labor, religious, and civil rights leaders including lawmakers say SB 1070 codifies racial profiling and invites discrimination and the criminalization of people living in Arizona.
The Justice Department is asking the federal courts to grant an injunction to stop enforcement of the measure before it takes effect July 29.
"The nations immigration laws reflect a careful and considered balance of national law enforcement, foreign relations, and humanitarian interests," says the suit.
It argues that the state statute should be declared invalid because it has improperly preempted federal law. The U.S. Constitution and federal law "do not permit the development of a patchwork of state and local immigration policies throughout the country."
Justice Department lawyers say, "Although a state may adopt regulations that have an indirect or incidental effect on aliens, a state may not establish its own immigration policy or enforce state laws in a manner that interferes with federal immigration law. The State of Arizona has crossed this constitutional line."
The suit contends SB 1070 "disrupts federal enforcement priorities and resources that focus on aliens who pose a threat to national security or public safety. If allowed to go into effect, [it's] mandatory enforcement scheme will conflict with and undermine the federal government's careful balance of immigration enforcement priorities and objectives."
The Arizona measure has the "potential of violating the rights of innocent American citizens and legal residents, making them subject to possible stops or questioning because of what they look like or how they sound."
Janet Murguía, president of National Council of La Raza in a statement said, "As a nation, we cannot have each state decide how to implement immigration laws. The Department of Justice is taking an essential step to maintain federal authority over immigration controls and enforcement, and we hope the courts will make the right call."
The American Civil Liberties Union along with a coalition of leading national civil rights groups filed a similar lawsuit against SB 1070 in May.
"We commend the Obama administration for taking this critical step to negate Arizona's unconstitutional usurpation of federal authority and invitation to racial profiling," said Lucas Guttentag with the ACLU Immigrants' Rights Project in a statement. "The lawsuit is a cannon shot across the bow of other states that may be tempted to follow Arizona's misguided approach. We will continue to aggressively battle to preserve American values of fairness and equality."
Benjamin Todd Jealous, president of the NAACP also lauds the suit.
"African Americans have the misfortune of being all too familiar with pernicious effects of racial profiling, and we welcome the addition of the administration to the broad spectrum of organizations already challenging this unconstitutional law," said Jealous in a statement. "Laws that encourage discrimination have no place in this country. We are confident that the courts will prevent it from ever taking effect."
Last week President Obama renewed his call for comprehensive immigration reform calling for bipartisan cooperation in a live telecast speech. Obama highlighted the importance of immigrants to American history and progress acknowledging that the current system seems "fundamentally broken."
Although most agree the suit is an important step forward some say more needs to be done.
AFL-CIO President Richard Trumka says the suit is not enough.
"The solution to our broken immigration system must protect all workers and provide a fair path toward citizenship for undocumented workers already living and working in the U.S.," said Trumka in a statement.
"It must address the unique circumstances faced by undocumented students who were brought to the U.S. by their parents long ago. It must include an independent commission to determine our society's genuine need for more workers that does not afford employers a steady stream of exploitable labor. And it must include a mechanism to ensure that employers are held accountable when they break the law," said Trumka.
Laws like SB 1070 will never stop illegal immigration, notes Trumka, because it fails to address the problem's root cause: "U.S. employers' unquenchable thirst for cheap, disposable workers and failed trade and economic policies that force workers to leave their home countries in search of work."
Photo: A candlelight protest against Arizona's immigration law, at the State Capitol in Phoenix. Paul Connors/AP