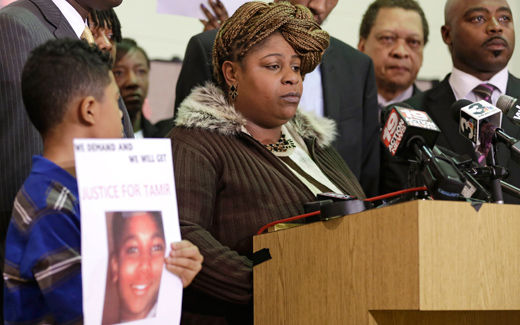 CLEVELAND – In a 2-1 split decision, an Ohio appeals court declined to force the arrest of the Cleveland police officers involved in the November 22, 2014, murder of 12-year old Tamir Rice. The decision comes ahead of the national Movement for Black Lives conference, slated for July 24-26 at Cleveland State University here. On Thursday, July 23, local activists plan to march through downtown Cleveland to deliver more than 60,000 petition signatures to Cuyahoga County prosecutor Timothy McGinty calling for charges against the two officers.
In June, a group of eight clergy members and community activists filed affidavits in the Cleveland Municipal Court seeking to cause the arrest of the two officers involved in the shooting of Rice, more than six months after the boy's death. A long established yet rarely used Ohio law allows any private citizen having knowledge of an offense to file an affidavit with a judge, magistrate, or prosecutor to cause an arrest.
Just two days after the "Cleveland 8" filed the affidavits, Judge Ronald Adrine issued a 10-page judgment entry calling a now infamous park surveillance video of the incident "notorious and hard to watch" and a piece of evidence which left the court "thunderstruck by how quickly [the 12-second event] turned deadly." Adrine then graphically detailed the shooting of Rice before finding probable cause to charge Officer Timothy Loehmann with murder, involuntary manslaughter, reckless homicide, negligent homicide, and dereliction of duty. The court also found probable cause to charge Officer Frank Garmback with negligent homicide and dereliction of duty.
But Adrine characterized his judgment entry as "advisory" and declined to issue any arrest warrants.
One week later, the Cleveland 8 filed a petition for a "writ of mandamus," another rare legal remedy used to compel a public official (Judge Adrine) to perform a clear legal duty (issue arrest warrants for the two officers). The petitioners argued that under Ohio law, a judge must issue a felony arrest warrant unless an affidavit lacks merit. This is what the appeals court has now ruled on.
In her dissent, Judge Anita Laster Mays agreed with the petitioners, stating that Ohio law leaves no room for interpretation and that the appeals court should have issued the writ to force Judge Adrine's hand.
The majority opinion did not address whether Adrine had to issue arrest warrants. Instead it ruled on the procedures – finding that the petitioners should have appealed the ruling directly instead of petitioning for a writ.
Nearly seven months after Rice's death, county prosecutor McGinty vowed to bring the case before a grand jury, although state law allows him to file charges without grand jury indictment. Activists remain skeptical of this tactic given the interdependent relationship between prosecutors and police and a Missouri grand jury's failure to issue any indictments in the shooting death of Michael Brown in November 2014.
The Cleveland Police Department has garnered national attention for several high profile incidents including that of Tanisha Anderson, a 37-year-old mentally ill Black woman who died last November after police slammed her to the pavement outside a hospital, and that of Timothy Russell and Malissa Williams, two unarmed homeless black people who died in November 2012 in a 137-bullet cannonade in which officer Michael Brelo fired 49 shots, many discharged while Brelo was standing on the roof of the victims' car shouting "Semper fi!" (the Marines motto). Officer Brelo was subsequently acquitted of all charges in a bench trial.
As a result of the national scrutiny, the U.S. Justice Department launched a broad investigation of the Cleveland Police Department's practices in 2013. In May this year, the police department entered into a consent decree with the Justice Department. Among other things, the decree recommends community policing, mandates training on proper use of force, and prohibits officers from pistol whipping suspects. he agreement is enforceable in federal court.
Despite the turmoil, the city has thus far been able to avoid rioting like that seen in Ferguson and Baltimore. The use of nonviolent, educational, and legal tactics by faith and labor activists has drawn praise from a wide swath of the political spectrum.
This weekend, hundreds of activists from across the nation will convene at Cleveland State University for the Movement for Black Lives conference. The conference includes panels, workshops, and dialogue on black involvement in areas such as business, labor, politics, health, civic engagement, queer rights, and feminism.
The Cleveland 8 now have until August 3 to brief the court on their direct appeal.
Corrected: Michael Brown was the Missouri police shooting victim. An earlier version erroneously identified the Missouri victim as Trayvon Martin, who was killed in Florida in 2012 by vigilante George Zimmerman.
Photo: Samaria Rice, the mother of Tamir Rice, speaks at a Dec. 8, 2014, news conference about the police slaying of her son in Cleveland. | Tony Dejak/AP