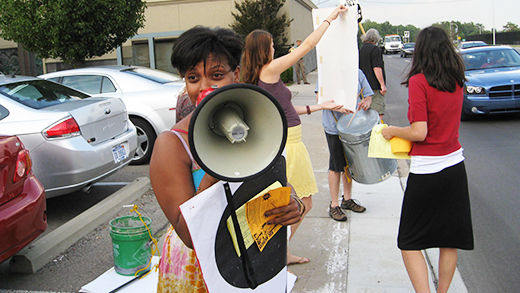 DEARBORN, MICH – The Restaurant Opportunities Center of Michigan (ROC-MI) won a major victory when the National Labor Relations Board (NLRB) issued an order that Dearborn's Andiamo Restaurant illegally cut the hours of, intimidated, and retaliated against servers and other restaurant workers in seeking to squash them from participating in a lawsuit and protest against workplace violations.
Because of the order, Andiamo has to post onsite an NLRB notice that amongst other things tells workers they have a right to "form, join or assist a union, act together with other employees for your benefit and cooperation," and that Andiamo "will not do anything to interfere with these rights."
The lawsuit seeks $125,000 in unpaid wages and seeks penalties for racial, nationality and gender discrimination. This theft of workers wages was carried out through minimum wage violations, unpaid overtime, forcing workers to work "off the clock," and improper wage deductions.
The restaurant workers organization is a non-profit that seeks improved working conditions. It assists restaurant workers seeking legal redress against employers who violate their employment rights.
At a Friday night rally to celebrate the victory, former Andiamo server Naome Debebe related the extreme and intimidating conditions people worked under:"We are under surveillance 24 hours, camera and audio. We could not discuss anything that was going on with ROC-MI or the campaign with the workers inside or outside without letting them know first. If we did, we'd get fired."
Minsu Longiaru, ROC-MI coordinator recited the "dirty dog tricks" the NLRB order restrains Andiamo from engaging in. Included were surveillance of its workers and telling employees we are "infuriated with them because of their support for ROC-MI or any labor organization."
This victory comes after ten months of organizing and weekly demonstrations. It was November of last year when Debebe was fired after the first protest at the restaurant. Although a huge protest forced Andiamo to ask her to come back, harassment continued as Andiamo cut her hours and limited the tables she served. She was let go again after Christmas.
"Money, money, money, is all they care about," she said.
Longiru thinks the ruling will have implications for other restaurant workers in the area.
With over 134,000 employees, the restaurant and food service industry is one of Metro Detroit's largest private-sector employers. ROC-MI says most don't receive a livable wage. Regular raises, benefits or overtime pay, and opportunities for advancement are limited. Health, safety, and employment laws are often violated. Verbal abuse and sexual harassment are common.
Photo: John Rummel Former Andiamo server Naome Debebe.