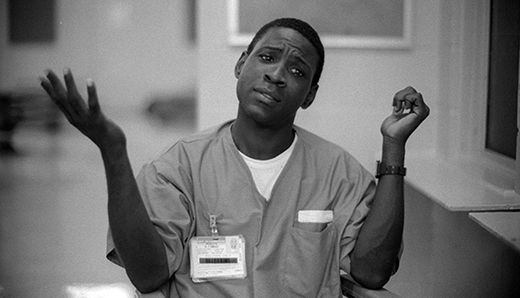 A majority of the justices on the Supreme Court appeared to signal making age limits or perhaps abolish, the use of life prison terms without parole for teenagers whose crimes do not involve a murder.
In most instances the high court has often invoked the Constitution's ban on "cruel and unusual punishment" to restrict the death penalty.
On Nov. 9th arguments took place regarding two Florida cases testing whether it's constitutional to sentence juveniles to life with no chance of parole for crimes short of murder.
The justices seemed to rule that some states particularly Florida, had gone too far by sentencing children to life in prison without parole. There are about 110 people nationwide serving life without parole for crimes less than murder committed as juveniles. Of those, 77 are in Florida.
One case involves Terrance Jamar Graham who is serving a life term for armed burglary after breaking into a Jacksonville restaurant in 2003. He then violated his probation with a home-invasion robbery and was sentenced to life in prison without parole. He was 16 at the time of the first offense.
The other is Joe Sullivan, who at age 13 was convicted of raping a 72-year-old woman and given a life prison term.
Sullivan's lawyer, Bryan Stevenson said rapists in Florida are sentenced, on average, to 10 years in prison. Yet, Sullivan, who has already served 20 years, will die in prison unless the Supreme Court intervenes.
"To say to any child of 13 that you are only fit to die in prison is cruel," Stevenson told the court. "It cannot be reconciled with what we know about the nature of children. It cannot be reconciled with our standards of decency," he said.
Stevenson said there are nine people serving life without parole sentences for crimes they committed at age 13. No juvenile younger than that is serving such a sentence and two of the 13-year-olds did not commit murder. Stevenson notes that in 18 years no 13-year-old has seen sentenced to life without parole for a crime in which no one was murdered.
Sullivan and Grahams lawyers agree their clients committed violent crimes and deserved to spend time behind bars. But they also argued they deserved a chance, at some time, to seek their release through parole.
Bryon Gowdy, Graham's lawyer said, "Sentencing an adolescent to life without any possibility of parole condemns him to die in prison and rejects any hope he will change for the better." Such sentences for juveniles are too harsh making youth forever unfit for society and violates the Constitution, he said. Gowdy added allowing parole "gives some hope to the adolescent who has an inherent capacity to change. It gives him some hope that later in time he may be released."
Justice Anthony Kennedy, a possible key vote in the dispute asked, "Why does a juvenile have a constitutional right to hope, but an adult does not?"
"Because the juvenile is different than the adult and has an inherent capacity to change," Gowdy responded.
This argument it's said is the core of each men appealing their sentences. Lawyers say the Eighth Amendment's ban on cruel and unusual punishment bars a state from sentencing anyone younger than 18 to life without parole for a crime other than homicide.
In 2005 the justices ruled that juveniles could not be executed for their crimes in a 5-4 vote saying it's unconstitutional. Lawyers for Graham and Sullivan say that reasoning should extend to life without parole as well.
Sullivan's lawyers for example argue the justices should outlaw life prison terms for all offenders who are 13 or 14, including murderers. Graham's lawyers said the court should only forbid life prison terms without parole for criminals under age 18 who were not involved in a homicide.
The more conservative justices including Chief Justice John Roberts and Justice Antonin Scalia, voiced opposition to a rule that would prevent anyone under 18 from being sentenced to life without parole. Roberts proposed requiring trial judges to take age into account before sentencing juvenile offenders to life without parole in a "case-by-case approach." Justice Samuel A. Alito Jr. agreed.
However most of the more liberal justices seemed to signal they would go further and rule it was always cruel and unusual punishment to impose a life sentence for an offender who is under age 18 and who did not commit a murder.
"Every state recognizes the difference between an adult and a minor," said Justice Ruth Bader Ginsburg. "And you have to make a line. We have it at 18. The teenager can't drink, can't drive, can't marry," she said. "There are many [legal] limitations on children just because they are children."
During the oral arguments, most of the justices appeared to seem as though they were inclined to overturn at least some of these sentences as too extreme. But they differed on how to do it. The high court seemed likely to split 4-4 over the current cases.
Critics charge it's not likely that a ruling in favor of Graham and Sullivan would affect the more than 2,000 prisoners nationwide who were sent to prison for life as juveniles for crimes where someone died. In many states, young people convicted of crimes can be given life terms if they participated in a violent crime where someone was killed, even if they did not commit the murder.
A decision is expected before July.
Meanwhile some question how many of the young people sentenced to life in prison without parole are African American or other minorities that may come from dysfunctional families due to impoverished low-income communities.
In other instances many argue young people of color over the years have been wrongfully convicted of crimes they did not commit and wind up locked behind bars. Critics say the current criminal justice system is part of complex history including time periods where institutional racism was the norm for decades. How much of that has changed today, they argue.
Photo: This 2007 photo provided by Equal Justice Initiative shows inmate Joe Sullivan, 31, at the Columbia Correctional Institution in Lake City, Fla. . (AP Photo/Glenn Paul)