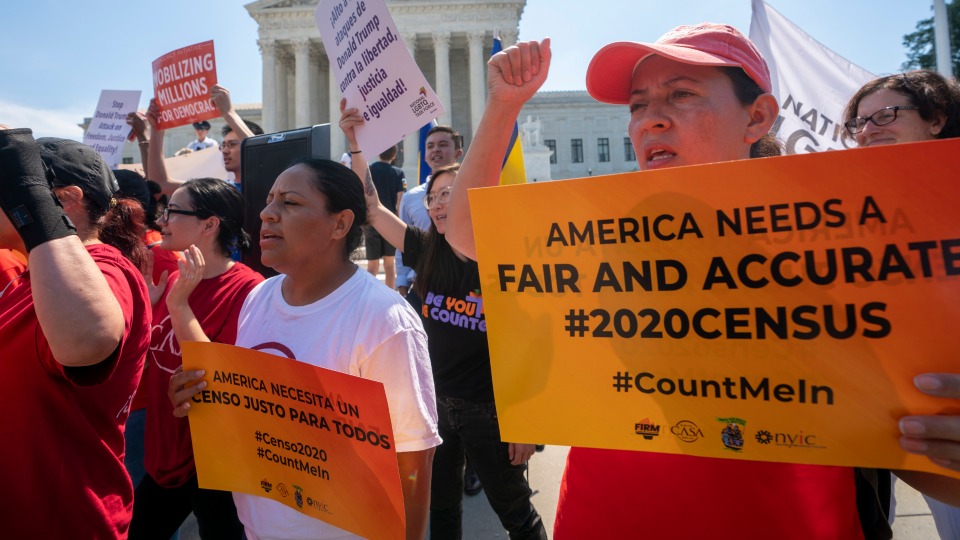 WASHINGTON—In almost the last gasp of his racist anti-immigrant campaign during his Oval Office tenure, Donald Trump asked the U.S. Supreme Court on Nov. 30 not to count everyone in the U.S. Census by excluding undocumented people. His demand drew skepticism from the justices.
The census case is important, and not just to undocumented people. Demographers estimate that if they were omitted, states with high numbers of immigrants, both documented and undocumented—especially New York, California, Florida, Texas, and Illinois—would lose counted people and therefore representation in Congress.
And those losses in turn would cost those entire states federal funds, in addition to U.S. House seats and clout in the Electoral College. In states and cities, the losses would cost people of color political influence in legislatures and city councils and the ability to advocate for their communities.
Failure to include the undocumented in the census would worsen the already existing discrimination against large population states that is built into the U.S. constitution which apportions the same number (two) senators to low population states like Wyoming and high population states like California.
As noted in one amicus (friend of the court) brief, "undocumented immigrants contribute $1 trillion in GDP and $20 billion in federal taxes yearly. Eighty percent are essential workers. One in  four are homeowners and pay property taxes."
"They're our neighbors, our coworkers, and our family members. They are usual residents" of the U.S. "under any plausible definition of that term."
Many lawmakers see the attempt to cut out undocumented people as just another attempt to disenfranchise voters in general.
"Since taking the oath, Trump made the disenfranchisement of voters a core tenet of his presidency," said Rep. Jesus "Chuy" Garcia, D-Chicago.
"From efforts to scare immigrants from participating by including a citizenship question to ending the census timeline early, Trump has done everything in his power to deprive underrepresented communities of political representation."
Demographers estimate New York City (1.15 million), Los Angeles (one million), Houston (575,000), Dallas-Fort Worth (450,000), Miami (450,000), and Chicago (425,000) house the largest numbers of undocumented people—those who would directly lose under Trump's edict.
The justices who made skeptical remarks focused on the constitutional provision that mandates "counting the whole number of persons in each state," with no exceptions, concentrated on the legality, or lack of it, of Trump's order.
The census count of everyone "started in 1820, you know, and they've always counted people who were here and not naturalized," Justice Stephen Breyer told Trump's Justice Department lawyer, acting U.S. Solicitor General Jeffrey Wall.
"This has never happened before that you excluded illegal aliens (sic), and it has a lot of negative effects on the states. You know all those arguments. And I think they're fairly strong ones," he added.
"They're persons, aren't they?" Breyer asked. Wall had trouble answering.
Even Trump's newest appointee, Justice Amy Coney Barrett, whom the GOP Senate majority rushed onto the court days before the 2010 election, was dubious. She too told Wall the census counted everyone, just as the constitution orders.
Women and Black people were counted even during the many years that the law did not allow them to vote. People out of compliance with all kinds of laws, not just immigration laws, were also always counted.
Wall admitted that. He also told Trump-named Justice Neil Gorsuch "this is the best argument on the other side." He also admitted, to Justice Samuel Alito, that "it is unlikely the [Census] Bureau will be able to identify all, or substantially all, illegal aliens" in the U.S. and split them out to ban.
That split-out order went from Trump to his Commerce Secretary, Wilbur Ross, whose department includes the Census Bureau. Wall said Ross would then send Trump two sets of figures: One counting everybody, as the U.S. Constitution requires, and the other omitting the estimated 10.5 million-11 million undocumented people, as Trump ordered.
But Wall admitted, after a phone conversation with top Census officials just before the Nov. 30 Supreme Court hearing, that a split-out would be difficult and may be impossible. Pushed by Gorsuch about when those separate figures could be provided, and how accurate they would be, Wall replied: "I wish I could provide the court with more certainty. I can't."
New York State Solicitor General Barbara Underwood asked the justices to make permanent lower court orders banning Trump's split-out of undocumented people. She argued a straightforward case, based on the Constitution. Her coalition of California, New York City and state, Chicago, Los Angeles, Houston, and other states and cities challenged Trump's edict against counting everyone.
"The Constitution and the laws require seats in the (U.S.) House be apportioned to the number of persons in each state," Underwood declared. Trump's "new policy of refusing to count people who are not in a lawful immigration status is flatly inconsistent with that command."
"Our laws reflect the deliberate choice to count…the number of people" and not voters, citizens, or anything else, Underwood elaborated. "That has always included people who were ineligible to vote, including non-citizens, and people who were in violation of the law," including immigration law.
Trump's ban "pretends that if a person should not be here, then the person is not here. The government may do many things to induce an undocumented immigrant to leave, but it cannot declare them to be gone when they're here and likely to remain."
Exclusion of undocumented people from the census is likely to increase the exploitation of those workers by unscrupulous employers, driving down the wages and working conditions for all workers. Despite this reality only one union, the National Education Association, joined in a friend-of-the-court brief sent to the court, arguing against Trump. That brief, filed by the National School Boards Association and other education groups, reiterated the unconstitutionality of Trump's dictate, but concentrated on what an undercount would mean to schools.
"The success of vital education programs depends on a full and accurate census count," it said. Trump's order, "if let to stand, would thwart NEA's mission by depriving vital education programs of full funding based on accurate census data."
Labor's Council for Latin American Advancement (LCLAA) did not file a brief but blasted Trump's split-out edict when the Oval Office occupant promulgated it in July.
"This administration, much like the scores of dictatorial regimes our nation has historically stood up against, is using terrorizing tactics to silence the voices of the most vulnerable communities," it said.
"We are witnessing a dangerous attack against our nation's most sacred value: Our Democracy."
"This move is designed to perpetuate the exploitation of undocumented immigrants, it is an intimidation tactic, and an attempt to silence us," added Yanira Merino, a Laborer, LCLAA's president, and the first formerly undocumented person to lead the group. "We are ready to put on this fight. Hear us scream, because we will not be silenced."
While Trump's edict was anti-Latino, that word wasn't heard in the High Court's session until almost the end, in a summary by ACLU attorney Dale Ho. ACLU supported the states, cities, and immigrant rights groups opposing Trump.
"As the Latino Justice amicus [friend of the court] brief notes, undocumented immigrants contribute $1 trillion in GDP and $20 billion in federal taxes. Eighty percent are essential workers. One in  four are homeowners and pay property taxes."
"They're our neighbors, our coworkers, and our family members. They are usual residents" of the U.S. "under any plausible definition of that term."
Like free stuff? So do we. Here at People's World, we believe strongly in the mission of keeping the labor and democratic movements informed so they are prepared for the struggle. But we need your help. While our content is free for readers (something we are proud of) it takes money — a lot of it — to produce and cover the stories you see in our pages. Only you, our readers and supporters, can keep us going. Only you can make sure we keep the news that matters free of paywalls and advertisements. If you enjoy reading People's World and the stories we bring you, support our work by becoming a $5 monthly sustainer today.