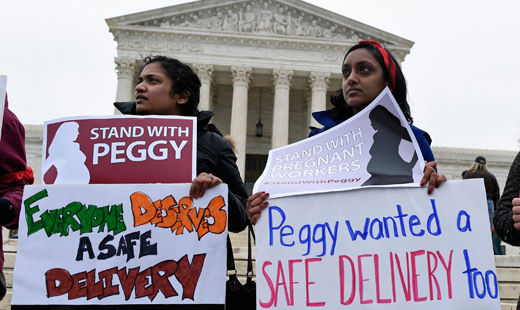 WASHINGTON – Does the Pregnancy Discrimination Act, which bars firms from discriminating against pregnant workers, mean what it says? And what's that? Those are the questions Peggy Young, a former UPS driver between Annapolis, Md., and Baltimore's international airport, brought to the U.S. Supreme Court on Dec. 3.
Young, hired by UPS in 1999, had to take time off for a difficult pregnancy several years later. But it was unpaid time after the company refused – despite the law and her doctors' notes – to accommodate her by giving her light-duty work. It also yanked her health insurance. Young sued, saying UPS broke the law, which passed in 1978. Young lost in lower courts, which agreed that UPS' paid disability leave policy was neutral on its face and thus legal: If you're injured off the job, you can't get paid leave, pregnant or not.
She said UPS still aided other drivers, male, injured off the job. So Young, backed by unions – including the Teamsters, which represents UPS workers – and women's rights groups, took her case to the High Court. Joined in an outdoor rally by the National Consumers League, the National Partnership for Women and Families, and even evangelicals and pro-life groups, they all argued the Pregnancy Discrimination Act means firms must accommodate pregnant workers. Several of the justices inside agreed. "The facially neutral policy" on treating disabled workers "hurts pregnant women," Justice Stephen Breyer commented.
The case is important to workers nationwide. Some 49 percent of all workers are female and 62 percent of women who gave birth had been in the workforce sometime during the prior 12 months, data show. It's also important to families, women's groups, evangelicals and Young herself, she said during a rally outside the court after the argument inside. "If we want to start our families, we should be able to start our families and continue to work at the same time," Young explained.
Inside, the pregnancy discrimination law "says that if there is discrimination because of pregnancy, that's discrimination because of sex," Young's attorney, Samuel Bagenstos, told the justices. "And UPS provides accommodations for (male) drivers with off-the-job conditions" that prevent them from driving their trucks, he added. That set off a dispute between the justices and Caitlin Halligan, the attorney for UPS, whose position against Young drew backing from the Chamber of Commerce and other business groups. Halligan maintained that when UPS workers at that time got injured off the job, the company didn't accommodate them by giving them light-duty work.
Several justices, led by Elena Kagan, retorted that is exactly what UPS did, thus discriminating against women, which is what the law was designed to avoid. "The Pregnancy Discrimination Act has to be recognized," she told Halligan. "What you're saying is a policy that puts all pregnant women on one side of the line."
Added Justice Ruth Bader Ginsburg, "It's a policy that distinguishes between on-the-job and off-the-job injuries" and pregnancy occurs off-the-job, she said. Both justices pointed out that Congress kept that on-the-job/off-the-job distinction, except for pregnancy.
Ironically, UPS' policy has changed. Young left the firm in 2009. And UPS, in bargaining with the Teamsters, has changed its policy so that these days, pregnant workers qualify for on-the-job disability pay and health insurance. And that's the intent of the law. But many other companies haven't changed. "Pregnant workers are under attack. What do we do? Stand up, fight back," was one chant of the workers outside the court.
"There are (pregnant) cashiers who have to stand all day long, there are women who ask to carry bottled water with them on the job" to keep hydrated "and there are those who ask for bathroom breaks and don't get them," said Marcia Greenberger of the National Women's Law Center. "I found it to be extraordinary that we're arguing to protect Peggy Young 36 years after the law passed," she added.
"We all have a stake in ensuring women can hold jobs and pursue healthy pregnancies," said Debra Ness of the National Partnership for Women and Families, which also sent members to the outdoor rally.
"When employers deny pregnant women the same on-the-job modifications provided to others, they force women like Peggy Young to make impossible choices between following their doctors' advice and jeopardizing their families' financial security – and the plain language of the Pregnancy Discrimination Act states they are violating the law. Women and families across the country are counting on the court to make that clear once and for all," Ness added.
Pamela Cipriano, a registered nurse and president of the American Nurses Association, called such a choice between following doctors' orders or losing their jobs "unfair and impossible." She said ANA joins health care and womens' groups in demanding the court "give pregnant workers the support needed to maintain financial security and maternal health."
Young herself, who sat through the court session, was a little non-plussed by the passions it aroused. She also believes the justices will rule for her – and other women. "I never imagined this" when she filed the suit years ago, Young told reporters. "I'm very, very hopeful."
The justices will rule on her case by the end of June.
Photo: Supporters of Peggy Young, the UPS driver who lost her job becasue of her pregnancy, in front of the Supreme Court. Susan Walsh/AP