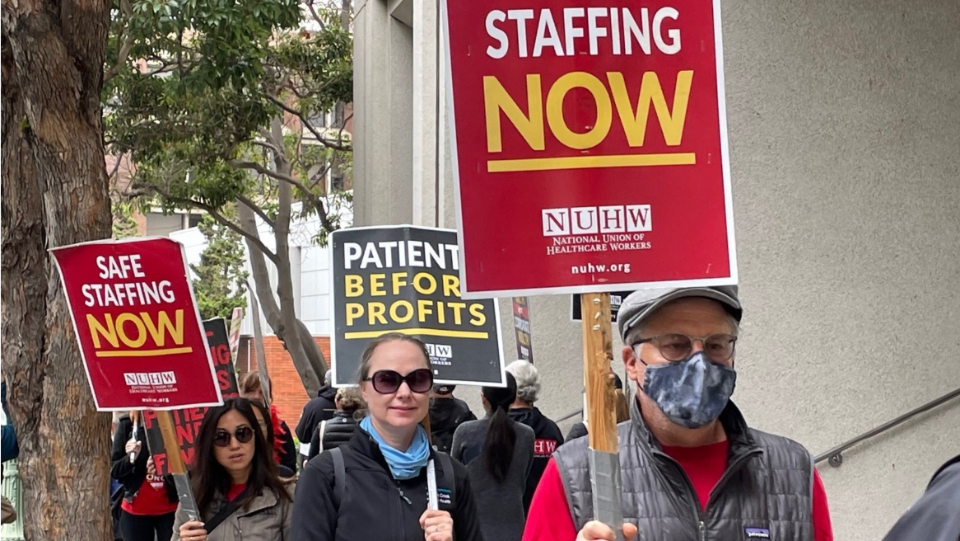 Update:

In a joint statement issued Oct. 18, NUHW and Kaiser Permanente announced they have reached a tentative agreement for a new contract, bringing the mental health clinicians' 10-week-long strike to a conclusion. They said the new four-year pact "will benefit Kaiser Permanente patients and drive collaborative efforts aimed at improving access to mental health care, while at the same time recognizing and better supporting mental health therapists in their important work."

The nearly 2,000 Kaiser therapists represented by NUHW will participate in a two-day ratification vote starting on the evening of Oct. 18, after which more details about the agreement will be available. NUHW and Kaiser expressed their thanks to Sacramento Mayor Darrell Steinberg "for mediating and helping to bring negotiations to a close."
OAKLAND, Calif.—This week, Kaiser Permanente mental health clinicians in northern California and the Central Valley are entering the third month of the longest mental health workers' strike in U.S. history. Before the strike began in mid-August, the clinicians had accepted Kaiser's proposal for their own compensation, but they are continuing to demand the giant HMO staff provide the same level of care for mental health as it does for medical services.
On Oct. 14, psychologists, social workers, marriage and family therapists, chemical dependency counselors, and their union, the National Union of Healthcare Workers, were joined by patients, elected officials, and community supporters on a spirited picket line outside the downtown Oakland headquarters of the physician-run, for-profit Permanente Medical Group, which is participating in negotiations between Kaiser and the striking clinicians. Actions also took place in Santa Rosa and Roseville.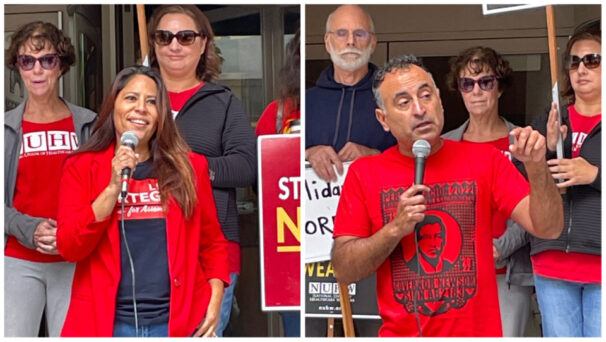 As noon approached, the pickets paused their marching and chants, and gathered to hear Assemblymember Ash Kalra, D-San Jose and chair of the Assembly's Labor and Employment Committee, tell them that as a former public defender working in Drug Treatment Court, he knows first-hand the importance of their work because so many of his clients' lives "were literally saved because of the work that you all do."
Declaring that he stands with the clinicians, Kalra told them, "We need to make sure you have all the tools you need, the resources you need, the staffing you need to take care of the patients you care about, that you give everything to, and yet Kaiser doesn't have your back."
Alameda Labor Council Executive Secretary-Treasurer Liz Ortega, now campaigning for a seat in the Assembly, told the crowd she is running for office "because I want to make sure we close the loopholes that keep Kaiser having you out here for two months," and to "make sure we hold them accountable for the money and profits they are making while they're putting our community's life on the line."
Calling the current situation "truly an emergency," Richmond City Councilmember and former mayor Gayle McLaughlin observed, "Mental health has to be prioritized along with physical health, because otherwise we're just treating part of the human being." McLaughlin told the clinicians their victory, which she is sure will come, will be "a win for working families everywhere, you're truly lifting up working families by the strike you're doing here."
Taking the podium, NUHW President Sal Rosselli had big news to share.
For months, he said, the union has been working with the California Department of Labor about Kaiser's violations of federal laws mandating parity in treatment of mental and physical health. In recent weeks the department has greatly stepped up that work, interviewing managers as well as patients, and has brought the Department of Managed Health Care into the process as well.
Though Kaiser returned to bargaining at the beginning of the week, after pressure from Governor Gavin Newsom and Dr. Mark Ghaly, head of the state's Department of Health & Human Services, Rosselli said the healthcare corporation had again rejected the union bargaining committee's fair proposal for settlement.
And this has led to the biggest news of all: responding to pressure from state officials and others, Kaiser has accepted Sacramento Mayor and former state Senate President pro tem Darrell Steinberg as mediator in the contract dispute.
Rosselli told the clinicians, "This is all possible because of the sacrifice that our 2,000 folks have made in continuing this strike. I am so proud of you and so grateful to be a part of this movement with you!"
Before the strike, the union says, Kaiser mental health patients were routinely waiting for months to start therapy sessions and faced gaps of six to eight weeks between therapy sessions, in violation of state law. Among clinicians' demands: allowing therapists to schedule more follow-up appointments with patients, and provide enough time to perform critical patient-care tasks including responding to patient emails and voice messages, following up with social service agencies, and developing treatment plans. They maintain that Kaiser, with over $54 billion in reserves and an $8.1 billion profit last year, has resources to provide for its patients' mental health needs.
As the rally wrapped up and strikers returned to picketing and chanting, Barry Kamil, Ph.D., a psychologist specializing in Addiction Medicine, shared his concerns about how these issues impact mental healthcare at Kaiser.
Kamil, who has been with Kaiser for 41 years, said the HMO "has never had enough clinicians to see patients who need mental behavioral health in a therapeutic amount of time."
Over the years, Kamil said, federal legislation has been passed mandating that mental healthcare must have the same priority as physical healthcare, and in California, legislation now requires that after first contact, a patient must be seen within two weeks, with return appointments also occurring within two weeks.
But, Kamil said, "Kaiser has never really been able to do that. They have a variety of ways to cook the books and make it look like we're doing it, which we aren't."
Part of the hard work NUHW has been doing over the years, he said, is contacting the state legislature, the governor's office, the Department of Managed Health Care, and now the Department of Labor, "because if Kaiser executives, who make multimillion dollars a year in pay, aren't willing to invest in the mental healthcare they are supposed to offer their members, we have to force them to do it through legislation and regulatory oversight."
In his field of practice, Kamil said, demand for Kaiser's alcohol and drug recovery programs skyrocketed during the pandemic because alcohol use soared. But the HMO responded by closing down long-term alcohol and drug care programs and cutting back treatment time in those that remain.
What's happening now, he said, is that the "recidivist rate"—how often patients come back to programs because their initial treatment didn't last long enough, has really shot up.
"The good news is, they're getting treatment for longer periods of time; the bad news is, they have to keep coming back to get it, and they're often relapsing between treatment episodes."