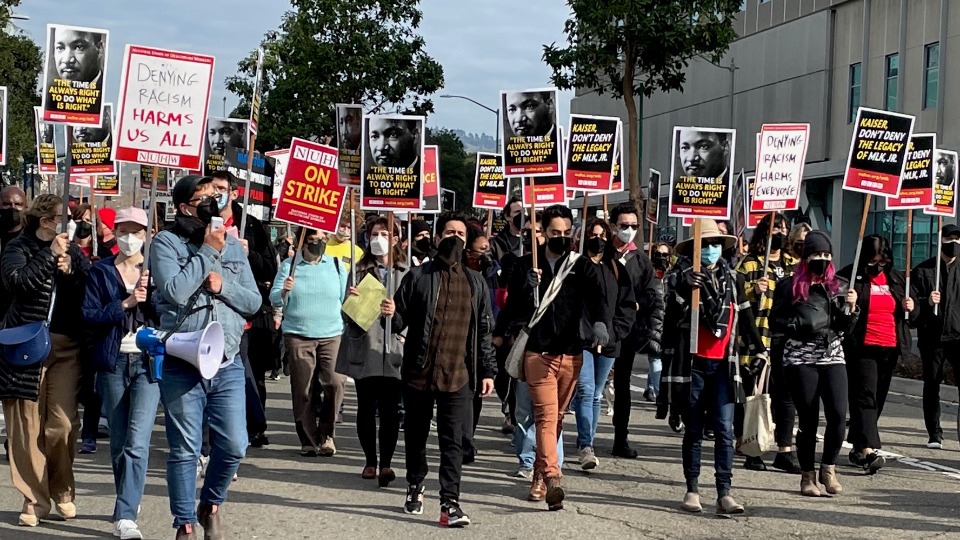 OAKLAND, Calif.—On Monday, Martin Luther King Jr. Day, nearly 100 mental health clinicians held a one-day strike at Kaiser Permanente's Oakland Medical Center to protest the company's rescinding its promise to make MLK Day a paid holiday, and to call for culturally sensitive health care for communities of color.
Kaiser claimed its action was due to a "misunderstanding" or "miscommunication" and said the day will be a holiday for all workers starting next year. But the striking clinicians made clear their view that this was not an isolated incident but instead was another example of structural racism.
The clinicians, who have been on the front lines helping those in the community struggling with mental health, both before and during the pandemic, formed a picket line outside the Oakland Medical Center at 8 a.m., before marching to downtown Oakland for a noontime rally at Kaiser's corporate headquarters.
A number of community leaders also came out to support the clinicians, including Oakland City Council President Nikki Fortunato Bas, Council President Pro Tem Sheng Thao, and Councilmember Dan Kalb. Alameda County Supervisor Nate Miley and California Assemblymember Mia Bonta, D-Alameda were also present.
Addressing the crowd at the rally, Sal Rosselli, president of the National Union of Healthcare Workers, recalled that almost two years ago, the Kaiser mental health clinicians had raised issues of institutional racism inside Kaiser and urged executives to recruit and retain Black and brown people and workers who speak the languages prominent among Kaiser patients.
Management announced it was investing, in partnership with the union's BIPOC Committee and other Kaiser unions, to look at diversity and inclusion of all employees and end systemic racism within Kaiser Permanente. But after repeatedly asking about progress, Rosselli said, "It's only now that you've taken this action that they're willing to talk again."
Rosselli added, "I'm so proud of the NUHW clinicians here in the East Bay that stand up to Kaiser. And it's just stunning to me that despite these years of struggle around access to mental health care, people are still absolutely committed to working in collaboration with Kaiser executives to fix all these problems."
Oakland City Council President Bas told the crowd, "I have been reflecting on something Dr. King said in 1964 when he accepted the Nobel Peace Prize: 'There is nothing new about poverty. However, what is new is that we have the resources to eliminate it.' That is even more true today because we know we live in the wealthiest country in the world…and Kaiser and many other Oakland corporations have enough resources to share, to make sure we can all be healthy and thrive."
Bas said she agrees with the clinicians' demands that staffing vacancies should be filled by professionals who can serve Oakland's diverse communities, providing culturally competent care and meeting the linguistic needs of the city's residents.
Supervisor Miley said he was there to support NUHW in all its efforts, "because I know you're on the side of what Martin Luther King stood for: justice, righteousness, and peace. I'm pleased to be here in solidarity. You're the front line workers during this pandemic; we should understand that as well."
In a conversation with People's World before the march, social worker Sabrina Chaumette—one of just five Black clinicians on Kaiser's adult team in Oakland—put the clinicians' struggle in the context of efforts to suppress civil and voting rights happening now in many parts of the country.
Besides the issue of the holiday, which two other unions already have, Chaumette noted the presence of posters all over the hospital, "saying things like, 'Black Lives Matter,' that they're against racism, that they want to bring health care to all, and work with marginalized communities in terms of being able to bring the COVID vaccine.
"But," she said, "you have to walk your talk. And because we treat populations who have been abused by systems; they don't want to hear that you believe in the rights of others, they want to see it."
Jessica Dominguez, founder and lead clinician at Kaiser's La Clínica, a program in Richmond that serves Spanish-speaking residents, said she and other clinicians had called for action, especially following George Floyd's murder, "and not just from Kaiser, from our own union as well. We really need to make sure our practices push us to do better for the communities of color. And for Kaiser not to even meet us halfway, or even work with us toward solutions, it's like, if you're not going to be anti-racist, then what are you? That's why we're out here today."
Recently, more than 1,500 Kaiser Permanente mental health clinicians and healthcare professionals were surveyed by NUHW about issues of racial justice they and their patients experience at Kaiser. According to the survey, "62% of non-white care providers surveyed reported experiencing racism working at Kaiser Permanente." In addition, "47% of all care providers surveyed reported witnessing racism" working there.
Black adults in the U.S. are much more likely than their white counterparts to report persistent symptoms of emotional distress, according to a 2019 report by the U.S. Department of Health and Human Services Office of Minority Health, yet they receive much less care.
These findings make the systemic nature of the problem quite clear.