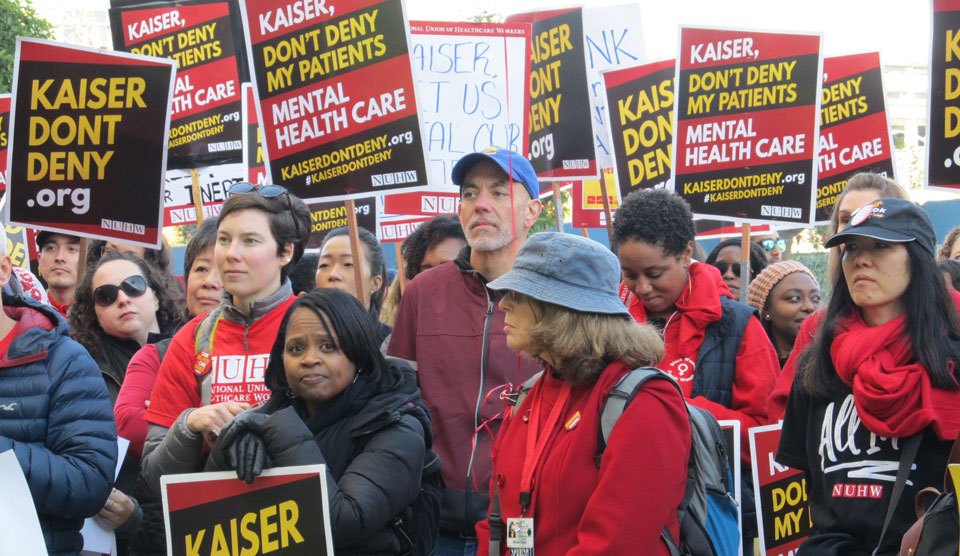 EMERYVILLE, Calif. – Seong Brown is the mother of Elizabeth Brown, a gifted college student who committed suicide last year after experiencing repeated delays and obstacles in her search for desperately needed mental health care.
"I imagine a world where mothers and fathers do not have to bury their children and cry over their children's tombstones……a world where this company understands that each and every one is a human being who deserves proper mental health care as much as the physical health care," the distraught mother said at a press conference here.
The company she was talking about was the healthcare giant, Kaiser Permanente, and the press conference she addressed was held here June 6 at the headquarters of the National Union of Healthcare Workers.
Unless Kaiser Permanente meets the demands of mental health therapists that it provides adequate resources to treat their patients, some 4,000 psychologists, therapists and social workers serving over 100 Kaiser clinics and hospitals throughout California will hit the streets in an open-ended strike on June 11, their union, the National Union of Healthcare Workers, declared at the press conference.
Union president Sal Rosselli and other union leaders were joined by therapists, patients and family members in exposing the devastating delays mental health patients – even those suffering the most serious conditions – must face because Kaiser, California's largest health care provider, has consistently failed to maintain adequate staff levels for effective care.  Now, just one mental health clinician is available for every 3,000 Kaiser patients.
Rosselli told journalists no negotiations were scheduled over the weekend but emphasized that the mental health workers were ready to meet at any time in an effort to avert a strike.
"In order to reach a settlement," he said," Kaiser has to put forth proposals that sincerely acknowledge and address that it has a real care delivery crisis on its hands. Patients aren't getting the care they need, and psychologists, social workers, and therapists are booked morning, noon and night for a month or more in advance."
The health care giant's latest proposal, Rosselli said, fails to commit to set a target for increased staffing to cut down on patients' long wait times, which he called "not only illegal but immoral."
Clinicians are also calling for compensation matching that of other unionized Kaiser staff.
Kaiser's mental health clinicians have repeatedly pointed out the problems faced by patients who, because of the seriously inadequate staffing, end up having to contact lists of outside therapists. Such patients often report back to Kaiser that after dozens of calls, they are unable to find a therapist.
Patient Kevin Dickens' experiences also illustrate the point made by Brown. Two years ago, Dickens said, when he sought treatment, he was given lists totaling some five dozen outside therapists. Many never responded to his calls, he said, while those who did all refused to see him because he was a Kaiser patient.
Finally, after nine weeks, he was able to see a therapist. "After 12 weeks," Dickens said, "I got to see a psychologist. And in the 13th week, I attempted suicide."
Fortunately, at that point, unlike Elizabeth Brown, he was able to get good care, Dickens said, but in the months since, he has "really had to fight" to maintain adequate treatment.
Kaiser's California mental health clinicians have been working without a contract since the end of September 2018. In December they held a five-day strike over the same demands. This time, they say, they will stay on the picket lines until Kaiser makes a satisfactory offer.
Rosselli said that despite months of bargaining, Kaiser's top executives refuse to address the problems, and "appear to be satisfied to treat patients with mental health conditions as second-class citizens." He called its attitude "even more outrageous" in view of Kaiser's $42 billion in cash reserves, and profits of $3.2 billion in the first quarter of 2019.
The current crisis has long roots. Similar strikes were waged in 2015 and in 2012. In 2013 the state Department of Managed Health Care fined Kaiser $4 million for violating patients' rights to timely appointments, and in 2017 the DMHC put the health care provider under state-ordered outside monitoring that is scheduled to continue until at least next year.