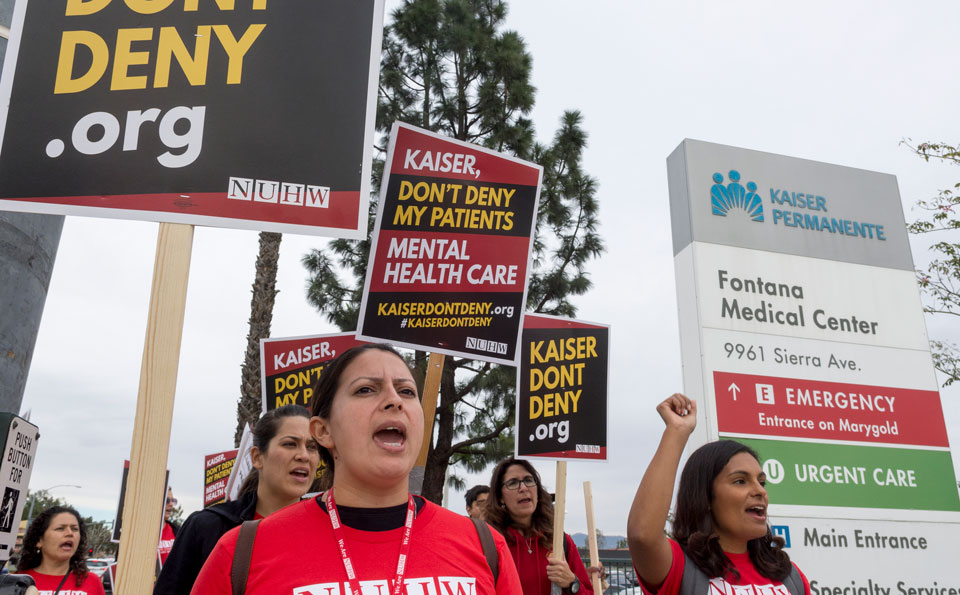 OAKLAND, Calif.—The long struggle of Californians to access timely mental healthcare is entering a new era. On July 1, a new law went into effect, Senate Bill 221, by state Sen. Scott Wiener, D-San Francisco, to address a major ongoing issue—the extremely long waits patients must endure between their initial intake appointment and follow-up care.
The measure addresses a longstanding loophole in California law: While health maintenance organizations and insurers must provide initial mental health assessments within two weeks of a patient's request, they haven't been required to provide follow-up within the same time period, leading to long wait times for many patients.
SB 221 passed the legislature with an overwhelming bipartisan majority in the 2021 legislative session. It was signed into law last October, but did not take effect immediately, to give providers time to prepare to meet the new requirements. Under its provisions, health insurers must provide a follow-up behavioral health appointment within two weeks after the initial intake appointment, unless the therapist determines that is not medically necessary.
Addressing reporters on June 30, Wiener said the measure "means health plans have to provide timely access to mental health appointments, that you can't give someone a first appointment and then make them wait two or three months for their second and subsequent appointments, because that completely undermines effective mental health treatment."
Wiener said he was standing together with Kaiser Permanente frontline mental health workers and Kaiser members because they are very concerned that health plans, and particularly Kaiser, are not yet prepared to meet SB 221's requirements.
"This is about people with serious mental health challenges and addiction challenges, and they need prompt access to treatment, the same as if someone breaks their arm or has another serious health problem."
Joining Wiener on the Zoom conference were Kaiser triage therapist Sarah Soroken and clinical social worker Josh Garcia.
Soroken, who said she works with people in crisis and those needing an initial appointment, told reporters that wait times have actually gotten worse since SB 221 became law. She told of receiving many calls from patients who have waited weeks or months to get an appointment for individual therapy, and whose symptoms have often worsened during the long wait.
When, as is often the case, she can't offer them timely appointments within the Kaiser system, Soroken asks managers to provide immediate care through Kaiser's network of outside providers. But, she said, "unfortunately, Kaiser does not allow patients with the most severe symptoms to be referred outside the system for treatment, and they end up waiting six to eight weeks or more."
Meanwhile, many patients with mild to moderate symptoms who are referred outside Kaiser are unable to find an available therapist in the healthcare giant's overburdened external provider network and end up calling back with worsened symptoms.
Soroken shared redacted patient records showing wait times ranging from one month to more than three months between intake appointments and the first therapy appointment.
"Kaiser can say it has a lot of plans to comply with SB 221," she said, "but this is the reality for patients: The law goes into effect tomorrow and they still can't be seen for months."
Garcia expressed concern that Kaiser has not shared any specific plans with clinicians at his clinic and said the only idea he has heard involves reducing mental health appointments to 30 minutes; Soroken later confirmed that even shorter appointments were being implemented in Kaiser's psychiatry office in Vallejo.
"We want to work with Kaiser leaders to implement SB 221 because it would have a profound benefit for all our patients," Garcia said, "but the only way to do that is to add more sessions of 45 minutes or longer" with intervals of seven to 10 days between appointments, and even more frequently in some cases.
The human toll of Kaiser's long wait times was graphically described by longtime Kaiser patient Jasmin Hakes, whose daughter, now 21, was first diagnosed with multiple serious mental health challenges in 2013. In 2019 and again in 2020, her daughter was hospitalized with severe depression and suicidal ideations, even ending up on life support at one point, after overdosing.
Hakes said despite daily calls, voicemails and emails, and repeated assurances that Kaiser would contact them once a therapist was available, "to this day, she still does not have a therapist."
Kaiser's mental health clinicians are represented by the National Union of Healthcare Workers, whose president, Sal Rosselli, described the clinicians' 12-year-long struggle with the healthcare giant's administration and physician leaders over "the lack of timely access to return care caused by Kaiser's severe understaffing of its mental health clinics."
Rosselli credited that struggle with contributing to SB 221's near-unanimous bipartisan passage.
"This law has the potential to help so many Californians, and that's why it's so disappointing that Kaiser, as the provider for more than a third of all insured Californians, has not taken any steps to comply with it," he said.
In fact, California's Department of Managed Health Care in May launched a special "non-routine survey" to see whether Kaiser is providing adequate mental health coverage to its 9.4 million California enrollees.
Challenging Kaiser's claims that it is having trouble gearing up for compliance with SB 221 because of a national shortage of clinicians, Rosselli pointed out that mental health clinicians are leaving Kaiser in record numbers—668 in the last 12 months—which he said was about double the number leaving in each of the two previous years. He also noted that Kaiser reported $8.1 billion in net income in 2021.
"If our members were given the tools they need, including adequate staffing, Kaiser could have the best mental healthcare system in the country," he said. "But again, Kaiser executives have refused to invest in its mental health services, and its members are suffering the consequences."
Rosselli said the Kaiser therapists and their union are ready to help Kaiser comply, "but right now, the best way to make Kaiser and all healthcare insurers comply is to make sure everyone knows their right to timely care." He urged patients, their families, and those concerned with the issue to learn more about the new law, and about ways to file a complaint when providers are not in compliance, by going to nuhw.org/sb221 and to a related website, kaiserdontdeny.org.
He also called attention to another measure by state Sen. Wiener, SB 858, which passed the Senate last month and is currently before the Assembly. That bill would sharply increase fines for violating mandated consumer protections, which in many cases haven't been updated since the 1970s.
Unfortunately, Rosselli said, "organizations like Kaiser Permanente see the fines as the cost of doing business, so that's another piece of legislation we certainly hope and imagine will pass this year, and we hope Governor Newsom will sign, to again increase pressure on providers to obey the law and provide adequate access to care."