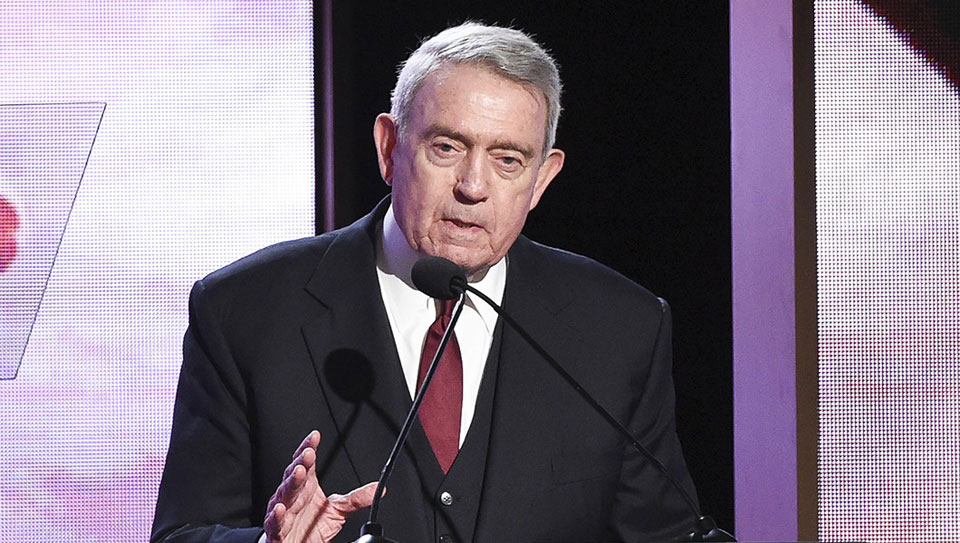 WASHINGTON—Donald Trump is a danger to democracy – as well as freedom of the press.
So said veteran broadcast journalists Marvin Kalb and Dan Rather, who stepped out of their combined multiple decades of mainstream media "objectivity" to discuss Kalb's new book, Enemy of the People.
Kalb took his book's title from Trump's often-used phrase when describing the regular corporate-controlled media, including the traditional networks of CBS – where both worked – NBC and ABC and major newspapers such as The New York Times and The Washington Post.
Notably exempt from Trump's critique: Fox, a megaphone for the president, his appointees, and kowtowing congressional Republicans.
Kalb said writing the book "was an extremely difficult decision" because it took him out of 65 years of playing it straight, covering presidents, potentates, dictators and democrats, mostly as a foreign correspondent for CBS.
But the Trump threat goes beyond just press freedom, a bulwark of democracy and of the U.S. Constitution's First Amendment, Kalb explained in an Oct. 17 book talk at the Brookings Institution, a D.C. think tank.
"When you examine what he (Trump) has done, and what he has said, he has a program of weakening the fundamental values of American democracy," Kalb declared. "And the system of democracy is fragile because it depends on people – and people can change." Trump's attacks on the press and on the courts "have weakened the structure of the (democratic) system itself," Kalb added.
Responding to questions from Rather – who broadly agreed with him – and members of the audience, Kalb said Trump shows disdain for democratic institutions across the board, from Congress to the press to the federal judiciary.
Polls show almost a third of the country agrees with Trump's "enemy of the people" characterization of the mass media that tries to hold him accountable, Kalb added. That's scary, he said. Even the longtime Russian dictator Josef Stalin, whom he covered in the early 1950s, didn't use that phrase, Kalb noted.
But media mistrust is also not new. The Gallup organization reports that when it first asked people whether they trusted the mass media, in 1972, 68 percent picked "a great deal" or "a fair amount."
By 2004, that had fallen to 44 percent – and the brouhaha over Rather's inaccurate report about GOP President George W. Bush's military service pushed already declining trust down to less than half. It's now in the mid-40s: 76 percent among Democrats and 21 percent among Republicans, Gallup says.
In the 2016 presidential campaign, the GOP trust level was down to 14 percent – and Trump repeatedly vilified the media then, so much so that several news organizations, seeing their reporters penned in small enclosures and threatened by crowds of angry Trumpites, hired security details to guard them.
And at Trump rallies, a black T-shirt, with an etching in white of a tree and a noose with the caption "Tree, rope, journalist. Some assembly required" sold like hotcakes.
Kalb stopped short of calling Trump a dictator, unlike some he covered in his reportorial career. He does say, however, that Trump has no respect for basic constitutional values, and compared Trump, including his bombast and lies, to witch-hunting Sen. Joe McCarthy, R-Wis., of the 1950s.
That means also, said Kalb, that Trump is no Richard Nixon. "Nixon was an accomplished career politician who came up through the system" and who served in World War II and developed an appreciation for the constitution, even if he didn't always follow it, said Kalb, who landed on Nixon's Watergate political "enemies list."
Trump got draft deferments to avoid military service and never held a political office before winning the White House. As a result of that combination, "There's a large distinction between Richard Nixon and Donald Trump," said Kalb. "Trump is a fundamental threat to our democracy. I never felt Richard Nixon was."
Rather, however, pointed out that Trump has a love-hate relationship with the press, which made him a TV celebrity and gave him tons of free publicity during the 2016 campaign against Democratic presidential nominee Hillary Clinton. Kalb agreed, saying McCarthy was the same.
"The amount of free time given to Trump on the three networks" – not counting Fox – "was 1100 hours and the amount to Hillary was half of that," Kalb replied. And cable stations unquestioningly broadcast Trump's rallies end-to-end, with no questioning and no analysis. The reason: He was a ratings gold mine for the networks and cable.
"Even the impending arrival of this guy" for a coming rally "was on the air for discussion for three hours" on cable, before Trump's plane touched down, Kalb noted. "They're giving him all of this without his spending one nickel on his own part."
Trump "is a pickup of the McCarthy period," Kalb explained. That era saw prosecution, persecution, firings and jailing of progressives, politicians, unions and minorities as "Communists" or sympathizers.
"If you were suspected of being in the left wing, you'd lose your job. Everybody was suspect, lives were ripped apart and families destroyed."
"McCarthy captivated the press, who went along for the ride – much the way Trump did in 2016 and much the way he governs today." This time, Kalb said, there are no GOP politicians and no Edward R. Murrows in the mass broadcast media willing, credible and strong enough to challenge Trump.
Kalb's book: Enemy of the People, subtitled Trump's War on the Press, the New McCarthyism, and the Threat to American Democracy, is available from the Brookings Institution Press, www.brookings.edu.