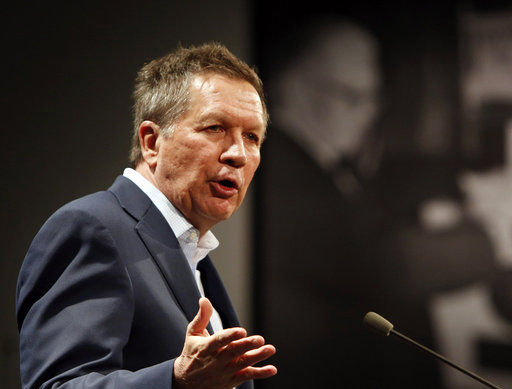 COLUMBUS, Ohio (PAI) – Following the lead of the GOP-named majority on the U.S. Supreme Court, Gov. John Kasich, R-Ohio, has gone one step further and yanked collective bargaining rights from 10,000 Ohio home health care and child care workers.
But while the justices ruled last year that unions could not even collect fair share fees from such workers – if those workers don't want to be members, but still receive union-negotiated protections – Kasich went further. He said unions can't even bargain for them.
Kasich's May 22 executive order "appalled" Becky Williams, president of SEIU 1199's district that includes Ohio, and those providers.
"By stripping collective bargaining rights from home care and childcare workers, Kasich is effectively attempting to silence thousands of low-wage workers, women and people of color from their ability to advocate for their clients and preserve quality care and services to the children, seniors and people with disabilities in our communities," she said.
"This is a volatile and uncertain time for Ohio's home care providers and consumers already because of radical moves by Kasich to effectively eliminate all independent home care providers and slash the pay of those that remain. Now, it is clear Kasich wants dismantle the ability of home care workers to organize a union" to silence "their ability to fight for improved funding and increased quality of service to Ohio's seniors and people with disabilities."
"This is another unsafe, unfair attack on Ohio's middle class families…and shows Kasich will stop at nothing to take away the voice of working people, no matter the cost."
An independent home care provider for the developmentally disabled, Amy Hurd, told 1199 that "It feels like Kasich doesn't understand the needs of seniors and people with disabilities. Why else would he want to eliminate our work, slash our pay and silence our voice? As providers, we know our clients need and deserve quality care providers who have the skills and experience that comes with a stable and well-resourced workforce. By cutting our wages, eliminating our jobs and robbing us of our rights, many home care workers like myself will be forced out of jobs and away from the clients we care about."
Photo: Ohio Gov. John Kasich on Friday rescinded a pair of executive orders allowing home health-care and child-care workers who do business with the state to unionize. (Jim Cole/Associated Press)