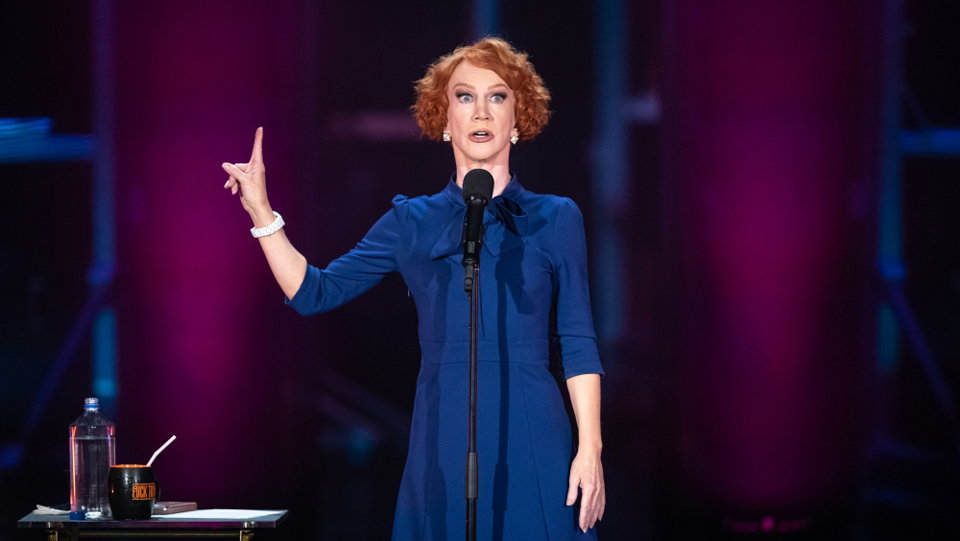 When the Founders framed the First Amendment and Sigmund Freud wrote "humor is rebellious," they must have had individuals like Kathy Griffin in mind. The court jester of the Resistance is still at it. A day before Trump was booed and heckled at a World Series game, I attended a screening of Kathy Griffin, A Hell of a Story at the Downtown LA Film Festival with the irrepressible Trump mocker there in person.
Griffin's hilarious documentary tells the saga of her May 30, 2017, photo shoot, with what looked like Trump's bloody severed head. "It was just a mask and ketchup!" she keeps trying to explain to stoopid Trumpistas who don't seem to understand that his actual head couldn't just be sewn back onto his neck. The incident landed her on the no-fly list, under FBI surveillance, losing most of her gigs from CNN to live shows, etc. Not only does the offensive Trump have no sense of humor but the serial insulter-in-chief is the ultimate poster boy for people who can dish it out but can't take it.
Editor's note: The lady with the oppressor's severed head is the subject of numerous Renaissance and Baroque paintings and sculptures. These art works recount the story of the beheading of Holofernes by the beautiful widow Judith, as we read in the Book of Judith. Holofernes was an Assyrian general who was about to destroy Judith's home, the city of Bethulia. He had already indicated his desire for her. After Holofernes passes out from too much to drink, Judith enters his tent and decapitates him. In many paintings Judith is depicted holding the severed head; in others, his head is seen being taken away in a basket carried by an elderly female servant. The story is clearly meant to empower intergenerational women of all classes in defiance of a tyrant.
The doc also chronicles Griffin's courageous, cunning campaign to rehabilitate her career and herself. She did the latter by launching an international stand-up tour in venues such as the Sydney Opera House in "countries that hate Trump" (aka "Planet Earth"). Much of her up to three hour-long act is in the concert film portion of this 106-minute "docu-comedy," which is now available for download at venues such as Amazon Prime and You Tube.
The film was an official selection at the 2019 SXSW Film Festival in Austin, where it took the Texas capital by storm and became an audience favorite.
After the DTLA screening, Griffin did an in-person Q&A with actress/comic Aubrey Plaza (of the Parks and Recreation TV sitcom) and took audience questions. Asked "what stays with her" from her ordeal of being surveilled, interrogated, repeatedly detained at airports with her passport confiscated, etc., Griffin replied: "The feeling of being hunted." Of course the cowardly Trump had her singled out for harassment by his secret police and international flunkies as a lesson for other would-be dissenters.
Nevertheless, she persisted, and the redheaded comic remains undaunted. To the question what she'd do if she encountered Trump (whom Griffin had known for years on the celebrity circuit and describes as being preternaturally stupid), without missing a beat the defiant comedian joked she'd tell him to:
"Eat out my asshole while I'm shitting. I'd get diarrhea first and shit in his mouth. I'd do it for free because I'm a patriot."
Talk about "dump Trump!"
Kathy Griffin epitomizes the trend of comedy mobilized to resist Trump and is a helluva gal.
For more information about the film see here.