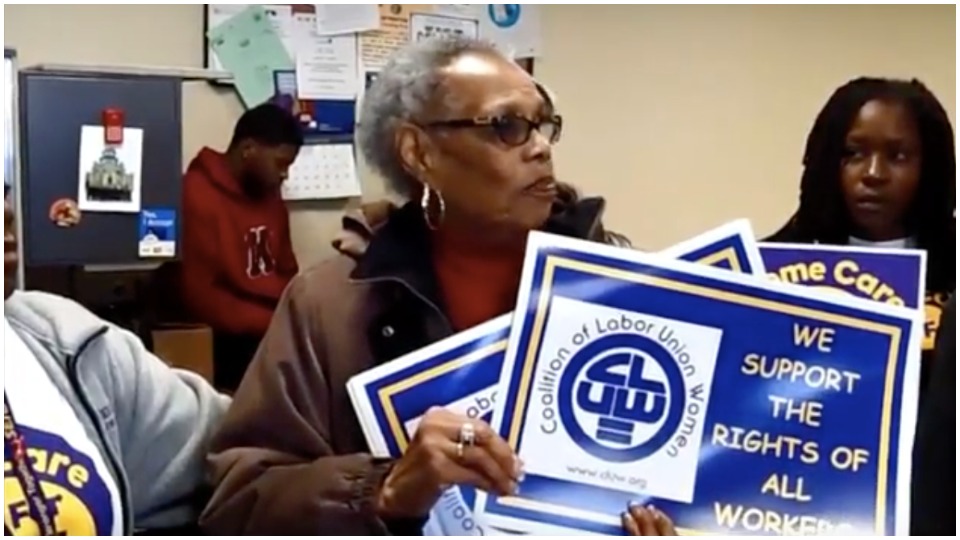 2019 ILCA PW Winner, THIRD PLACE Best Profile
CHICAGO – If you ask any union organizer here in Chicago who Katie Jordan is, they won't hesitate to list her extensive resume of lifelong accomplishments. The workers' rights advocate turned 90 this month, celebrating with friends and family who gathered to recognize her dedication to the labor movement.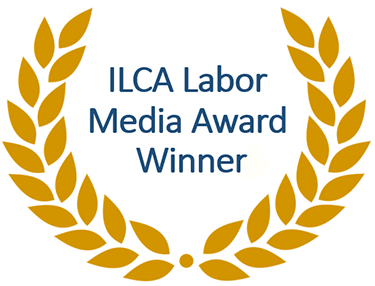 Jordan has been a delegate to the Chicago Federation of Labor for decades and can always be spotted sitting in the front row at all meetings. Her 90 years do nothing to prevent her from showing up at picket lines whenever she is called upon. Jordan is what people refer to as "100 percent in everything" — she has been an organizer on behalf of many causes, and over the last several decades she's become a familiar face for workers' struggles.
Jordan has not only served on the Chicago chapter of the Coalition of Labor Union Women (CLUW) for two and a half decades, but has been involved with the Coalition of Black Trade Unionists and taken an active role too in the Catholic Church. We wanted to know how it all got started, what Jordan was doing before she became such a tireless advocate for the causes of labor and its allies.
Jordan said that when she arrived in Chicago in the 1960s from Hot Springs, Arkansas, she was "just another person transplanted from somewhere to Chicago." She said she was looking for new opportunities and perhaps a little adventure.
The single mom and her three children packed up everything they owned, stashed it in a mobile trailer, and started driving north from Hot Springs. At the time Jordan knew nobody in Chicago, but felt drawn to the urban setting. "I am an adventurous type of person — I wanted to be somewhere where I could choose something new — so I just went eenie meenie miney moe, I gotta leave here, so where do I go."
Despite having a thriving career in tailoring and design back at home, Jordan felt that she might be able to explore new options outside of Arkansas. When it came time to go job hunting, she headed towards the employment office to seek out a temp position. "I wanted to be in designing, but I never intended to stay in Chicago for long," she said.
Jordan had initially planned to remain in the Windy City until she made enough money for the Christmas holiday and then figure out her next move. "I went to the employment office," she recalls.  "I told them I was a tailor but that I was open to other jobs." This was when Jordan was first offered a position at a company nearby doing basic sewing and textile repair — unbeknownst to her, it would be the start of her lifelong career as a union advocate and community organizer.
When asked how she first became involved with the union, Jordan assures me that she had no idea what she was getting into. "I got involved without even knowing I was getting involved — there were no unions out in Hot Springs, Arkansas, I didn't even know those things existed." The terrible working conditions at her place of employment, however, led Jordan to speak out. "The shop was mostly women, and a lot of them didn't speak English," Jordan said. "I thought to myself, I have to speak up for them."
Jordan got the opportunity to challenge management shortly after she was hired; the amount disbursed on the paycheck amount was incorrect, but management kept insisting it was accurate. "When I first got my first paycheck it wasn't right, and I challenged them on that until they let me go through the payroll." Jordan spent several hours going over the details of her earnings until she was able to prove that the company had actually been underpaying her. With receipts in hand, Jordan was finally able to prove that she had been right all along, and the company conceded.
As soon as word of Jordan's victory got out, her co-workers began to wonder whether their wages had also been unfairly withheld. "Everyone pulled out their paycheck for me to look at — and everyone's was wrong!" recalls Jordan, who was actually able to get many of her co-workers' payroll receipts. After decades of egregious bookkeeping, Jordan was able to help her employees win a year in back pay; a small price to pay for some of the employees who had been working at the company for almost 15 years.
Despite initial plans, Jordan wound up staying at the company for 23 years. "Things kept coming that needed to be taken care of — and someone kept needing to say 'you can't do that.'" Well aware of the racial hurdles she would face, Jordan strived to move up in the company. "Back then there were jobs that black people just didn't get, they were mostly in loading docks and racks." Her tenacity, charisma, and natural leadership allowed her to develop a strong relationship with her supervisor, who became a powerful advocate. "She told the president that she wanted to give me the open position as fitter, he said it would be over his dead body if he ever had a black on the floor."
Against all odds, however, Jordan was able to move her way up into a permanent job as a fitter. It was during this pivotal time that union reps arrived and asked if she was interested in joining. "I was the first African-American person to become a fitter-tailor, so I went to the union meetings because I wanted to know what my rights were." Representatives from the union came over to ask Jordan and her co-workers if they wanted to negotiate a contract. The male tailors in the company already had their union formed. Jordan requested that they bring a copy of the contract for review. Upon receiving the paperwork, however, she realized that women fitters were being paid as "assistant fitters" and getting compensated less than men. "We challenged the contract terms and won," said Jordan.
From that point forward Jordan found herself increasingly involved with the union. She realized that there were a multitude of ways she could help improve working conditions for herself and her co-workers. She started attending regular workshops and was even offered a scholarship to attend the labor school at Roosevelt University. "I went to school for 4 years at night, I was always on the El platform at 11 p.m. at night."
Jordan utilized the skills she acquired to become the first woman president of her local. She started as secretary of her chapter, then became executive vice president. "There was much more authority in being the secretary than exec vice president." Aside from Jordan, there were only two women involved in the local at the time, but people admired Jordan's work ethic and initiative. "There were not many women who were that active in the union," she said. "But we were bold!"
Even after Jordan retired in 1995, she remained involved. The union asked her to be an advisor for retirees. Eventually the union decided to organize an official international retiree association, which Jordan joined as a member of that board. Jordan sees being continuously involved in advocating for workers rights as her civic duty. "We should contribute as long as we're able to contribute," says the veteran organizer. "Even as a retiree it affects us all — there are people who still don't know how to speak for themselves, someone needs to be a voice for justice."
It has not been all smooth sailing for Jordan. There were times when she faced blatant sexism and racial discrimination — even in organizing spaces. "Even in the union, I saw discrimination. All of the business reps were white men. There was one woman, she was white. Her job was just holding down the kitchen deals for catered food events." Jordan says sometimes she would be in a room of a hundred-plus people during union events, and she would be the only black person there. "People talk about the South all the time, but all the South isn't the same. When I came to Chicago, I had never experienced the type of stuff I saw here. When you were black, you weren't supposed to be on this or that side of the street."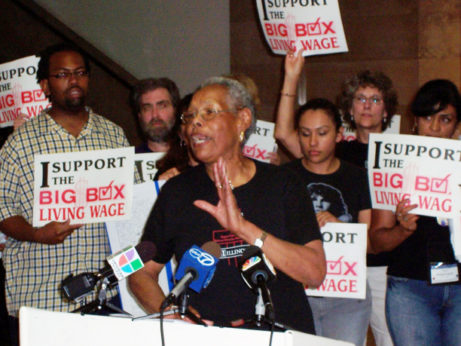 There was a period of time in Jordan's life when all of her worldly possessions were robbed; the trailer in which they had stored all their belongings was stolen. "Everything was in there. The kids and I had on shorts and sandals—we had nothing left but the clothes on our backs." During this time, Jordan's kids were scheduled to start school, but the public school system would not accept them without transcripts from their previous institutions (which were stolen from the trailer). Instead of panicking, Jordan checked herself and her children into the nearest motel and started devising a plan of action. "I always had it in my head that it was going to work out," she said, indicating that even in the darkest of hours, she remained relentlessly optimistic. Not even a day later, her brother back home called her up at the motel and told her he was in town and on his way to come and get her. "When he came to pick me up, I had six cents to my name, a nickel and a penny, but I hadn't thought about it. I just figured things would work out. Besides, God takes care of babies and fools."
Looking back on her trajectory of accomplishments, one would never guess that Jordan didn't grow up in a union town. She credits her mother for much of her success. Jordan says it was her mother who taught her so much about knowing who she was and building character. "My mom always said, 'Let nobody define you, always know yourself — if it ain't genuine don't be out there faking it to nobody. Nobody wants to bother with a phony.'" Jordan has carried those words with her throughout her whole life.  She has also had great mentors throughout the labor movement. "I watched great women and how they presented themselves and treated other people — no matter what kind of degrees they had, they were humble. Their actions told you who they were."
Jordan is a shining example of what every strong woman is capable of. She found herself in the midst of unfortunate circumstances and worked to improve the conditions of those around her. Despite devoting years of her life to advocating for her communities, and serving as acting president of Chicago CLUW since 1993, she continues to claim that her work is never done. "I never thought it was just about my benefits; it was about doing what was right."
In her time as an organizer, Jordan has seen the evolution of the union and is inspired by the power of united workers and their commitment to the movement every single day. "I have met sisters and brothers around the country who have given me hope and reminded me that nothing we do we do in vain."
Video: Chicago CLUW President Katie Jordan stands with home care workers fighting for $15 | SEIU Healthcare