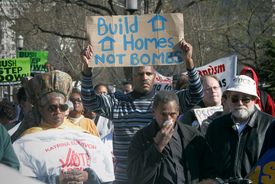 WASHINGTON — Hurricane Katrina survivors marched from Capitol Hill to the White House, March 14, stopping at FEMA along the way, to demand that President Bush reverse FEMA's decision to evict 10,000 hurricane evacuees from hotels and motels that day.
Led by New Orleans evacuees scattered to cities across the nation, the crowd marched with signs reading, "Build homes, not bombs," "Stop the evictions" and "Bush, step down." They demanded enactment of the Congressional Black Caucus bill, HR 4197, to provide billions in direct assistance to the million or more people displaced by Katrina and to rebuild New Orleans.
Carletha Claiborne, a lab technician from East New Orleans, told the World she and her husband, a welder, are now living in Tucson, Ariz. Both are unemployed. The Bush administration has terminated their Medicaid and Food Stamps and on April 30 the voucher that covers their rent will end.
"Our house was under five feet of water," she said, displaying photos of her devastated one-story home. "We went back and gutted the house. It cost us $4,000 out of pocket because the insurance company said it was flood damage and we had no flood insurance." But FEMA rejected their applications for funds to rebuild, saying they must seek relief from their insurance company, she said, even though the federal government is liable for failing to strengthen the levees.
The march was co-sponsored by the Hip Hop Caucus, the Gulf Coast Renewal Campaign, the D.C. branch of the NAACP, Service Employees International Union and other groups. The Rev. Lennox Yearwood, a social justice organizer, led the crowd in prayer outside FEMA offices. "It is this organization, right here, FEMA, that has made a disaster out of disaster relief," he said. "You, FEMA, are planning to put people out in the streets while trailers are parked in Hope, Arkansas. Right now we are demanding that you not put those 10,000 families out on the streets."
Lorraine Miller, president of the D.C. NAACP, told the World, "This is a shame, what happened to those folks. There was a lack of caring from this administration. We don't get the truth from them. These people are scattered everywhere and we have to insure that their right to vote is protected."
Bill Fletcher Jr., president of TransAfrica Forum, called the administration's priorities "completely skewed."
"They've been sucking the resources out of the public sector for years," he said. "They knew the Corps of Engineers wanted to strengthen the levees, but they could never get around to allocating the money."
He said a mighty national movement is needed "to demand a redirection of resources to the Gulf Coast. That means in the first place, getting the hell out of Iraq. Congress could start by voting down Bush's latest request for the occupation."