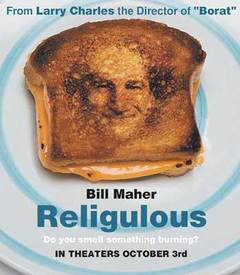 MOVIE REVIEW
"Religulous"
Directed by Larry Charles
Written by Bill Maher
USA, 101 minutes, Rated R
If lightning doesn't strike comedian Bill Maher in the next few days, you might want to buy a ticket for his new movie, "Religulous." It rhymes with "ridiculous." In it, Maher takes a lighthearted but very honest look at religious fundamentalism at home and around the world. Interviewing two Muslims in a gay bar, he displays his well-known brand of chutzpah.
While Maher was demolishing the arguments and beliefs of everybody religious, old movie veteran me turned to my wide-eyed movie buddy and predicted smugly, "There will be a big cop-out at the end!" You know, you've seen half a dozen movies where somebody "loses their faith" and says all kinds of provocative things, and then does a 180 and ends the movie supplicating on their knees.
But Maher doesn't cop out. After an entire movie-length investigation of everything and everybody religious, he turns very serious about the consequences of doing things on faith, of doing things without trying to understand. That's how some people manage to get other people to incinerate people, or blow them up, or torture them in Heaven's name.
Whether or not one practices a religion, Maher's movie is provocative enough to be worth seeing. On the other hand, if he actually does get hit by lightning, better not!
—Jim Lane