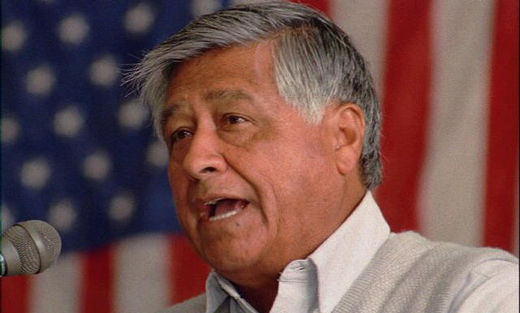 The United Farm Workers of America is urging supporters to stop the Texas state Board of Education from eliminating Cesar Chavez and other historic Latino leaders from public school textbooks.
This struggle is a lesson about doing the right thing and about standing up for others who are oppressed, Latino advocates and civil rights leaders charge.
On Jan. 13, the state board will take a preliminary vote to adopt new standards for social studies textbooks, known as the Texas Essential Knowledge and Skills curriculum. The statewide debate takes place every 10 years. Once adopted, the new standards will affect grades K-12, more than 4 million students across Texas, for the next decade.
The new standards recommend eliminating notable Latino leaders since the conquest of Mexico in the early 16th Century, including Chavez, says the UFW.
Cesar Chavez was the founder of UFW and is arguably one of the most important Mexican American civil rights leaders of the 20th Century. His work not only led to major labor reforms for farm workers and their families in California, but also empowered a whole new generation of people to stand up for their rights and challenge the status quo in a peaceful and strategic manner, historians note.
According to UFW, Gail Lowe, chair of the board, who happens to be an outspoken creationist (someone who doesn't accept evolution), said Chavez "lacks the stature…and contributions" and should not "be held up to our children as someone worthy of emulation."
Irma Rangel, the first Latino woman elected to the state Legislature is also on the proposed chopping block. Other key history makers such as Thurgood Marshall and Albert Einstein are also included.
Board members and their appointees have reportedly complained about an "over representation of minorities" in the current social studies standards. Advisors to the board, many who are super conservative are questioning the historical value of teaching children in Texas about Chavez' life. Their verdict, critics say, has cast Chavez as inconsequential to American history despite the fact that his legacy strongly resonates with children in Texas who happen to be mostly Latino.
In recent years Latino children have made up a majority of those in classes throughout Texas. Critics say eliminating Latino leaders from their textbooks is ironic because Latinos will soon comprise the majority of all Texas public school students.
After Wednesday's public hearing, a vote could come as soon as Thursday. The final board vote is set for March.
Critics contend the board is controlled by a faction of social conservatives that have politicized standards in science and in language arts and are trying to do the same thing in social studies. The board's decision should be based on sound scholarship and not on personal political agendas, they add.
Republican Governor Rick Perry appointed Lowe and is standing by her and her controversial remarks. Critics argue some of the state's Republican leadership does not see it in their best interest to teach children about civil rights leaders who could inspire the African American and Latino communities there. Tactics used by Chavez such as fasting and civil disobedience, which were taught by Gandhi and also used by Martin Luther King Jr., could give school children ideas, they add. Critics claim the last thing Republicans want is to have a whole new generation of children who will grow up to stand up for their rights, hold vigils and organize workers.
For example Delores M. Bernal, writing on the website News Junkie Post said, "The big lesson that will turn out from this debate is at the end of the day if they manage to ban Chavez from textbooks, it would prove that Texas' politicians – the Perrys, Bushes, and Lowes – are not the cowboys they think they are, but a bunch of cowards wearing hats and boots; white folks who are too scared of the brown people and what they may do."
Bernal continues, "Their approach is the same old colonialism, to assimilate the 'savages,' but keep them ignorant." Texas conservatives may take Chavez out of the classroom, she writes, "but they can't take him out of the hearts of the parents who will find ways to teach their kids about him, and more importantly, teach them to stand up for justice and do the right thing."
The UFW is urging supports nationwide to take action at http://action.ufw.org/page/speakout/cectxjan10?source=web, and send board chair Lowe and the Texas state board an email demanding they not revise history by banning Chavez and others from textbooks.
Photo: http://scienceblogs.com/startswithabang/2009/05/cinco_de_mayo_unions_and_your.php CC